Following strong stock market returns of the past few years value is becoming more difficult to find. One potential area of value that I feel strongly about is the airline industry (as I wrote about here, here and here), however, another compelling story is the real estate industry - and specifically the student housing developers. The industry as a whole has been beaten down the past year with total returns among the student developers, and the real estate industry in general down double digits - especially painful at a time when the overall market was up over 20%. I believe the majority of this downturn is due to the speculation that the Fed is intent on raising interest rates, which directly affects real estate cost of capital, which has a significant impact on the ability for REITs to distribute cash. Another negative impact is that bond yields would also increase in an environment of rising interest rates, which provide competition to REITs from investors looking for yields. I personally view the worries about the Fed taper as overblown, and I believe that the business model is sound and that there is significant opportunity in this sector. My favorite company for the moment is Campus Crest (NYSE:CCG).
Background
Campus Crest is a student housing developer, owner and operator that is based in Charlotte, North Carolina. The company was founded fairly recently in 2004 and is now the fifth largest student housing operator in the US, operating three brands: The Grove, Copper Beech (purchased 48% interest in Copper Beech in early 2013, with option for further ownership) and their new upscale brand, Evo. Recent stock performance of Campus Crest compared to the overall market is shown below: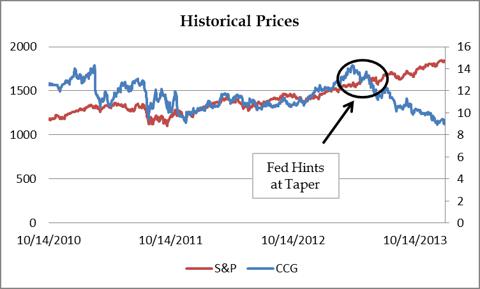 As can be seen clearly from the above chart, while the overall market has shot up to record highs, Campus Crest is languishing at record lows. In my view, this price correction is overdone and with strong market fundamentals, an effective management team and strong dividend, this is a good value play.
Market Fundamentals
Student housing is largely dependent upon enrollment increases at secondary institutions. Total student enrollment declined in 2011 for the first time in more than a decade, but has recovered somewhat in the recent two years. Below is the latest information from the National Center for Education Statistics showing total historical and projected enrollment at post-secondary institutions: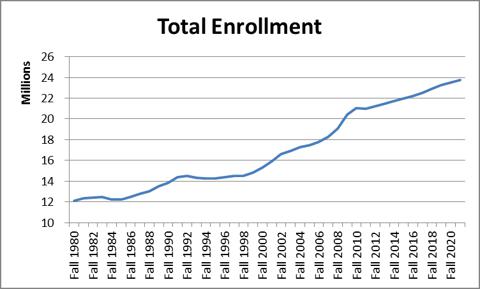 As can be seen there was a flattening out following the steep increases seen during the recessionary years as the economy gradually improved. However, a return to increased enrollment growth (albeit modest growth) is expected over the next decade. Additionally, when digging deeper into the data the bigger schools are expected to grow at a faster pace than enrollment in general. As Campus Crest typically only invests in schools with total enrollment greater than 5,000, the demographic trends still look positive.
Much has been made over the Fed's decision to taper, with many analysts expecting that decision to be negative for real estate companies in general. I have previously written about the fact that I doubted the Fed would do anything significant with the current stimulus due to the high debt levels, and I don't believe the decision to taper is significant because the Fed has committed to keeping the zero lower bound in place. With low interest rates in the near future continuing there shouldn't be much impact from Fed policy - despite the large selloff in the May 2013 time frame due to those fears.
Effective Management
Current dividend for Campus Crest is $0.66 per share for a yield of 7.2%. Obviously, there aren't many places in the market where you can find 7% yields. Comparable yields from other firms in the student housing sector are below: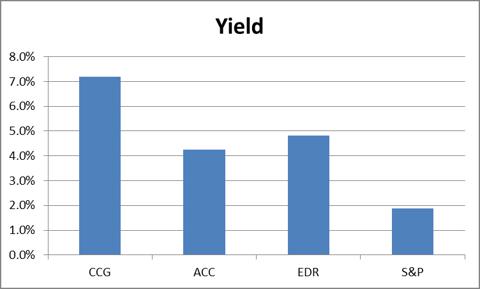 In comparison to other student housing operators, CCG stands out as delivering a much higher yield than competitors. The question is can CCG continue to keep the yield it is currently offering, and is there room for stock price appreciation? In my opinion, I believe that there is a better chance for stock price appreciation than significant dividend increases in the near term. Campus Crest has an active development and acquisition pipeline, all of which consume significant resources. While much of the funding for these developments and acquisitions comes from debt, the growth focus that Campus Crest is currently engaged in is decreasing funds it otherwise could return to investors. Indeed, FFO forecasts for 2014 are not significantly improved from 2013. However, longer term, I believe that this strategy will be positive for investors who will see FFO increases down the road.
More recently, trends look positive in same location leasing activity. From the 2013 investor day and leasing update in December, Campus Crest announced that leasing for the 2014-2015 school year was up in all categories compared to this time last year by 3%. This is promising considering the slight decrease (0.7%) that was seen YOY in 2013-2014 and shows promising signs that management has made the needed adjustments.
Valuation
Going forward this is a company that shows promise as a solid dividend producer, but with the strong existing portfolio and strong development pipeline this stock should go higher. In looking one year out, I anticipate investors buy into the story and bid the price up to where the yield is around 5%, which would still give it a higher yield than either American Campus Communities (NYSE:ACC) or Education Realty Trust (NYSE:EDR). Assuming that there are no major dividend increases, that would give Campus Crest a valuation of approximately $13, which would represent a potential gain of around 40% from today's price.
Disclosure: I have no positions in any stocks mentioned, and no plans to initiate any positions within the next 72 hours. I wrote this article myself, and it expresses my own opinions. I am not receiving compensation for it (other than from Seeking Alpha). I have no business relationship with any company whose stock is mentioned in this article.