In this 4th of a series of articles I am providing guidelines investors can use to gauge the "stage" that our current bull market may be in. You can see the earlier articles in this series by clicking on my profile.
One important indicator that a bull market may be in its third, and final, stage is to look at how individual stocks -- especially market leaders -- respond when "good news" is released. One would normally think the share price would rally. Alas, in the final stages of a cyclical bull market, where expectations have grown so high and trailing PE ratios so lofty by historical standards, this may not be the case.
Unfortunately today's trading gives us two very good examples. One of them is Celgene (NASDAQ:CELG). The company raised guidance for 2017 earnings and sales, and improved sales forecasts for Revlimid and Pomalyst, drugs for treatment of multiple myeloma. The result? Shares are down more than six percent. Why the funk? Perhaps it is the lofty multiple assigned to the shares: trailing PE is at a five year high.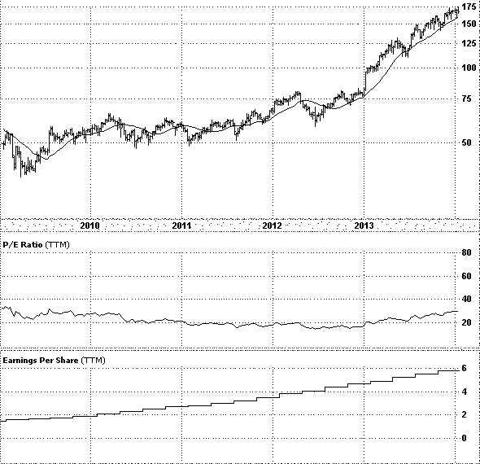 Source: www.etrade.com, with bmp to jpeg conversion.
To be honest, 30x earnings is not a unreasonable multiple for a biotechnology leader like Celgene, especially given their solid earnings growth and the strong performance of biotech ETFs, highlighted here. Still...listen to what the market is saying, not just what you want to hear.
Especially if there is more than one voice speaking to you. While already somewhat of a fallen angel, shares of Intuitive Surgical (NASDAQ:ISRG) have brushed off the company's recent news release showing favorable metrics about robotic assisted prostatectomy. Why? Today's follow up report that discounts of up to 50% are being offered to hospitals to buy the DaVinci robot sure did not help. But shares had begun to tail off in last week's trading even before this latter news broke.
The shares sure look like a bargain, given the trailing PE ratios investors paid in the recent past for the shares.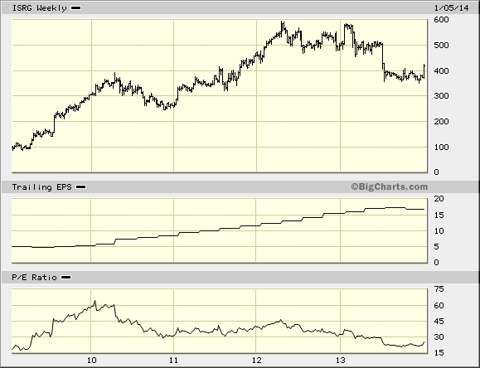 Source: www.bigcharts.com
As recently as the first quarter of 2012, investors ponied up 45x earnings for ISRG. Shouldn't they be a bargain at 20x or so? Apparently not, given how easily spooked investors seem to be.
This is not to say to should rush to judgment based upon one, or a few days, trading results. Instead: focus on the near future, and watch how the market responds. If good news is bad news, and bad news is bad news, I daresay we have at least a correction ahead of us.
Disclosure: I am long XLV, IHI. I wrote this article myself, and it expresses my own opinions. I am not receiving compensation for it (other than from Seeking Alpha). I have no business relationship with any company whose stock is mentioned in this article.