A little over 2 months ago, I warned investors to stay away from Lululemon Athletica (NASDAQ:LULU) and advised them to sell their shares if there was a Santa Claus rally. At that time, shares of LULU were trading in the $66-$70 range. Since then, two important events have come up that have caused me to become even more pessimistic about the prospects of the company.
First, the company lowered its Q4 2013 expectation when it reported Q3 2013 results on December 12, 2013. It guided for earnings of $0.78-$0.80 per shares on revenues of $535-$540 million for the most important quarter of the year. At that time, analysts were expecting earnings of $0.84 per shares on revenues of $571.8 million. In addition, Lululemon saw its gross margins decline by 150 basis points to 53.9%. Subsequently, shareholders were punished as shares traded down to the $57-$60 range in the next month.
Today, things got substantially worse for Lululemon and its shareholders. The company lowered guidance once again for Q4 and now expects EPS of $0.71-$0.73 and revenue in the range of $513-$518 million. In terms of same-store sales, this translates to a low-to-mid single digits decrease on a year-over-year basis. As of time of this writing, LULU shares are trading at ~$50, down approximately 16% intraday. If Lululemon achieves the newly guided EPS of $1.87-$1.89 in fiscal 2013, shares would be valued at a P/E ratio of 26.6. Compared to some of its North American competitors, that is at the high end of the spectrum [The Gap Inc. (NYSE:GPS): 13.7; Nike, Inc. (NYSE:NKE): 24.1; Macy's, Inc. (NYSE:M): 15.6]. If we take into account the company's $600 million cash position, the P/E drops modestly to 24.4.
From the latest profit warning, we can see that gross margins continue to deteriorate. In Q4 2012, net income was 31.4% of total revenue. From Monday's press release, if we work backwards using the midpoint EPS of $0.72 and revenues of $515.5 million, and if we assume a tax rate of 30% (it was 29% and 29.5% in Q4 2012 and in Q3 2013 respectively) and a total of 146 million shares outstanding, we get net income of 29.1% of total revenue. That is a decrease of 230 basis points compared to last year.
So Christmas has come and gone, but only the Grinch showed up. Despite having its valuation and P/E ratio come down significantly in the last 2 months, I am still not a buyer of LULU right here. Looking at the chart below, we can see that shares are at a multi-year low dating back to 2011. Also, I don't see significant support until the $45-$46 area.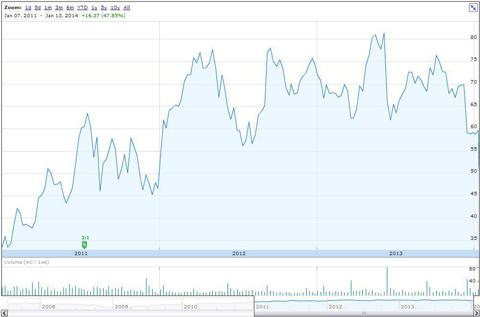 The most worrisome phrase in Monday's press release comes from John Currie, Lululemon's CFO:
"... since the beginning of January, we have seen traffic and sales trends decelerate meaningfully."
Lululemon is not known to implement steep mark downs in prices in shopping seasons such as Black Friday and Boxing week. However, given that store traffic had decreased dramatically, the company might be wise to rethink its marketing strategies. Competition in the yoga apparel space is increasing, especially from The Gap Inc., Nike Inc. and even Macy's, Inc. It might be time for Lululemon to start targeting the money-conscious consumer instead of pegging itself as a premium brand.
Investors would be wise to stay away from LULU until the air clears and the pessimism around the company subsides. If business prospects and margins continue to deteriorate, Lululemon would most likely lower its fiscal 2014 revenue and EPS. If that occurs, expect additional downside in LULU share price to materialize.
Disclosure: I have no positions in any stocks mentioned, and no plans to initiate any positions within the next 72 hours. I wrote this article myself, and it expresses my own opinions. I am not receiving compensation for it (other than from Seeking Alpha). I have no business relationship with any company whose stock is mentioned in this article.