I recently switched brokerages to TD Ameritrade (NASDAQ:AMTD) - a switch that I'm relishing so far. The trading platform is simple and easy and beats the pants off of my old brokerage. As I was toying around with some of the new tools, I started to look through the stock screener.
For purposes of simply messing around, I entered in some (what I thought to be) incredibly nice variables for a stock - a P/E under 10, EPS and revenue growth over 100%, and a price to book value under 1.
Amongst the list of 8 or 9 small caps and stocks that I hadn't heard about stood one peculiar name, bond insurer MBIA (NYSE:MBI). My extent of knowledge on MBIA is simply what I've read in "Confidence Game", the book about how Bill Ackman bet against the company before the financial crisis and consequently raked in billions of dollars in profit.
You may remember MBIA from its Hindenberg-esque implosion during the 2007/08 financial crisis. MBIA spent the better part of 2013 settling its beef with Bank of America (NYSE:BAC) and trying to get its balance sheet in order to remain solvent and on its two feet.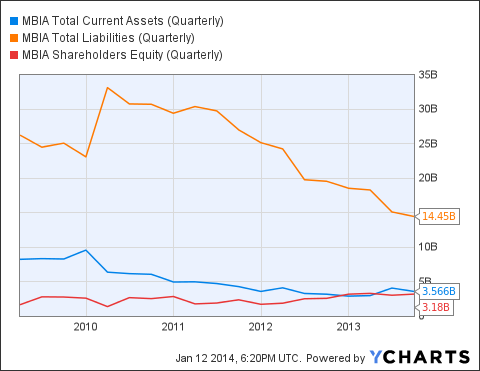 MBI Total Current Assets (Quarterly) data by YCharts
During 2013, MBIA stock has been quietly returning about 44% for the last twelve months, and about 18% for the last three months alone to end 2013 and start 2014. The stock has been climbing - albeit like a person struggling to get out of quicksand, since 2009 slowly and steadily. Since the days of it's catastrophe, it's yielded almost 600%.
Coverage of the stock has been few and far between, and it's been swept under the rug the last few years. Well, now its 2014, and it might be time to take one more look at MBIA.
MBIA spent the last few years trying to not to fall after getting wobbly knees as a result of the financial crisis. Competitors like Ambac wound up filing for bankruptcy.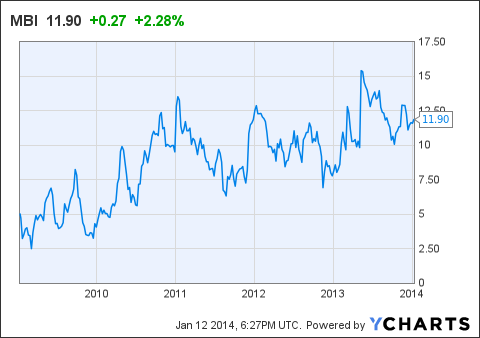 MBIA has been working diligently to get costs under control for the last few years. The company's revenue growth and EPS growth continue to look promising. MBIA reported a net income of $132 million in Q3, vs. $7 million in Q3 of 2012.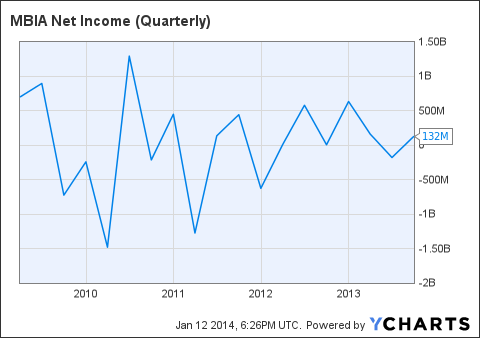 MBI Net Income (Quarterly) data by YCharts
The fact is that MBIA continues to trade at an extremely attractive P/E ratio of barely over 3. Additionally, it's price to book value is around 0.80. These two fundamental indicators give a look into how much the market has roped in the valuation of this company based on fears of insolvency.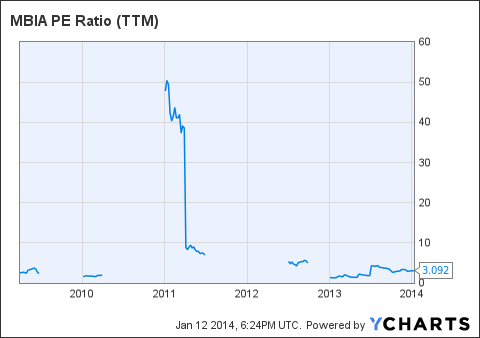 MBI PE Ratio (TTM) data by YCharts
Shorts continue to duck out of the stock as time marches forward and MBIA continues to show bits and pieces more of a foundation to stand on. The short interest is also relatively low and has been on the constant decline since the 07-08 mess - 5.38% of the float as of 12/15/13.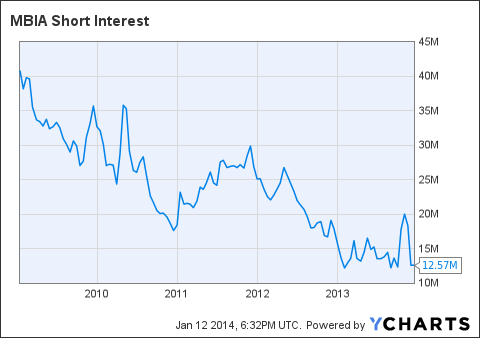 MBI Short Interest data by YCharts
The short interest has come down as MBIA's earnings continue to show traction for the company. Short interest has dropped as much as 20% in the last quarter alone.
With very little analyst coverage over the last couple of years, MBIA remains this stock that most people have written off and forgotten about. However, if it can continue to grow its revenue and stay on its feet, MBIA does present a serious potential long term growth stock, as through traditional metrics it's undervalued.
Like BP, which I also just wrote about, MBIA's fundamentals are screaming buy. And, also like BP, its got one giant roadblock in its way for the time being. But, if it can prove its long-term solvency and staying power, there's no doubt there's a chance for a major growth story here.
MBIA is definitely worth keeping an eye on. I might nibble at a long position in the coming week.
Best of luck to all investors.
Disclosure: I have no positions in any stocks mentioned, but may initiate a long position in MBI, over the next 72 hours. I wrote this article myself, and it expresses my own opinions. I am not receiving compensation for it (other than from Seeking Alpha). I have no business relationship with any company whose stock is mentioned in this article.