11 months ago, we suggested that Lululemon (NASDAQ:LULU) was grossly overvalued and recommended that readers short the stock. We called for a share price of $51.00.
We felt that a price target of $51.00, at 13x the blended EBITDA from 2012 and 2013 (calendar years) was already quite rich and afforded appropriate consideration to the company's strong growth prospects. We mentioned weaker guidance as a potential catalyst for price declines, and noted that the comps were trading at 12x LTM EBITDA.
As well, we generated forecasts about how the company would perform over the next 4 quarters (and beyond) on an operational basis. Aside from the sheer-pants scandal and its subsequent implications, we believe our forecasts were quite close.
Here we compare our forecasts to the actual: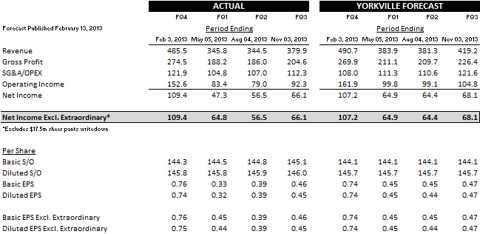 You will note that as we made our forecasts prior to the 'sheer pants' scandal, we could not have foreseen this issue or its resulting $17.5 million charge (a write-down of the affected product). Where we compare our forecasts to the actuals, we present our operating assumptions versus the actual excluding extraordinary items to account for the $17.5 million writedown.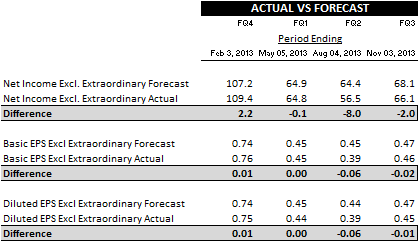 However, if we back out the sheer pants inventory writedown, our EPS numbers were almost spot on.
Note also that we had forecast higher revenues for Q1-Q3 period ending Nov 02, 2013. This is somewhat misleading, however, as we believe that a significant amount of the reason our revenue forecast undershot this number was as a result of the sheer pants, which were taken off the shelves and unavailable for sale for a time. Although materials costs represent only portion of COGS, for the sale of simplicity, if we simply divide the writedown of $17.5 million by COGS percentage, it suggests that this inventory would have generated at least another $39 million in additional sales, bringing our revenue forecast closer in line with actuals.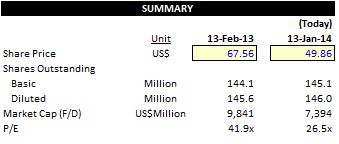 Stock price is as of ~1PM EST.
Lululemon has faced a variety of challenges this year, but we believe that the implications have been overblown.
The sheer pants scandal: we believe this was a momentary hiccup and that the supply chain management will be stronger for it in the long-run. However, we also believe that streamlining the supply chain, ensuring better QA and supplier redundancies will take longer than the company claims.
Departure of CEO: We think the outgoing CEO was excellent but not irreplaceable.
Unpopular new CEO appointment: It is too early to opine on this, but we think the new CEO must be given a change
Founder's comments and resignation: This is immaterial. Many believe the founder to have been a liability, and if anything the company will be stronger for this.
Weak Guidance (January 2014): This was an inevitability given the slowing growth we discussed in our article in February 2013.
The recent weak guidance has sent the stock into a tailspin, with it reaching as low as $49 in intraday trading. However, as a result, we now believe the stock to be fairly valued and would not recommend shorting the stock on any fundamental basis. We would recommend that shorts close out their positions.
But while we believe the stock is now appropriately valued, we would provide a word of caution to prospective longs: once a highly valued growth stock like LULU has lost its 'market darling' status, the market is not always kind. An emotion-driven ride up often results in an emotion-driven ride down.
Disclosure: I have no positions in any stocks mentioned, and no plans to initiate any positions within the next 72 hours. I wrote this article myself, and it expresses my own opinions. I am not receiving compensation for it (other than from Seeking Alpha). I have no business relationship with any company whose stock is mentioned in this article.