Last week, I wrote about two companies in China's private education sector whose stock enjoyed strong gains in 2013. Another private education company in China whose U.S.-listed stock also had a stellar 2013 is TAL Education Group (XRS). In 2013, XRS increased by approximately 125%. 2014 is off to a quick start as well, with the stock displaying gains of just over 8% year to date through Jan. 10.
XRS is set to report quarterly earnings next week before the market opens on Wednesday, Jan. 22. The earnings report will be for the third quarter of the company's fiscal year and includes the three months up to Nov. 30, 2013. TAL Education Group provides after school tutoring services to K-12 students in China, covering subjects such as math, English, physics, chemistry and biology. The vast majority of their revenue is earned via educational programs in the company's learning centers across China, while a small portion of revenue is derived from online education. As of Aug. 31, 2013, the company counted 264 physical learning centers in 15 cities in China. This is an increase from 255 as of May 31, 2013.
Before discussing what expectations are for the company's quarterly earnings report on Jan. 22, we will first examine the long-term past performance of XRS. The chart below shows the past two years of performance for XRS (Jan. 12, 2012, to Jan. 10, 2014) and some notable events written about in the company's most recent annual report plus the approximate dates of quarterly earnings reports, which have been drawn in over the chart.
Here's a description of the chart below: 1) Blue dots represent the approximate date of a quarterly earnings report; 2) the two red lines indicate the start of July 2012 and the end of August 2012, the two months during which XRS initiated open market share repurchases at an average stock price of $8.40; and 3) the green arrow is the date on which the CEO/co-founder of the company signed an agreement limiting his ability to nominate or remove directors of the company for as long as the shares he owns represent over 50% of the aggregate voting power of shares outstanding.
Click to enlarge images.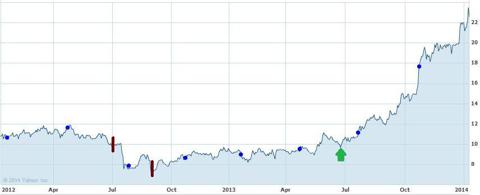 This next chart shows the performance of XRS since its IPO in October 2010.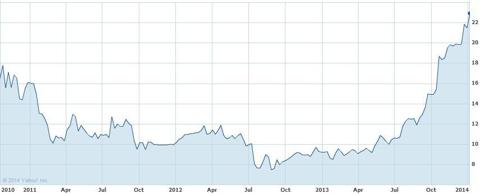 Looking ahead to next week's quarterly earnings report, by the company's own estimates in their last quarterly report, total net revenue is expected to be between $69.5 million and $71 million. This would represent an increase over the same period a year earlier of 42% to 45%. The past two quarterly earnings reports have seen net revenue beat the high end of the company's own estimated range by an average of $1.85 million. In the two quarters prior to that, net revenues were reported within the company's range estimate and close to the high end, at an average of $.35 million lower than the top of the estimate range.
Thus, it appears that for the past four quarters the company's guidance has been somewhat conservative. Therefore, based on the above averages for how the reported figures have differed from the company's own estimates, one could construct an estimate of $70.65 million to $72.85 million for net revenue in XRS's upcoming quarterly earnings report. If results top this range, it could mean continued momentum for XRS, while earnings coming in below -- even if still above the low end of the company's own estimated range -- could put a damper on enthusiasm for the stock.
Disclosure: I have no positions in any stocks mentioned, and no plans to initiate any positions within the next 72 hours. I wrote this article myself, and it expresses my own opinions. I am not receiving compensation for it (other than from Seeking Alpha). I have no business relationship with any company whose stock is mentioned in this article.