In my last article about Silver Wheaton (NYSE:SLW), I noted the importance of the Fed's tapering and inflation to gauge the potential of gold and silver to turn around, and with them, the share price of Silver Wheaton. Since then, FED announced a $10 billion reduction in QE, and gold (NYSEARCA:GLD) and silver (NYSEARCA:SLV) reacted in a positive way, and they may have bottomed in December 2013. I think that now is the time to consider buying Silver Wheaton as the economic recovery picks up, and as we might see an increased level of inflation.
Better times for gold and silver ahead?
The United States' economy has been battling with low inflation and low growth since the 2008-2009 recession. GDP growth has been anemic, while inflation remained low despite the massive monetary stimulus. Things seem to be changing as U.S. GDP growth accelerated for three straight quarters. GDP growth in Q3 was the fastest in nearly two years, and much better than estimated. Higher consumer spending contributed to the economy's 4.1% annual growth rate, which was estimated at 3.6%. The new energy boom in the U.S. coupled with a strong housing recovery and robust car sales are having a positive impact on the economy. The global economic situation seems better than in previous years, with Europe finally coming out of a long recession.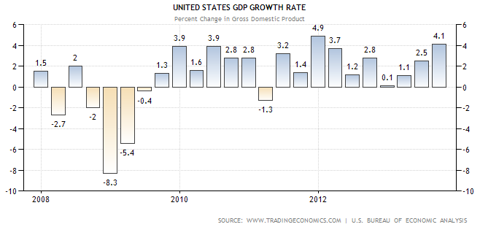 Source: Tradingeconomics.com
I expect that a stronger U.S. and global growth will have a positive effect on inflation going forward, and that bodes well for commodities, especially gold and silver. Once the deflationary pressures diminish, I expect gold, silver and Silver Wheaton to go up. The crucial development in the near-term will be the incoming economic data and the Fed's decision by the end of January. Another reduction in QE would be considered as good news, and would imply that the economic growth and inflation expectations are picking up, which would positively impact precious metals.
Silver Wheaton's increased production will limit downside and boost upside
Silver Wheaton is my favorite play on rising inflation expectations. The company has been increasing silver equivalent production, partially offsetting declining spot prices. However, there was bad news in 2013. Due to delays at Pascua-Lama, the 2017 production goal was reduced to 42.5 million ounces from the previous goal of 49 million. This represents a 27% increase from 2013's level of 33.5 million silver equivalent ounces. I expect gold and silver prices will be much higher from current levels and that Silver Wheaton's revenue will rise at least 60% from 2013 levels. Higher silver prices would imply higher profit margins, and I expect earnings to more than double by 2017.
Although revenue and earnings estimates are still trending down, I expect this trend to stabilize and eventually turn up this year, as gold and silver prices rebound from their lowest levels in almost three years.
A look at the charts reveals that gold, silver and Silver Wheaton appear to be bottoming. Since the tapering announcement, they turned up and are now facing resistance at their long-term moving averages. Silver Wheaton closed above its 50-day moving average line last week, while gold and silver are just below their respective 50-day moving average lines. A decisive move above their 50-day moving average lines on above average volume would be very constructive and their outlook for further gains would improve.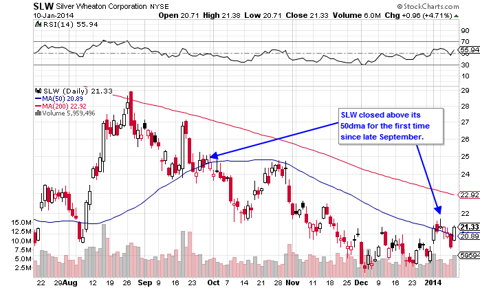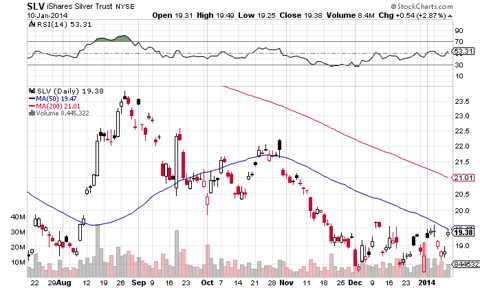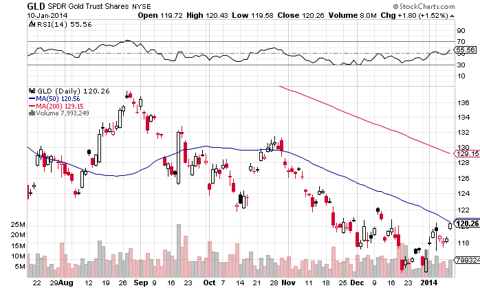 Source: Stockcharts.com
Conclusion
It looks like a good time to consider purchasing Silver Wheaton. Strong U.S. GDP growth and an improving labor market have prompted the Fed to start reducing its monetary stimulus, which will produce more confidence in the economic recovery and the inflation outlook. I expect inflation to pick up this year with a continued U.S. and global recovery, and gold, silver and Silver Wheaton will benefit. A serious deterioration in the economic recovery and further deflationary pressures would result in further downside for gold and silver, and I will reevaluate if this happens down the road, but I am much more optimistic about the prospects for Silver Wheaton and precious metals than I was a month ago.
Disclosure: I have no positions in any stocks mentioned, but may initiate a long position in SLW, over the next 72 hours. I wrote this article myself, and it expresses my own opinions. I am not receiving compensation for it (other than from Seeking Alpha). I have no business relationship with any company whose stock is mentioned in this article.