Eric Barden is President and Chief Investment Officer at Austin, Texas based Barden Capital Management, which primarily focuses on portfolio construction for corporations and high net worth individuals.
We recently had the chance to ask Eric about his single highest conviction holding in his portfolios.
What is your highest conviction stock position right now - long or short?
Our long position in Teva Pharmaceuticals (NYSE:TEVA) is our highest conviction stock in our portfolios.
Eli Hurvitz was the CEO of Teva from 1976 through 2002. By the mid-1980s, Teva was a leading producer of active pharmaceutical ingredients, but the limited size of the Israeli market hindered future growth prospects. In 1985, Teva acquired an interest in a small Pennsylvanian generics manufacturer, giving it access to the emerging U.S. generics market.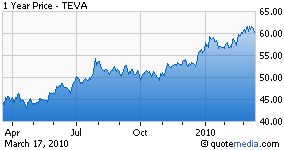 Teva continues to pursue a prudent acquisition strategy. In 2006, Teva acquired Ivax, and in 2008, Teva acquired Barr Labs. Today, Teva is the dominant player in the global generic pharmaceuticals industry.
To what extent is this an industry pick on generic drugs, as opposed to a pure bottom-up pick in Teva?
An aging population demands more pharmaceutical healthcare solutions. Governments and other healthcare purchasers recognize the importance of minimizing prescription drug costs. Generics will take an increasing share of a persistently growing market.
Current estimates are that nearly $150 billion in brand name drug sales will face generic competition through 2015. Globally, the generics drug industry is expected to produce long-term revenue growth in the high single digits, while Teva is expected to produce revenue growth in excess of 10%. The robust, non-cyclical earnings growth of the generics drug industry is very appealing during this period of heightened uncertainty.
As a portfolio manager, my objective is not only to maximize our clients' return but also to manage the risk factors that may lead to excess volatility. Since the market bottomed in March of '09, riskier "junk" stocks have led the new bull market. The underperformance of quality stocks over the last twelve months is as extreme as anything we have experienced in the last twenty-five years.
Teva not only gives us the potential for superior risk-adjusted return, but it also positions us to capitalize on the likely reversion to the mean that should benefit high quality stocks over low quality stocks.
Can you describe Teva's current competitive environment?
Teva has consolidated its dominant position in the U.S. and international generics industry. It has the strongest pipeline of any generic competitor with 216 Abbreviated New Drug Applications (ANDAs), 89 of which are first to file (FTF) applications. Through the recent acquisition of Barr Labs, the company has enhanced its pipeline while achieving more lucrative synergies than originally projected ($500 million versus $300 million).
Teva has consistently demonstrated the ability to grow revenues and earnings at a quicker pace than the overall industry. As the generics industry becomes increasingly commoditized, scale is the ultimate advantage.
Can you talk about valuation? How does valuation compare to the competitors?
Though trading at a modest premium to its peer group, a P/E ratio of 14x earnings appears to undervalue Teva's superior growth prospects. Again, the acquisition of Barr Labs consolidates Teva's dominant position in the U.S. generic market, and significant longer-term growth prospects in the global market are becoming increasingly accessible. Typically, acquisitive companies carry heavier debt loads, implying a valuation discount relative to their industry. But Teva's debt as a percentage of total capital is only 21%.
Earnings are projected to grow 30-35% over the next twelve months. Over the next five years we are discounting low double digit growth rates. Even if we don't benefit from a multiple expansion, I am content to hold the stock for a 10% return with relatively low volatility.
What is the current sentiment on Teva? How does your view differ from the consensus?
Current analyst and investor sentiment is positive, but not euphoric. Investors widely recognize the exceptionally high quality of Teva's growth but they appear unwilling to pay a premium relative to Teva's slower growth competitors. Perhaps the assumption is that at $55 billion in market cap, growth will inevitably slow.
Generics still stand to gain substantial market share at the expense of branded pharmaceuticals. Combine this with the rapid ascension of the emerging market consumer and you have two very potent drivers that should facilitate growth in excess of the market for at least the next five years. A market multiple seems to undervalue Teva's premium long-term growth prospects.
Does the company's management play a role in your position?
Mr. Hurvitz stepped down as CEO in 2002 but he continues to oversee the strategic direction as Chairman of the Board. Teva's management is highly skilled at identifying synergistic opportunities and experienced at integrating these new assets into their international organization. As Teva is a long-term, core holding for our clients, we appreciate that management is focused on long-term growth prospects.
What catalysts do you see that could move the stock?
In the very near term, Teva is pursuing Ratiopharm, the leading German generics company. It is bidding against Pfizer (NYSE:PFE) and Actavis. Analysts speculate that the current bids are in the neighborhood of 2x sales, a substantial discount to Teva's premium price to sales ratio.
Earnings and profitability should come in better than expected as the Barr Labs integration continues to prove more beneficial than anticipated. On a big picture level, we think that as the economic recovery matures investors will move towards quality stocks. Teva, the quintessential quality growth stock, will benefit from this rotation.
What could go wrong with your Teva holding?
Teva's main branded product is Copaxone, which is used to treat Multiple Sclerosis. Copaxone sales will eventually face increased competition from generic competitors. If this occurs on a faster timeline than currently anticipated, estimates will come down.
Teva would also likely lag the market if we get another year of gains comparable to 2009.
Thank you very much, Eric.
Disclosure: Barden Capital Management is long TEVA in client accounts
Read more High Conviction Picks »
If you are a fund manager and interested in doing an interview with us on your highest conviction stock holding, please email Rebecca Barnett.