Although the consumer is starting to come back and spend more on discretionary items, many restaurants have not found a way to capitalize on this trend. In particular, Ruby Tuesday (NYSE:RT) has been a chronic underperformer in this time frame, and may be headed for more trouble in the near future too.
RT in Focus
Ruby Tuesday is a Tennessee-based restaurant operator, best known for its roughly 700 Ruby Tuesday branded restaurants. These dining establishments generally fall into the 'casual dining' realm, putting it into competition with places like TGI Friday's, Chili's, and the like.
However, RT has clearly been falling behind these foes, as the company has seen a struggling stock price, and it continues to have an extremely bearish outlook too. RT has also struggled in earnings season, and its most recent report was no different, as the company missed expectations by a huge margin.
Ruby Tuesday Earnings
RT was expected to deliver a loss of 24 cents a share to investors, but the reality was a 43 cent loss (with one-time items excluded), a nearly -80% surprise. The firm also announced that it would be closing 30 restaurants over the next few months as it tries to salvage this once solid brand.
However, this looks to be an uphill battle as RT has practically been in a death spiral for the past year. The firm's most recent earnings report follow up two other misses, including a 420% miss in the previous quarter, giving RT an average miss over the past four quarters of well over 100%.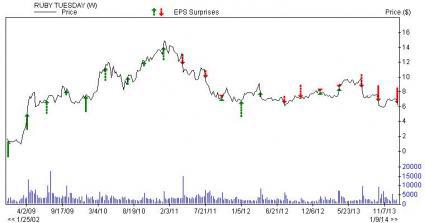 Clearly, the company is having significant trouble meeting even these reduced expectations, leading many to slash their estimates even further for the company.
The consensus estimate has fallen, in just the past seven days, from a one cent loss to a two cent loss for the current quarter. Meanwhile, the full year figures for both this year and next year have declined further into loss territory as well.
If these figures pan out, it will produce a -325% year-over-year growth contraction for the current year time frame. And though next year's figures are supposed to be better, there is a very real possibility of RT not being able to pull itself out of this slump, suggesting investors should stay far away from this stock. In fact, RT has earned itself a Zacks Rank #5 (Strong Sell), meaning that we are looking for this struggling company to continue to underperform its peers in the months ahead.
Other Picks
RT is no stranger to the 'bear of the day' segment, as we featured the company as a 'sell' candidate two times in the final three months of the year. Fortunately though, there are other companies in the space which are taking advantage of the strong consumer, and are seeing rising earnings estimates.
While there are a host of #2 Ranked stocks in this corner of the market, only one has earned itself a top #1 Rank; Fiesta Restaurant Group (NASDAQ:FRGI). This company has surged from a #3 to a #1 in just the past week, and its earnings estimate revision activity has been quite strong lately.
Given this, investors might want to consider this name in the restaurant world over the still in-trouble RT if they are looking to make a play on this in focus sector in 2014. Fiesta appears well-positioned for gains, which is something that you definitely can't say about Ruby Tuesday at this time.