CONSTELLATION ENERGY PARTNERS (CEP)
Thesis: Constellation Energy Partners is an oil and gas limited liability company that owns natural gas assets. The company is presently hampered by debt taken on during the energy boom in the past few years and has thus refocused on using operating cash flows to reduce long term debt. The market cap of the partnership is currently valued in the public market at roughly 27% of the PV-10 NAV (Net Asset Value)[1] using NYMEX strip prices (12/31/09). Investing in the partnership offers a margin of safety in relation to their asset base and catalysts for share appreciation over the next two years include the resumption of maintenance and growth cap-ex as well as dividend reinstatement.
Company Overview: Constellation Energy Partners was organized by Constellation Energy Group and offered to the public in 2006. The purpose is to acquire energy assets with a long life as well as develop and produce from them. They intend to hedge 80% of their production for five years in the future to decrease volatility of cash flow. The commodities crash of 08/09 triggered creditors to decrease their borrowing base as the spot value of their assets decreased substantially. The company suspended the dividend to redirect cash to debt reduction. Their credit facility expiring in October 2010 was successfully rolled to 2012. The company has decided to suspend normal maintenance and growth cap-ex and allow production to decline roughly 12% through 2010 to repay debt. It has stated that it plans on resuming maintenance and growth cap-ex in 2011. The company originally had $220m drawn on a $225m credit facility in Q309. It now has $190m drawn on their new $205m facility as of the start of Q110. The company's operating cost in 2009 was $3.27 per Mcfe. To grow in the future, the company need not acquire new property leases as they have indicated significant organic growth potential from present lease ownership. It is estimated that it will cost $1.81 per Mcfe to search and develop new reserves.
Why Mispricing Exists: The mispricing exists for more than one reason. First, the company was and still is quite close to its credit limit. Second, natural gas prices hit multi-year lows in September '09 and though they rebounded, a subsequent decline has occurred (spot price = $4.33, 03/16/10). Third, the company's production is declining with maintenance cap-ex being redirected to debt reduction. Fourth, the company has a total market capitalization of under $100m. This places it out of view of institutional/hedge fund players.
Valuation:
Market Cap = $88.6m, unit price = $3.90 (03/16/10)
NAV: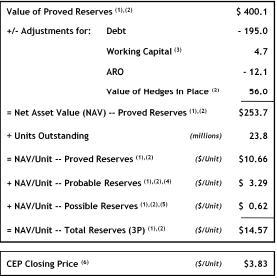 Free Cash Flow = Income + D&A +- Hedging effect – Cap-ex

Not accounting for taxes since taxes are assessed at the unit-holder level
2009 FCF = -9m+76.3m-19.4m – 22.9m = $25m
2010 production forecast to be 11-12% lower than 2009
Cap-ex projected be $11m less than 2009
Production is 80% hedged for 2010 at $7.62 per Mcfe
FCF for 2010 should be roughly the same as 2009 as decrease in production earnings should be canceled out by decrease in cap-ex
Discounted cash flow analysis

15% discount rate
0% growth
8 years of discounted cash flows (life of reserves if no growth pursued)
Book value scaled at 25%, 50%, 75% and 100%

Click to enlarge

*Adjusted EBITDA= Net Income + Interest expense + DD&A + goodwill and asset impairment +- Asset Sales +exploration costs +- hedging effect + unit-based compensation +- Interest rate derivatives effect
CEP's situation is very similar to BBEP one year ago however BBEP did not suffer from decreased production due to the lack of maintenance cap-ex spending.
Investment Opinion: It is apparent that CEP is undervalued at its current market valuation. By paying down debt and resuming maintenance cap-ex in 2011, the company should resume being a growth company. It is likely that the dividend will be reinstated in 2011. These should be catalysts to increase the market value from current levels. Over a three year holding period, CEP is likely to produce substantial returns for a patient investor. The major risk in this investment is further deterioration of natural gas prices over the next few years. The margin of safety between present market value and what the company can be liquidated for should adequately protect an investment even if natural gas prices fall below the company's breakeven level. The company could be sold at half NAV and a unit-holder would realize an 85% return. At a quarter of NAV, a unit-holder would lose 6%. As you can see, the margin of safety is substantial. We recommend buying CEP at current levels ($3.90/unit).
[1] Pre-Tax PV10% is the present value of estimated future revenues to be generated from the production of proved reserves calculated in accordance with Securities and Exchange Commission ("SEC") guidelines, net of estimated lease operating expense, production taxes and future development costs, using price and costs as of the date of estimation without future escalation, without giving effect to non-property related expenses such as general and administrative expenses, debt service, depreciation, depletion and amortization, or Federal income taxes and discounted using an annual discount rate of 10%. http://www.wikinvest.com/wiki/Pre_Tax_PV10%25
Disclosure: Long CEP, BBEP