In a previous article I talked about how VISA (NYSE:V) and MasterCard (NYSE:MA) are capitalizing on the growth of credit in the poorest of countries. Today I'm going to talk about another world issue.
As the world's largest seed company with a global seed market share of 27% , Monsanto (NYSE:MON) is in the business of developing and selling some of the most important resources required to sustain human life.
Yet, the media circus that surrounds the company is often bigger than that of a Big Oil company, or even the now closely watched banks. Currently, the company is contending with a public relations nightmare as a result of three letters: GMO.
GMO, or genetically modified organism, is defined as an organism or microorganism whose genetic material has been altered by means of genetic engineering.
Combined with improved farming techniques and machinery, GMOs have revolutionized the agriculture business, allowing modern farmers to yield exponentially more vegetation out of the same parcel of land than they were able to in the past.
Today, genetically modified crops dominate the American food supply.
It's a controversial issue. But regardless of the never-ending arguments for and against GMO foods (plenty of which can be found online and in academic journals so I won't delve into them here), the industry is big business.
Investors who are interested in the growth prospects of the seed industry should find Monsanto to be a very attractive value-stock.
Monsanto's Driver: Population
According to the United Nations, the world population is expected to swell to 9.5 billion by 2050. Right now, the number stands at over 7.2 billion.
Of the 7.2 billion, the UN estimates nearly 870 million -- approximately 1 in 8 people -- are suffering from chronic undernourishment. The majority of these malnourished people live in developing countries.
Curing world hunger is a complex problem -- one where a realistic solution is decades away. But while the GMO debate rages here at home, the fact is that the quickest road to putting food on the plate of those who need it most is through sowing high-yielding seeds which are resistant to pests and diseases. And this where Monsanto excels.
By focusing on what they do best, MON is gearing up for a record-breaking 2014.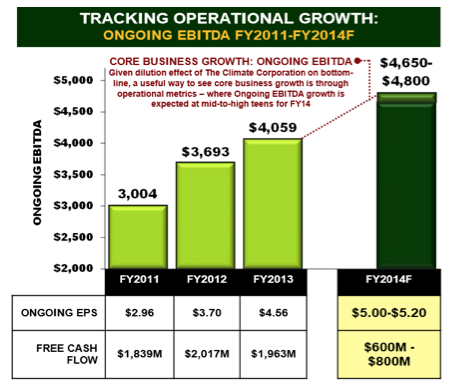 Helping to boost Monsanto's earnings next year is the recent acquisition of The Climate Corporation, an agricultural insurance and technology platform that helps farmers protect and improve their farming operations.
Climate Corporation will be an important component of Monsanto's future growth, as MON turns its attention to what they call "Next Generation Precision Agriculture".
With proprietary technologies, it can better advise farmers with hyper-local weather monitoring, data modeling, and weather simulations to help them make more informed decisions with their crops.
Armed with that knowledge, both Monsanto and farmers can benefit mutually by maximizing output at the most opportune time.
After absorbing the acquisition costs of Climate Control, Monsanto is expecting net income in 2014 to grow 12.3% over last year, with free cash flow in the range of $600 - 800 million.
Earnings per share is forecasted to rise as high as 14.0% to $5.20 in FY 2014 from $4.56 in FY 2013.
MON also issues a modest dividend at a yield of around 1.5% based on its current stock price. In its most recent quarter, Monsanto paid out $0.43 per share, which is 15% higher than its fiscal Q2 distribution in July 2013.
At $116 per share, Monsanto's stock is steadily returning to 2008 levels, having risen over 23% in the past year alone.
While 23% growth in a year may seem fast, it actually under-performed the S&P 500. It's also nowhere close to the blistering 122% clip we saw in a similar span six years ago before it all came crashing down.
Until a better, more sustainable solution is adopted, the GMO business will continue to grow in leaps and bounds, as will Monsanto.
Barring no major backlash beyond the occasional anti-GMO protests and media outcry, Monsanto could be in store for a record high in 2014.
Disclosure: I have no positions in any stocks mentioned, and no plans to initiate any positions within the next 72 hours. I wrote this article myself, and it expresses my own opinions. I am not receiving compensation for it (other than from Seeking Alpha). I have no business relationship with any company whose stock is mentioned in this article.