The emphasis of this report is on the performance of Priceline.com (NASDAQ:PCLN) in the stock market as a consequence of changing consumption patterns, environmental changes, and strengthening economy. Priceline is an intermediate service provider that facilitates communication between sellers and consumers. The company has helped customers around the globe to book hotel rooms, airline ticks, rent cars, and book vacation packages with just a few clicks online.
Revenue Drivers
Priceline distinguishes between its revenues in two ways: revenue based on function and revenue based on geography. Looking at the geographical distribution of revenues, Priceline extracts its revenue both from domestic and international consumers. International consumers contribute around 92% of the operating income base of the company. The growing popularity of Priceline on an international level is apparent from the table below which shows the distribution of bookings between domestic and international consumers.

Source: Annual Report, 2012
Within the international consumer base revenues are mainly attributed to the European region. Booking.com is the most popular brand of Priceline in the EU region and it covers about 355,000 properties. The brand is now penetrating new markets, such as North America, and is expanding its operations in existing markets, such as South America and Asia Pacific. Hotel bookings are the most popular source of revenue from domestic consumers.
In terms of distribution based on function, revenues are mainly categorized as agency revenues and merchant revenues. Agency revenues are defined as those where the company acts as an intermediary agent and the seller decides on the price of accommodation, rental car etc. Merchant revenues are those that the company earns by taking up the seller role. As shown in the table below, the contribution of agency revenues has increased rapidly over the past three quarters whereas merchant revenues show a downward trend.

Source: Quarterly statements, 2013
Industry Outlook
Since U.S. and EU consumers largely impact the revenues and profitability of the company, we are going to analyze these two markets in terms of economic environment and changing consumer behaviors.
The travel industry is expected to improve in the year 2014 as gas prices decline. Gas prices will be lower than the levels experienced in 2013. There are two reasons for this decline. First, fuel efficient car production is on the rise and second, oil refineries are expected to increase production to benefit from the booming crude oil industry in North America. Competition amongst online travel agencies is increasing as well. Therefore, overall travel costs will decline and this would boost traveling amongst consumers. According to recent research by AAA, Americans are increasingly looking forward to leisure traveling and have been exhibiting a continuous increase in their desire to travel for the past five years. The interest in traveling by the U.S. consumer is also supported by the gradual strengthening of the economy that is apparent from the rising GDP. GDP growth for the third quarter stood at 4.1% in 2013.
The travel industry is booming in the emerging markets of Asia-Pacific and South America and they are also responsible for the high growth in hotel reservations. The growth rate, although high, is declining. For instance, the past three quarters of 2013 indicated a growth rate of 37% which declined from 40% during the same period in 2012 as the market matures and competition increases in the hotel reservations segment.
With regards to the European region, the travel industry shows a promising outlook for 2014. Consumer confidence has strengthened as indicated by the consumer survey conducted by ABTA. About 19% of survey respondents said that they will spend more on leisure traveling in 2014 than they did in 2013. Moreover, the region anticipates an increase of approximately 3.4% in business travelling in 2014 compared to 2013 figures. The table below indicates the dollar amounts of business travel spending (BTS) and year on year growth over the years.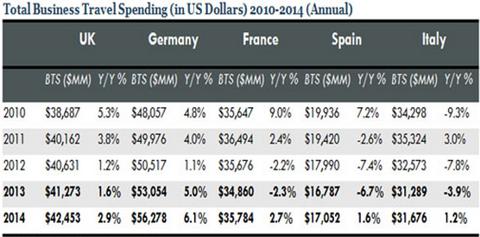 .
Source: GBTA
Traveling in the U.S. and EU regions is also expected to rise due to various events hosted in these countries. Other than that, the hundredth anniversary of World War One is approaching in August of 2014, and this is expected to increase traveling towards the battlefields located in France and Belgium. Other than these hot spots for traveling in 2014, beach holidays are still expected to top the list with a rising consumer base interested in cruising. Ten percent of consumers are considering a cruise trip in August 2014 compared to just 5% of cruisers in 2013.
These industry trends are highly beneficial for Priceline, as traveling will be a popular leisure activity in the regions where the company has captured a majority of the market. Business traveling is expected to show high growth in these regions as well. Moreover, to boost its revenues from leisure traveling, Priceline is struggling to capture a prominent share of the market in South America and the company has increased its number of properties in South America. These facts, coupled with rising consumer confidence, will greatly benefit the company. A booming travel industry will positively impact the stocks of the companies dealing directly or indirectly in the industry.
Consumer Trends
Consumers today use their smartphones for almost everything. A recent survey conducted among 435 million respondents indicated that approximately 72% people make use of their smartphones to book their tickets while 65% of respondents said that they use of their smartphones to make last minute travel arrangements. In fact, travelers around the globe account for 20% of internet traffic through their mobile devices. As of January 2013, the popular mobile sources used to access hotel websites are shown below.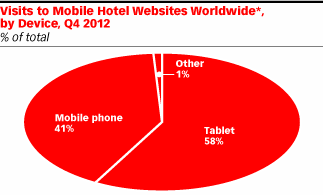 Source: eMarketer
In order to capture these online travelers, Priceline partnered with Apple and launched an app for Apple iPhone iOS7 which allows prospective travelers to browse through available hotel rooms and accommodations, rental cars , air travel tickets and make their travel arrangements in a timely fashion. This partnership is expected to increase the popularity of Priceline among smartphone users and will definitely enhance the company's consumer base and profit margins in the future. Improved and timely performance on the part of the company will positively impact the its stock market performance as well.
Conclusion
Priceline is a growing company that is now looking towards the emerging markets to grow its profit margins as existing markets become increasingly competitive. Although the growth rates of the revenue base and profit margins have declined compared to previous years, the company is still in the high growth phase. The company is considering new ways to capture more customers on an international level as well which will positively impact the top and bottom lines of the company in the future as its consumer base grows. Lastly, the positive industry outlook and rising consumer confidence will support the growth of the company, thus indicating positive future performance for a number of years to come. These factors will all have a positive impact on the company's stock price. Therefore I recommend buying the stock.
Disclosure: I have no positions in any stocks mentioned, and no plans to initiate any positions within the next 72 hours.
Business relationship disclosure: The article has been written by a Blackstone Equity Research research analyst. Blackstone Equity Research is not receiving compensation for it (other than from Seeking Alpha). Blackstone Equity Research has no business relationship with any company whose stock is mentioned in this article.