Lululemon (NASDAQ:LULU) may have started into a downward spiral from which recovery is difficult. The announcement that January sales were slow enough to call off its quarterly earnings follows a previous announcement that same store sales were likely to be flat for the quarter. Apparently "flat" is not in the cards and a decline now seems likely to emerge. The December 12, 2013 announcement of flat same store sales suggested that supply was responsible for a third of the softness. Supply was not mentioned in the current announcement which seems to reflect less demand. Cold weather was not mentioned either but the bitter cold January weather did not help.
But investors should keep in mind just how bad "flat" or "declining" same-store-sales are for Lululemon. This is a company that regularly turned in double digit growth in same-store-sales and sported one of the best records in the United States for sales per square foot of retail space in 2012.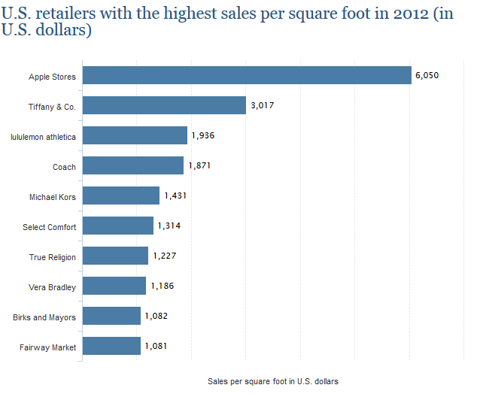 Click to enlarge
It also enjoyed one of the highest profit margins at 20% of sales.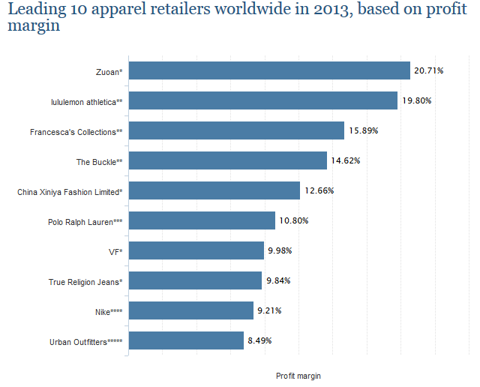 Click to enlarge
Of course, the 20% margin is store wide on total sales less corporate costs. Actual product margin is more like 70% if not higher. So, when same-store-sales are increasing the incremental profit from growth can be exhilarating. Not quite so much fun when things turn down.
Because Lululemon has been a stock market darling, it gets more than its share of ink when things go well and when things go badly. Much like BlackBerry (NASDAQ:BBRY) during its decline, the press coverage will not help attract customers if it is repeatedly bad news.
Lululemon has been a powerful brand, with the brand alone valued at close to $4 billion in 2013, more than Hugo Boss and almost double Calvin Klein.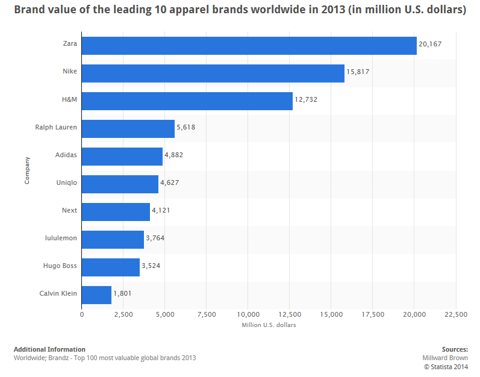 Click to enlarge
Brands are terrific assets. When you can develop "hooks" between a brand and a set of features of a product or product group consumers will not only buy your product but also pay a premium for it if your brand connotes exclusivity, quality or other desirable feature. Mercedes Benz cars command higher prices than competitors not because they are particularly "better cars" but because the brand connotes success, wealth, quality and uncompromising engineering excellence. More recently, it has also come to be viewed somewhat as an "old man's car". Maybe that is why I drove an S Class for decades but now that I am old I have an Audi A5, not quite ready to accept my ageing.
In the case of Lululemon the brand carried an aura of quality and a belief that the garments looked absolutely terrific on the women who wore them. Founder "Chip" Wilson's remarks that the product did not work for all women took the brand down one notch and the sheer pants issue took it down another. Christine Day was out, Wilson left the Chairmanship and Laurent Potdevin took the helm.
Whether it is the helm of a sinking ship remains to be seen, but for certain damage has been done. People who buy premium products at relatively high prices have certain expectations. One such expectation is that the product enhances their image. The thought that the Lululemon product might be unflattering or play "peek a boo" with what's underneath is hard to overcome, and when customers begin to stay away from a product they stay away in droves.
The situation is not helped by competitors like Under Armor (NYSE:UA) who immediately launched a campaign under the "We've got you covered" tag line and made sure its spokespeople were awake to the message that every one looks good in Under Armor. Under Armor ads pointed to the real beauty in people, subtly reinforcing the damage Wilson did.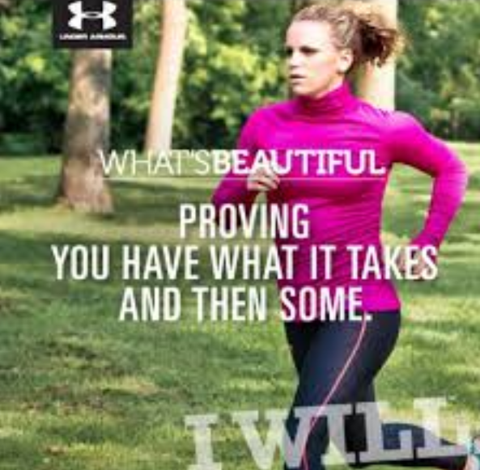 Click to enlarge
Nike for its part used bold advertisements appealing to real women with real women's bodies. Nike's " My Butt is Big" tag line was effective in building sales and the antithesis of telling consumers that their products "didn't work for some women's bodies".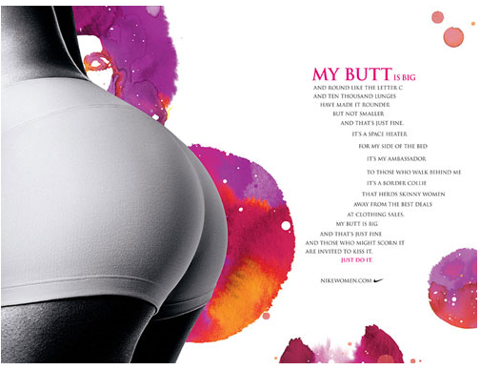 Click to enlarge
Nike ads were simple and powerful, including the racy images of a single Nike product posed with a naked model.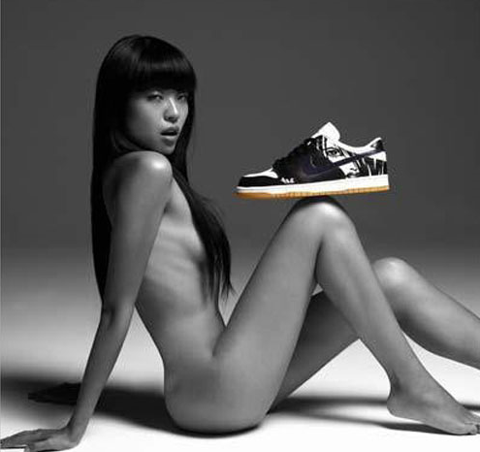 Click to enlarge
The Lululemon blunders opened the door for what some described as a "tsunami" of competition. The Gap's Athleta brand is among those taking advantage and is a serious threat.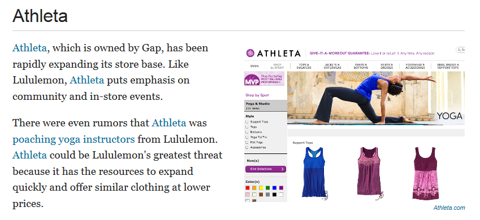 Click to enlarge
Calvin Klein is selling products that so directly target Lululemon that Lululemon has sued the firm alleging its designs were copied.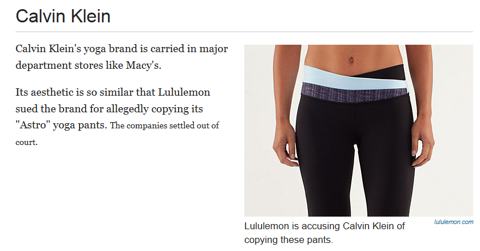 Click to enlarge
Nordstrom's Zella brand is making headway aided by Nordstrom's hiring of one of Lululemon's top designers.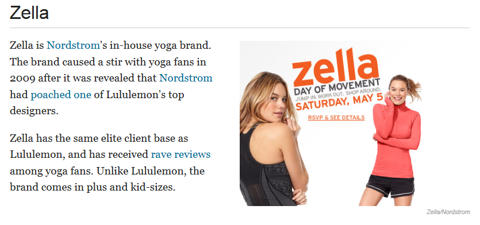 Click to enlarge
Lesser know Mika Yoga Wear is targeting women interested in Yoga and Pilates - dead centre among Lululemon customers.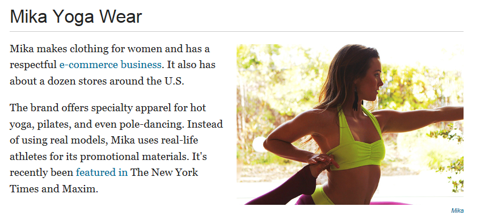 Click to enlarge
Even Victoria Secret is offering Yoga wear, taking advantage of its strong brand and reputation for quality and its history of making gorgeous garments for women.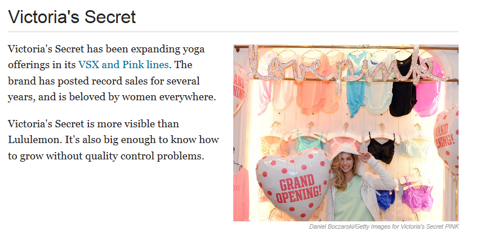 Click to enlarge
In my view, we are at the beginning of a long downward slide for Lululemon unless it new CEO can right the ship with an aggressive and effective merchandising approach that respects women, emphasizes their beauty regardless of their body type, and ensures the quality of Lululemon garments lives up to the highest standards of durability, comfort and appearance.
Rebuilding a tarnished brand may be easier said than done. Just ask JC Penney (NYSE:JCP). I think LULU remains a good short.
I covered my profitable short position in Lululemon a while ago. It is time for me to get back into the name on the short side of the street.
Disclosure: I have no positions in any stocks mentioned, but may initiate a short position in LULU, over the next 72 hours. I wrote this article myself, and it expresses my own opinions. I am not receiving compensation for it (other than from Seeking Alpha). I have no business relationship with any company whose stock is mentioned in this article.