It's going to be a big week for chip giant Intel (NASDAQ:INTC), which will report its fiscal fourth quarter results Thursday afternoon. The company will also hand in an update to its 2014 forecast, something that investors are very eager to hear. Intel certainly needs to deliver this week, especially as the stock price has risen greatly since the last report, despite two disappointments. Today, I'll provide an update on the latest round of short interest data, as well as preview the earnings report.
The latest short interest data:
Recently, we got the final 2013 short interest update. As you can see from the chart below, Intel saw another decline, the 5th consecutive decline in short interest. Nearly 10 million shares were covered in the final few weeks of December, putting short interest at its lowest point since February 2013.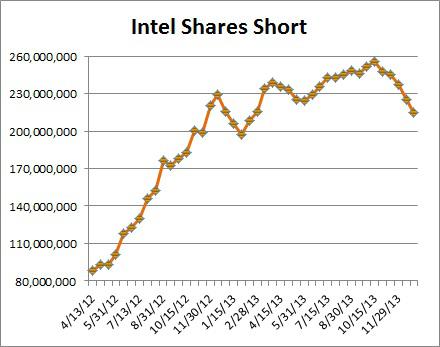 More than 40 million shares have now been covered since the short interest peak of 255 million plus in the middle of October. That's nearly 16% of all short sellers, and at current prices, that's around a billion dollars worth of shares short that were covered. The next chart I'll show is the days to cover ratio, which like I said, would certainly increase as volume dipped around the holidays / end of year.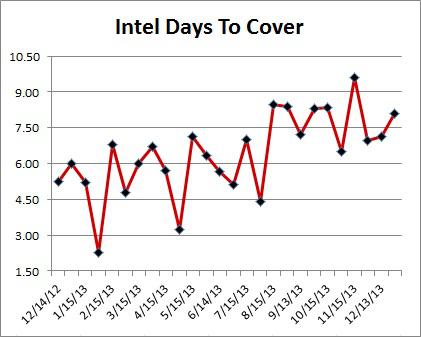 So what does all of this mean? Well, almost 1 in every 6 Intel shorts covered during the final two and a half months of 2013. As I stated in my previous short interest update, this represented a sizable shift in sentiment, and that has continued. You don't see this kind of covering unless people are feeling better about Intel. With 2014 expected to be a turnaround year, some shorts have decided to abandon their Intel gambles. You may also notice that short interest peaked around the Q3 earnings report, and Intel shares have rocketed higher since then.
Thursday's earnings report:
Before I get into my predictions, let me quickly remind everyone what Intel guided to for Q4:
Revenue: $13.7 billion, plus or minus $500 million.
Gross margin percentage: 61%, plus or minus a couple of percentage points.
R&D plus MG&A spending: approximately $4.7 billion.
Amortization of acquisition-related intangibles: approximately $70 million.
Impact of equity investments and interest and other: approximately zero.
Depreciation: approximately $1.7 billion.
Restructuring and asset impairment charges: approximately $100 million.
Tax rate: approximately 25%.
Full-year capital spending: $10.8 billion, plus or minus $300 million.
At that Q3 report when Intel gave Q4 guidance, Intel analysts were looking for $14.02 billion in revenues and $0.53 in earnings per share. Thus, this guidance was seen as a little light. As of Monday afternoon, analysts have reduced their revenue estimate average by $300 million to $13.72 billion. The average earnings per share forecast has come down by a penny to $0.52.
I put together a table showing a potential spread of Intel's results, and my own personal predictions. I'll discuss my own predictions after the table. Let me start with Intel's guidance. In the table below, I did a low end of guidance, which assumes the low end of Intel's revenue guidance, and the high end obviously assumes the high end. For gross margins, Intel stated "61% plus or minus a couple of percentage points". I used 61% for the midpoint case, and I went plus/minus 2 full percentage points (200 basis points) out for the low end and high end. For all other guidance, I used the exact number stated in guidance. Dollar values and the share count are in millions, and the EPS figure was determined based on the Q3 share count. Assuming Intel bought back some stock, the share count could potentially be a little lower.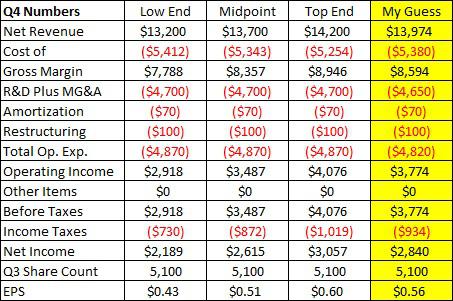 There seems to be a lot of optimism over Intel, and that is reflected in the fact that the stock price has rallied strongly since the latest earnings report. There are three positive notes I'd like to point out from the last week that lead me to believe Intel could beat next week:
Micron (NASDAQ:MU) announced very positive results. Revenues and earnings beat handily, and the stock jumped accordingly.
IDC and Gartner believe that PC sales are starting to stablilize a bit, with Q4 losses not being as bad as Q3.
Goldman Sachs, which has a sell rating and $16 price target on Intel, believes that Q4 results might beat expectations.
It does look like PC sales are starting to stabilize a bit, and I believe that would be positive for Intel. My revenue assumption above assumes that Intel generates 2% more revenues than its revenue midpoint. I'm also assuming 61.5% for gross margins, a bit ahead of the company's midpoint. Intel had a huge gross margin beat on Q3. I also chose to model R&D plus MG&A expenses a little lower than guidance, because Intel has come in a little below expectations for those (that's a good thing). Like the other cases, I assumed exact guidance for restructuring and amortization charges as well as "other items". For the tax rate, I'm guessing 24.75%, better than the 25% forecast as Intel's tax rate has been better than expected through the first few quarters of 2013. My expectation for $0.56 in earnings is based on the Q3 share count.
Intel shares closed at $23.39 going into the Q3 report, not adjusting for dividends. With the stock up more than 9% since then, expectations are going to be a bit high for Intel, as 2014 is expected to be a turnaround year. It is quite possible that the "whisper number" for Intel's revenues and earnings may be higher than street numbers or even my numbers. It might take a large beat for investors to be happy. Another writer for this site, Michael Blair, believes that Intel will report revenues of $14.53 billion with earnings per share of $0.64. I think this forecast is a bit optimistic, and both of these numbers are well above the highest estimates on the street. Even my earnings per share number is a penny higher than the Yahoo! Finance high, which I linked to above. I believe that my forecast represents a realistic forecast for Intel investors given the rise in Intel's share price since the Q3 report. Expecting Intel to come in around Mr. Blair's numbers may be a bit of wishful thinking, and might set investors up for a little disappointment. I do believe there's a decent chance of Intel beating estimates, but I wouldn't expect the moon from the company just yet. Remember also that analyst estimates could change by Thursday afternoon.
Let me just make one final point here to make something completely clear. Just because I think Intel could beat doesn't necessarily mean the stock will rise afterwards. There are plenty of other reasons the stock could rise/fall after earnings. In fact, if you look at my revenue number, it is actually below the analyst estimate at the time of Intel's Q3 report. Intel shares have risen more than $2 since the last report, so there is a bit of an expectation that Intel could beat. If Intel were to come in at my number, it's not necessarily an indication that the company had a good or even great quarter. It is just as much of a fact that expectations came down a bit.
Don't forget about guidance!
More important than Intel's Q4 results will probably be the company's 2014 guidance update, as well as Q1 2014 guidance. In the link provided in my opening statement, I broke the yearly guidance down in large detail, so I won't spend too much time repeating everything I said there. The key for Intel will probably start at the top. Analysts expect 1.2% revenue growth in 2014, despite the fact that Intel originally guided to basically flat revenues in 2014. I believe that Intel's revenue guidance is the most important item for 2014, and analysts seem to be expecting a slight guidance raise this week.
Intel's guidance and subsequent management commentary on the call should provide investors with some key information. If gross margin guidance is a bit weak, or expense guidance is too high, it might show that Intel needs to put a lot behind its tablet/smartphone effort. I don't think Intel will discuss the dividend on the call, but investors would like to see a raise this month. The company could also speed up the buyback a little, but both of those items also depend on the company's capital expenditure forecast. There will be a lot of information to break down when it comes to Intel. I may even hold off my post-earnings Intel reaction to Monday just for some extra time to dig into the results, call, and Friday's stock price reaction.
Ways to play this earnings report:
When I do an earnings preview, everyone asks how to play it. So for those shorter term people that want to take a flyer on the earnings report, I'll mention a few ways to play this. Obviously, the best pure way to play Intel earnings is through Intel stock or potentially options. The weekly options are a bit tricky here though because it is a Thursday afternoon report, so you only would have Friday's day for your move.
For those looking at some other ways to play Intel, there are two sector ETFs that I would throw out there. First, the iShares PHLX Semiconductor ETF (NASDAQ:SOXX). This is a US Semiconductor ETF, and as of January 10th, Intel was the largest holding at 8.16%. For those looking for a more generic tech sector ETF, the PowerShares QQQ (NASDAQ:QQQ) tracks the NASDAQ 100 Index. Intel was the 5th largest holding in this ETF as of January 10th, but only had a 3.17% weight. In this case, you are betting on a tech sector wide rally, as opposed to the SOXX where you are betting on all semiconductors. Remember too that both of these ETFs could have some or many other names reporting earnings that could impact overall performance. The best pure way to play Intel is Intel, as both of these ETFs have less than 10% of their holdings in Intel, but they are options.
Final thoughts:
Intel shorts continued to cover as 2013 ended, and the next big move will be dependent on Intel's upcoming earnings report. With shares rallying big since the Q3 report, expectations seem to favor the notion that Intel will beat on the top and bottom line. Additionally, investors are looking for guidance to be a bit more optimistic than the original 2014 forecast handed in during November 2013. I said a few weeks ago I would potentially short Intel if the stock approached $27 into the report. It doesn't seem like Intel will reach that point, so I probably won't take a position through earnings. I'll be back later this week or early next week with my take on Intel's report.
Disclosure: I have no positions in any stocks mentioned, but may initiate a short position in INTC, over the next 72 hours. I wrote this article myself, and it expresses my own opinions. I am not receiving compensation for it (other than from Seeking Alpha). I have no business relationship with any company whose stock is mentioned in this article.
Additional disclosure: Investors are always reminded that before making any investment, you should do your own proper due diligence on any name directly or indirectly mentioned in this article. Investors should also consider seeking advice from a broker or financial adviser before making any investment decisions. Any material in this article should be considered general information, and not relied on as a formal investment recommendation.