In today's Oxen Group recap, we will be looking at Lululemon (NASDAQ:LULU) and Anheuser-Busch (NYSE:BUD). We want to update our 12-month price target as 2014 is starting to take shape for both companies. The Oxen Group covers LULU and BUD year round, and we want to update our current pricing to reflect recent occurrences. In our Company News section, we will focus in on LULU with today's breaking news. We will examine BUD in our Deeper Outlook as to what expect in the new year. Additionally, as always, we will do our typical market overview and examine what's coming next for the market.
Market Overview
The market was down strongly to start the week. The problem is, as we noted in our weekly outlook, that there is some real uncertainty in the market right now. The worry is, generally, that we no longer have the backing of the Fed, but the economy may not be ready to stand on its own. The Nonfarm Payrolls weakness from Friday met comments from Atlanta Fed President Dennis Lockhart today. Without much other news, the market was focused on Friday's NFP when Lockhart noted that he was for more tapering and that he was more confident in the economy this year. Yet, those comments came in the light of a very weak employment report, leaving buyers uncertain and others looking to lock in gains after a great 2013. At the end of the article, we will look at where the market stands technically.
Company News
On the company news side, we will be focusing on Lululemon today. We have been bearish on LULU since July of 2012 where we have had the company Sell-rated. You can view our previous three articles where we recommended Sells on Lululemon from July 2012, March 2013, and July 2013. In our latest update article, we reiterated a Sell with $58 price tag. That was in December. We noted that we disliked the stock for the following:
We put forth our reasons for disliking LULU as mostly due to it being overvalued, lacking a vision for international growth, and having tough comps/rising competition. None of these things have changed over the past several months. The stock is still quite expensive, priced at nearly 10x book value, 28x future earnings, and 7x sales. The company still has not named a new CEO six months after Christine Day noted she was stepping down. The earnings report this week is a big one. The last report was weak as the company saw supply chain issues delivering fall lineup to stores in the necessary time as well as continued issues with their "luon" line, which originally had issues due to sheerness.
Today, we want to update the company in light of today's news and see what has changed as well as update our price target.
The news came out this morning that Lululemon was cutting its Q4 outlook. The company cut EPS to 0.71 - 0.78 from 0.78 - 0.80 for their latest quarter. The company also cut its revenue estimate, which was already weak, from $535-540M to $513-518M. The company noted that the cut was due to traffic and sales trend that declined in January. The company was on track through December, but the weak start to the year has hurt the company. Additionally, the company provided that they are seeing Q4 same-store sales in the negative low-to-mid-single-digits versus what was previously flat same-store sales.
Jeffries, RW Baird, and Cowen all acted throughout the day, cutting their targets. The company's slowdown in momentum was the key concern. For us, we have been bearish on this company for some time, and we often stood alone in this respect. The main issue we see for the company is that they have relied too much on one market for growth in North America and lack an international growth vision. They were without a vision and strong management for too long, and the stock was still expensive and priced for perfection. Even after today's pullback, the stock still has a 31 P/E, 25 future PE, and is priced at 5.5x sales. All these are rich valuations reserved for companies with strong growth levels.
The company did solve one of their problems in hiring a new CEO. Laurent Potdevin took over as CEO this month. Prior to this, he was the president of TOMS shoes and a former CEO at Burton Snowboards. As we had previously mentioned, the international growth of the company is the only way that they can sustain these lofty valuations and grow at a rate sufficient to support these levels. The new CEO needed to have a strong track record of international expansion of a line. With Potdevin, the company gets someone that has definitely been able to take a line and make it a household name with TOMS. Further, he has experience in athletic apparel with his work with Burton as well as with LMVH. Yet, does he have an international acumen? To us, over everything else, this is the key to the company's potential. With TOMS and Burton, Potdevin was actually charged with promoting global scale and international expansion, and he was fairly successful in both. Overall, the hire seems good, which removes some of that worry.
The company seems to understand that the international expansion of their products continues to be very important as CFO John Currie noted in the latest quarter in response to a question from an analyst:
Lorraine Hutchinson - Bank of America

John, where are you in the investment cycle, both for sourcing and international rollout? And should we see a step up in the SG&A rate next year to support these two investments?

John Currie - CFO

In terms of sourcing, as I said it's a journey. A lot of it is headcount, but there are significant system investments that we have been incurring over the last year to 18 months, and those will continue over the next couple of years anyway. So we're sort of midway through that step up in investment.

And also, international, in 2013 we put in place the core teams in each of Asia and Europe. We've done a lot of the infrastructure build. And what you'll start to see in 2014, as we open up more showrooms and even move to stores in some locations, you'll see some additional SG&A drag as we get up to critical mass in those markets.

I think in 2013 international is a net negative of sort of mid-single digits, and it will be something higher than that in 2014, and depending on the pace of rollout, we'll turn positive once we have enough stores, and have critical mass in those markets.
The acceptance of products in the international markets will be crucial especially in light of the potential domestic slowdown. Yet, we are also seeing incredible growth of competition. Under Armour (NYSE:UA) has noted they are dedicated more than anything to growing their womens' lines and a big part of that is workout pants and yoga pants. Most other athletic stores have also done the same. While LULU has a loyal base, these signs show us that the quality of the products is not far enough ahead for their price point especially when that quality still has a black eye.
Let's get into pricing the company.
Right now, we are expecting 2014 to be a bit light before the company will see a ramp back up with international potential. Revenue in the $1.8 - $1.9B range in 2014 (FY2015) followed by the $2.2B area in 2015 is our expectations. We believe that a 25% operating margin should be held but could dip further in 2014 as the company moves through a major expansion of their company. Taxes should stay at around 30-32%, although, they could decline slightly with international credits. The company is still a strong growth name, so we will use a lower discount rate for them. We also expect CapEx to expand with international expansion over the next couple years before tapering off. When we use these numbers in our model, we come up with a 2014 price target of $53, putting the stock at a Hold.
In reality, we do believe there is potential here. If the company can execute operating margins higher than 25% and see some very solid international results in the 2H of 2014, things could definitely turn around and our model may actually be a bit light. For now, we wait for a pullback to $40 or lower to buy or wait for better results. The stock is still pricing in a very solid scenario even after all these losses.
LULU is the perfect example of a growth stock that no longer is showing people the perfect scenario and showing some struggles. When that happens, these names fall apart. The stock can get back into favor but it will take a couple solid quarters and great international results. If the company flops internationally, our model may be a bit rich in reality.
Deeper Look
Anheuser-Busch InBev
Overview
Heading into today, we had a Buy-rating on BUD with a $125 price tag. We came out with that 12-month price tag in June, so we are still expecting a nice accretion of shares over the next six months. Today, we want to update for all of 2014, discuss the major catalysts for the company this year, and get our full year price target.
When we updated our model, we
Major Catalyst
The main catalyst moving forward for BUD is going to be the integration of Grupo Modelo and expansion into South America for the company. In our last report, we discussed the plans and what it means for the company:
The consolidation of the beer business, though, has more to do with the situation in the alcohol industry we believe. With the rise of popularity of craft breweries and different types of beer, BUD has been in trouble in the states. In these emerging markets, the big name brewers are still in charge, and beer is growing at a faster rate. For example, in Mexico, beer volumes grew 3% in 2012 versus 1% in the USA. To get the Modelo name, the company had to pay a 30% premium as well, which was a steep price to get involved in Latin America in a larger way. Yet the $7B+ addition of sales will add around 15% growth in sales in 2013 and 2014. We look for EPS to increase to around 5.0 this year and 5.5 in 2014, which are solid rates for the company. Yet, we expect a big slowdown in 2015-2017 for growth as we continue to believe beer volume growth will be in craft and not in the big name producers.
So, how is the company doing so far with their integration? In the company's latest earnings call, they noted they were ahead of schedule with their integration and helped to grow EBITDA 10.5%. Global volumes for all of BUD grew 5% with Corona adding 3.7% with strength in Mexico. The company saw a 4% drop in Brazil in volumes, but this is more to do with the economy rather than lack of progress. Other companies like CCU (NYSE:CCU) have noted similar trends. The company is a few months off from the 2014 World Cup, which will be a tremendous beer drinking time. The company was smart to get Grupo Modelo so soon before this event.
The company noted this about cost synergies between the integration in their latest report:
Since the closing of the combination, we have delivered $250 million of cost synergies. Of this amount, $210 million was delivered in the third quarter, with a further $40 million coming from initiatives in the second quarter. In addition, the Grupo Modelo management team delivered $75 million of cost savings prior to the closing as a result of best practice sharing. The total value of synergies captured so far is $325 million, of which $300 million has been captured in the Mexican zone, with the remaining $25 million being reported within our global export and holding companies. We reiterate our commitment to deliver $1 billion of cost synergies before the end of 2016, although we now believe the majority of these savings will come by the end of 2015. We also remain on track to deliver $500 million of working capital savings in the first 2 years after closing.
The company saw a 17% jump in EPS year/year with the addition of Grupo Modelo. The EPS looks like it will come in under our previous expectation to around 4.80 in 2013 but will get closer to our 5.50 goal for 2014. The company should see a boost of about 300 basis points in revenue in 2014 with a comeback in Europe and added growth from volumes in South America surrounding the World Cup.
The reason for consolidation inside of the business, though, is due to a continued pressure by craft brewers on big breweries like Budweiser. Therefore, we believe that it is important to realize that this move by InBev to buy up a lot of the big names in the world and creating one big army of beer companies is more a product of the times and want to get as much power and leverage as possible. Therefore, we expect revenue growth to slow to 2-4% in 2015-2018 more in line with GDP as the market is saturated.
We could see something more like 4-6% growth, though, if Europe recovers and really starts to expand. The company will obviously be pushing Corona, Modelo, Pacifico, and Victoria into as many new markets as possible over the next several years.
Another small catalyst that we are interested in examining throughout 2014 is the launch of Johnny Appleseed cider as well as Stella Cidre continuation. The cider market is still not overly crowded and it is the fastest growing section of the industry in the USA. We will want to watch that in 2014, but if they have success with it, we could see 50-100 basis points of added revenue to the totals in 2014.
Pricing/Valuation
Revenue - We expect revenue to be around $48B in 2014 with that slowing down in growth to $50.4B in 2015. From there, we expect a 3-4% growth through 2018 given the company's current makeup. More acquisitions would push this model even higher.
Operating margin - BUD has been pushing strong margins for some time, and we may see a slight dip in 2014 with the brining on of Grupo Modelo, but that should bounce back and potentially push even higher into the 33% range over the coming years.
Taxes - The company should see taxes in the 20-22% range as they rose due to exposure from Mexico, where taxes are higher.
Capital Expenditures - These should taper off over the next several years with a lot of expansion projects over the past couple years. Look for something around $3.5B in 2014 with a drop to around $3.0B through 2018.
In our model, we used a cap rate of 4.3%. It is a mid-level rate, which shows growth from the acquisition as well as the strong financial health of the company. When we put this through our model, we come up with a $138 2014 price tag, meaning we still think the market is not pricing the acquisition well enough yet. We like buying under $110.
When we look at valuations this makes sense. The company has a 12.7 P/E and 1.9 PEG ratio, showing that it has some definite upside. It is also priced at only 3.6x book value. That compares to 10x for Boston Beer (NYSE:SAM) and 3.0x fro the Craft Brew Alliance (CREW). The PEG is the lowest in its industry outside of CCU. The company is the cheapest in comparing market cap to cash at 25x versus 25.3x for Molson Coors (NYSE:TAP) and 66x for SAM.
BUD is a great value with strength globally. Further, the company offers a small dividend at 1.3% on top of their upside potential.
Charting The Markets
The S&P 500 (NYSEARCA:SPY) broke out over 1800 but has failed at the 1850 level. Right now, we see support in the 1820 area. If that fails this week, we should see a retest of 18000. From there, we have a long way till the next support area. A good week could see us break 1850. A bad week of data will see us break 1820 potentially 1800.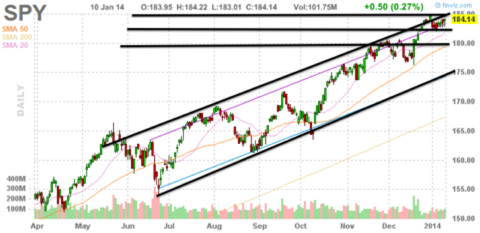 The Dow Jones (NYSEARCA:DIA) has resistance at 16500 and broke through 16350 support. The Dow now needs to see a good reversal or we don't see support until 16000.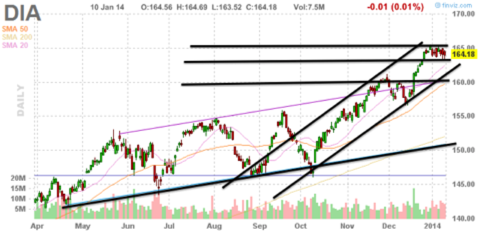 Tuesday's Outlook
The market got whacked on Monday, but luckily, we have a full slate on Tuesday to divert attention. First off, we get some important data in the way of Retail Sales and Import/Export prices. If prices come in lower, it will show more deflation signs and will get the market speculating about QE in a positive way. If it's strong, it's good for the economy. Retail sales will be key, but the expectations are super low. Most expect a negative reading especially after a lot of retailers sliced their expectations. We get earnings from JPMorgan Chase (NYSE:JPM) and Wells Fargo (NYSE:WFC) tomorrow morning as well to start to get the market's attention to earnings. Those reports will be very key especially with what happened today. We are in a crucial spot here where we need some confidence or a larger 5-10% overall correction is likely.
Disclosure: I have no positions in any stocks mentioned, and no plans to initiate any positions within the next 72 hours.
Business relationship disclosure: I have no business relationship with any company whose stock is mentioned in this article. The Oxen Group is a team of analysts. This article was written by David Ristau, one of our writers. We did not receive compensation for this article (other than from Seeking Alpha), and we have no business relationship with any company whose stock is mentioned in this article.