One of the most famous lines in the history of finance was allegedly said by Baron Rothschild during a wildly successful speculation during the Napoleonic Wars: "The time to buy is when there's blood in the streets."
Looking at Turkey, I believe we're getting very close to that "blood in the streets" moment. In case you haven't been following the news, Turkish Prime Minister Recep Erdogan, who has begun to look more and more like a thug in the past year for the methods he's used to deal with civil dissent, was forced to fire half of his cabinet due to a corruption scandal that has melded into something of a constitutional crisis. In order to obstruct the investigation, he reorganized the police force and has introduced a bill that would give his government control over the courts—a coup in all but name.
There has been sporadic violence in Turkey over the past month, and foreign investors—which Turkey depends on to fund its large current account deficit—are getting antsy. And not surprisingly, Turkish stocks have taken a nosedive.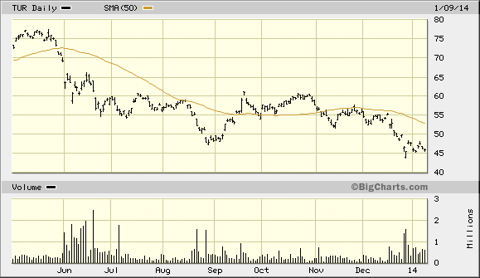 We're not quite to the "blood in the streets" point in Turkey, but we're awfully close. Turkish stocks trade for just 8 times earnings,
according to the Financial Times
. But buying at this stage is tantamount to trying to catch a falling knife. Before this crisis ends, one of two things will likely happen. Erdogans's government will fall, which would resolve the crisis, or Erdogan assume quasi-dictatorial power, in which case the crisis will deepen.
So for now, I'm putting the
iShares MSCI Turkey ETF
(NYSEARCA:
TUR
) on the watch list, but I'm not recommending you buy. Wait for TUR to washout and start a new uptrend. There is no perfect indicator to track this, but the 50-day moving average should be fine for our purposes. If TUR crosses above its 50-day moving average, take an initial position and continue to add to the position as TUR rises. I believe TUR could double from current levels and not be particularly expensive, but we don't want to jump into this trade too early.
Disclosure: No positions
Disclaimer: This site is for informational purposes only and should not be considered specific investment advice or as a solicitation to buy or sell any securities. Sizemore Capital personnel and clients will often have an interest in the securities mentioned. There is risk in any investment in traded securities, and all Sizemore Capital investment strategies have the possibility of loss. Past performance is no guarantee of future results.