eBay's (NASDAQ:EBAY) PayPal is an online payment processing platform that charges a small fee for facilitating a payment between two parties. We estimate that PayPal constitutes 26% of the $42 Trefis price estimate for eBay's stock and we believe that mobile phone transactions will play an increasingly important role for PayPal.
PayPal is 26% of Trefis Estimate for eBay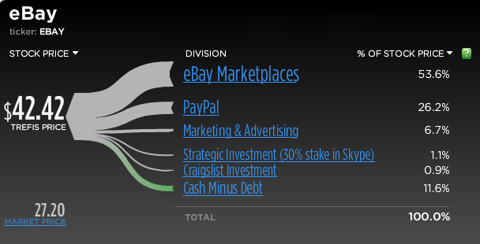 Mobile Is Small but Growing Fraction of PayPal Transactions
PayPal's mobile transactions have increased nearly six-fold from $25 million in 2008 to $141 million in 2009. Although mobile transactions were a small fraction of the $2.6 billion in revenue generated by PayPal 2009, we believe mobile will be an increasingly important component of PayPal's transactions going forward.
Smartphones Will Open Up More Payment Avenues for PayPal
PayPal is introducing more smartphone applications to drive mobile transactions. For example, PayPal recently launched the Send Money iPhone application that helps iPhone users conveniently transfer funds.
PayPal is poised to benefit from both the rising demand for mobile phones and the on-going shift to smartphones. We estimate that global smartphone units sales will increase from 187 million in 2009 to 787 million by the end of Trefis forecast period.
With more users using smartphones to make payments through PayPal, the number of payments on eBay could increase further. eBay's stock could gain 10% if Payments per Account on PayPal were to reach 1.4 per month by the end of Trefis forecast period. You can modify our forecasts for Payments per Account on Paypal to see how eBay's stock will be impacted if it were to increase rather than remain constant as we forecast.
For additional analysis and forecasts, here is our complete model for eBay's stock.
Disclosure: No positions