If you followed my original article you will see that Questcor Pharmaceuticals (QCOR) is poised to be another breakout biopharmaceutical company for 2014. Headquartered in Anaheim, California, Questcor Pharmaceuticals operates as a biopharmaceutical company which focuses on the treatment of patients with serious, difficult-to-treat autoimmune and inflammatory disorders. I previously wrote about the company here in November and here in October.
QCOR's long term potential encompasses 19 indications or uses in markets that, for the most part, are very sizeable with an unmet need. Not to mention that the market penetration remains modest while at the same time, sales have increased at a brisk pace. The company's primary flagship product is H.P. Acthar Gel, an injectable drug for:
The treatment of proteinuria in the nephrotic syndrome of the idiopathic type, or NS
The treatment of acute exacerbations of multiple sclerosis, or MS in adults
The treatment of infantile spasms, or IS, in infants and children under two years of age
The treatment of certain rheumatology related conditions, including the treatment of the rare and closely related neuromuscular disorders dermatomyositis and polymyositis.
I think what impresses me most about QCOR is the fact that it is highly "profitable" and management has provided us with continuing strong evidence of;
1) Strong cash flow
2) A strong balance sheet
3) Stock buyback programs
4) Cash returned to shareholders through dividends.
See QCOR's news dated December 11, 2013.
While I won't go over everything that was released on Monday, what I will do is review some factual details in its January investor presentation (taken from the Questcor Pharmaceuticals corporate website) that will be presented at the JP Morgan Healthcare conference later this week in San Francisco.
Net sales have gone from $140.3M in Q3 - 2012 to $236.3 in Q3 - 2013; a 68% increase. Net income and earnings growth have also increased as well. Please see the graphs below.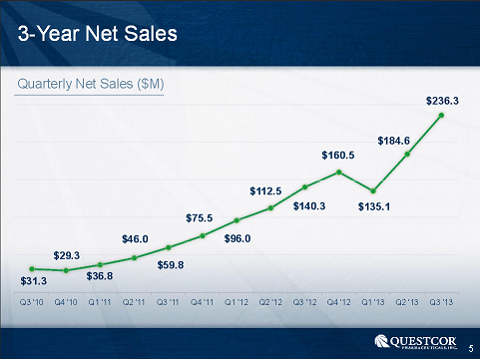 Click to enlarge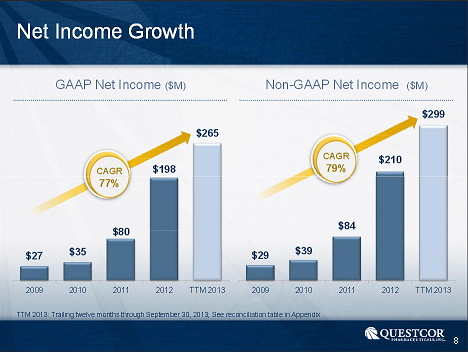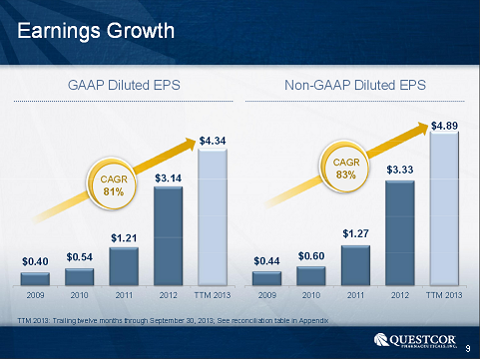 Click to enlarge
There are several key therapeutic areas that Questcor intends to focus on to drive additional sales and profits moving forward. They include:
Nephrotic Syndrome (NS) - Acthar can be used as a treatment for Nephrotic Syndrome which is caused by different disorders that damage the kidneys. This damage leads to the release of too much protein in the urine and there are few treatment options available. NS has a significant unmet need.
Multiple Sclerosis Relapse (MS) - A neurodegenerative disease that is occurring in about 400,000 patients in the US alone with >100,000 relapses per year.
Infantile Spasms (IS) - A rare form of childhood epilepsy is treated with Acthar which is considered the "gold standard" used to treat`50% of IS patients. The patient population is around 1,500 patients in the US.
Rheumatology - Presents the largest market opportunity with approximately 250,000 combined patients in the US who are believed to be in need of additional treatment options that QCOR can provide.
Sympotomatic Sarcoidosis - Acthar is currently approved for the treatment of respiratory symptomatic sarcoidosis, an inflammatory disease where cell nodules can manifest its self in multiple organs including the lungs. There are about 20,000 addressable patients in the US.
Questcor's Strategy
As noted by Oppenheimer's equity research dated on January 13, 2014 that was released after meeting with QCOR management, they highlighted several key facts that I would like to touch on.
1) Acthar's growth is Not being driven by a small number of high-volume prescribing doctors. There are approximately 3,500 individual doctors who wrote Acthar prescriptions in 2013, not 10 and certainly not 20.
2) To touch on the recent short induced controversy regarding the Chronic Disease Fund (CDF), management told OPCO that it is confident in the statement that they released that "refinements" to Acthar co-pay assistance "will Not materially impact patient access or Questcor's business." Management has suggested that this statement should put this issue to rest because as you are aware, there are certainly other co-pay assisted charities.
3) A recent announcement about the formation of a strategic committee is underway to evaluate a number of options including:
Tax Inversion
Large-scale share buyback/tender
M&A - both as an acquirer and as a target
4) Furthermore, Oppenheimer believes that QCOR is looking to execute a strategic move that they believe would be "transformative" for the company (and not to be construed as a series of small deals.)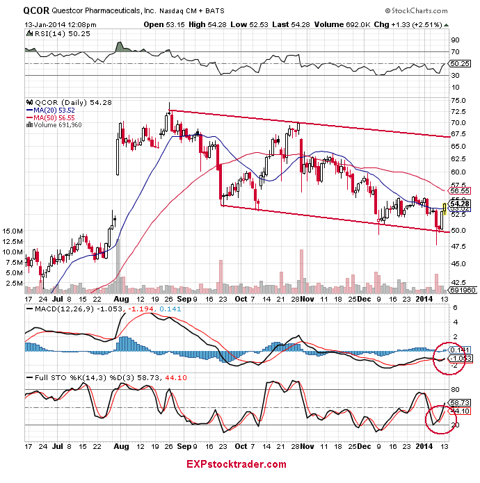 Click to enlarge
Investors should take the time and go through the whole January slide presentation that goes into a lot more detail about the company's positive plans for growth. Specifically, QCOR's; sales, profits, growing cash flow, business strategy, goals, R&D, expansion efforts relating to on-label and new indication targets (idiopathic membranous nephropathy, systematic lupus erythematosus, diabetic nephropathy, amyotrophic lateral sclerosis (ALS), acute respiratory distress syndrome (ARDS), as well as, its investment overview and strong commitment to creating long term value for its shareholders.
With all of the details provided above it's pretty clear that QCOR's stock price will eventually reach the $90 level on its ever improving expansion of sales and earnings from its 19 indications. That's not even counting any new developments that may catch investors by surprise.
Please stay tuned.
Disclosure: I am long QCOR, . I wrote this article myself, and it expresses my own opinions. I am not receiving compensation for it (other than from Seeking Alpha). I have no business relationship with any company whose stock is mentioned in this article.