I guess anybody following the US stock markets on a weekly basis would know how keenly the jobless claims and other employment-related metrics are tracked.

With this mind, I collated the headcount data for around 168 Tech stocks from data available on the Gridstone Platform (of the 400 Tech stocks, 168 had headcount data for 2008 and 2009) and the numbers are pretty interesting. Remember that the data is based on the headcount figures provided in company filings (10-K typically) and so are accurate.

From the data collated, I could see that there was a net 3% decline in year-ending headcount across these 168 companies in 2009 when compared to 2008. In fact, Software and Services, which accounts for a bulk of the headcount (being manpower intensive) has seen a net 3% increase in headcount while hardware saw a 3% decline and semiconductors saw a 7% decline. In Software/Services many large firms which had announced headcount reductions in 2008 have positive net adds in 2009! For example, Adobe(NASDAQ:ADBE) has actually added about 1100 employees to its rolls in Fiscal 2009. IBM (NYSE:IBM), which had announced multiple headcount reductions has also increased its employee base in 2009.That recession-proof company called Apple (NASDAQ:AAPL) has added around 2300 employees in Fiscal 2009 (ends Sep 09) and in the three months of Dec 09 they seem to have added aroudn 3000 FTEs in the Retail segment alone! (Source: AAPL 10Q for Dec 09 Qtr). Clearly, things are looking up in general though pockets of concerns remain.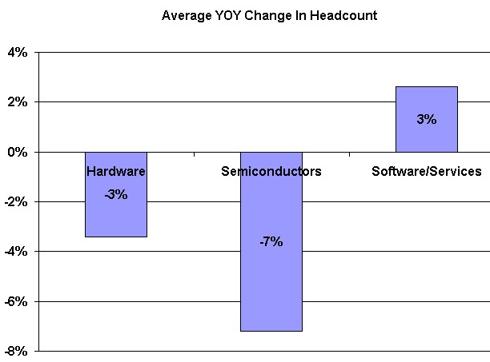 Click to enlarge
Source: Gridstone Research

As you can see in chart below, half the folks in the Technology sector either work in software, internet or other IT service firms. While some firms do straddle all three industries, I feel that the mix is largely representative of the Tech sector and so this should hold true for the Tech universe such as it is (with a 2-3% margin of error).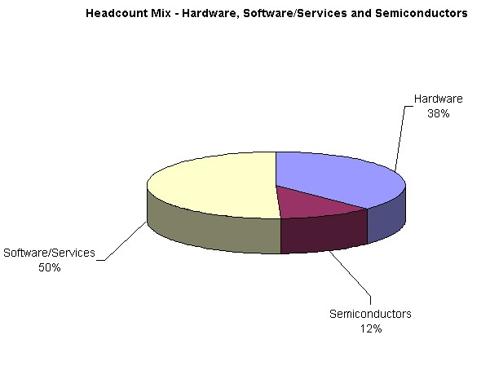 Click to enlarge
Source: Gridstone Research

The mix of firms in the 168 count is: 67 (40% of firms) in Software/Services, 61 (36%) in Hardware and 40(12%) in Semiconductors. On an average, the software/service firm in this list had ~18,200 employees while semiconductors companies had less than half that number.

Average Headcount - 2009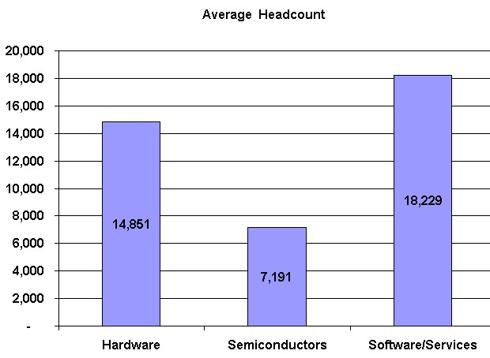 Click to enlarge
Source: Gridstone Research

The average headcount in 2008 shows how the semiconductor folks were more negatively affected than others and will continue to affected more. From a smaller base, a larger portion of folks were let go. While browsing through the guidance data, I could see some indications of hiring being back in semiconductors, it looks unlikely that 2010 would end with a higher semiconductor headcount that 2009.

Average Headcount - 2008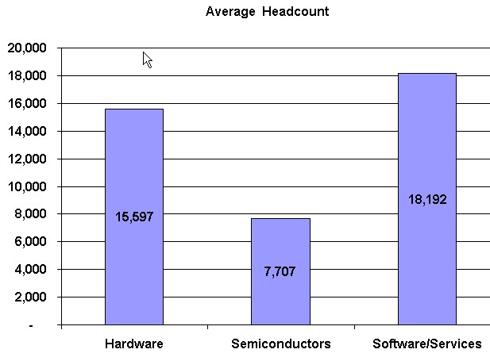 Click to enlarge
Source: Gridstone Research

When I summed up the total employees across the 40 semiconductor firms, it stood at around 308,000 at the end of 2008 which came down to around 287,000 at the end of 2009. Even this is an improvement over the numbers of June/Sep09. From the companies which reported quarterly headcount too, I could see that headcount additions have, in fact, happened in the latter half of 2009 to keep up pace with the ramp-up in demand. But tough times could continue for workers who were let go from such firms and are yet to find employment as any further increase could be counter-productive in terms of margins for these firms in the medium-term if demand remains flat.

Semiconductors: Employee Hiring Is Back..But Momentum Is Questionable?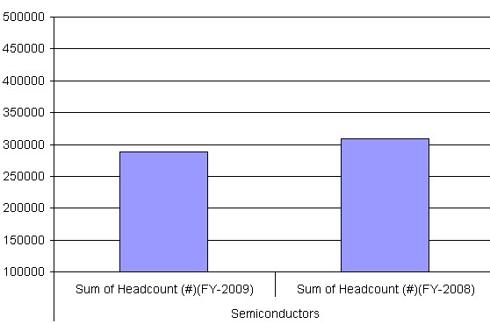 Click to enlarge
Source: Gridstone Research

In summary, the March quarter numbers should be even more positive. However the catch could be that for many firms(especially in Software/Services), employees in high-cost locations could be replaced by employees in low-cost locations. Though positive for the industry, it remains to be seen if employee hiring is positive for the US market in 2010.

Disclosure: No Positions