Seeking Alpha's Breaking News recently reported the following:
Report: Microsoft CEO decision not expected this month
Jan 8 2014, 12:49
It looks as if the Microsoft (NASDAQ:MSFT) CEO guessing game will continue a while longer: Multiple sources tell Kara Swisher the software giant won't name Steve Ballmer's successor before February, if not later. A variety of factors are said to be responsible, including a packed January schedule for Bill Gates.
Though director John Thompson (previously said a decision would be made in early 2014) leads the search committee, a source says Gates is still heading the search process. The WSJ has reported external candidates are uneasy about Gates and Ballmer maintaining influential roles on Microsoft's board going forward.
Swisher reports enterprise software/services chief Satya Nadella remains the top internal CEO candidate, and that he's "a favorite among employees due to his geekier cred." But external candidates are still being considered, and concerns exist about Nadella's business/sales expertise.
Shares continues to trade lower in response to Alan Mulally's decision to stay at Ford.
I have been sitting on the sidelines waiting patiently for Microsoft's board of directors to pick its next CEO, before purchasing Microsoft for my clients. This is going to be a major event in the company's corporate history and I am therefore happy to see that its board of directors have decided not to rush the decision but is taking its time. I was disappointed to hear that Alan Mulally decided to take his name out of the running for the job, as he would have been the ideal candidate.
It also does not surprise me that both Bill Gates and Steve Ballmer want to maintain influential roles at Microsoft, because both own a considerable percentage of the company's shares and if I were in their shoes I would do the same thing.
Back in November I wrote an article (Microsoft: A Free Cash Flow Analysis) that detailed how strong Microsoft's financials are. In the present article, I continue to support this analysis and I present further analysis of Microsoft's free cash flow yield. For those new to this particular analysis, I have written an introduction on "free cash flow yield" that you may access by going HERE where I have analyzed Apple's (NASDAQ:AAPL) free cash flow yield.
To begin, the following is a free cash flow yield chart for Microsoft from 2005 -- Present: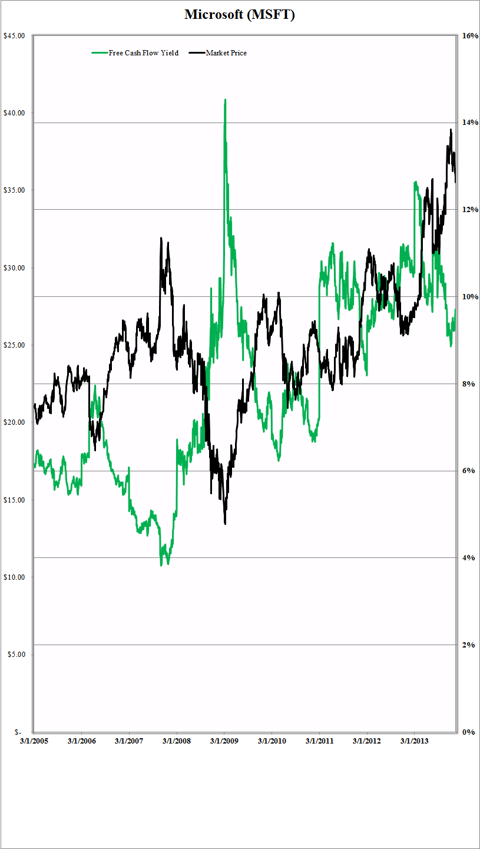 The black line in the chart represents Microsoft's market price action over the last decade and the green line represents its free cash flow yield. Free cash flow yield is calculated by taking a company's free cash flow per share and dividing it by the market price per share.
As you can see, Microsoft stock has been very volatile over the last six years. In November 2007, when its stock was trading at $31.92, it was only yielding 4% and was sending out a strong signal to take profits at the time. For those who did, they would have avoided watching the stock nosedive to $13.92 by March 2009, and then would have seen its free cash flow yield rocket up to 14.4%. Anyone buying at that point would have seen their investment soar to its recent high of $38.94.
Currently Microsoft has a free cash flow yield of about 9.6% and is still very attractive. Therefore after doing a complete free cash flow analysis, I have concluded that Microsoft is still a strong buy and the only thing that has held me back from buying it, is the CEO search. Even though its financials are superior, if Wall Street does not like the choice made by the Board, then the stock could go considerably lower. It is better to be safe than sorry and wait.
Disclosure: I am long AAPL, . I wrote this article myself, and it expresses my own opinions. I am not receiving compensation for it (other than from Seeking Alpha). I have no business relationship with any company whose stock is mentioned in this article.