This article concludes, at least for now, the "Building A Portfolio" series.
Your first impression may be that if you already know how to do the due diligence process before purchasing a stock, then you should know how to evaluate them. I beg to differ. There are some similar aspects such as looking up fundamentals and reading reports, but the questions you need to consider when reviewing a holding, compared to researching an initial purchase, are a little different.
The other articles in the series are:
Building A Portfolio Part 1: Not Just Buying Stocks
Building A Portfolio Part 2: Choosing A Stock
Building A Portfolio Part 2: Due Diligence
and it really begins with my annual portfolio review entitled, "What A Difference A Year Makes"
I like to evaluate a company before every earnings report and have a listing of my portfolio by earnings date handy so see who is 'up next'. That way I can be fully prepared to weather whatever storm the earnings report may cause, or at least know ahead of time if there is an action I may want to consider based upon the report or its fallout. Often the earnings report date coincides with the ex-dividend date, so it is a good time to check and see if I want to buy more and whether it is technically a good time to enter before the next payment. In the case of Ford Motor (NYSE:F), the example stock for this article, the earnings report is January 27th, 2014 and the ex-dividend date is January 29th, 2014.
Position
If you have read the entire series, especially all in a row, you are already tired of hearing this, but to me this is of prime importance. We must look at our portfolios as a whole unit, not a random basket of stocks. It should be all working together towards your broad goals, your 'prime directive'. How do your pieces work together? Do you have each sector represented? Do you have international exposure? Are you 100% DGI or, like me, do you have a growth and/or value component to your portfolio? Identifying the position, role, and expectations of the target security is the first place to start. You must understand your broad goals and strategy first, then your goals for each of your individual holdings if you expect to evaluate them.
My prime directive is to be able to afford to retire at a typical age, able to live off the dividends from our investments without needing to spend down the principal. So I have the dual goals of creating an income stream that will also provide share price growth to get me to my targets in 20 years when we will be age 65.
Ford Motor was my first stock purchase. I bought it on a dip in February 2011 as a swing-trade. A quick glance at the chart shows that it was not an instant success. I believed in the company's story and held on, averaging down a few times until August 2012 when I doubled down yet again, this time buying in a different account. As Ford had started to pay a dividend, and I had to pay withholding tax there, I wanted it out of the original account and waited until it returned to even before selling it there.
As I transitioned from a swing-trader to a dividend-growth investor, I kept the new shares, trimming two-fifths when I had a gain of 55% bringing the position size more inline with some of my largest average holdings. When the share price recently dived, I bought one quarter more shares on December 20th, 2013.
The role that Ford Motor shares plays in my portfolio has clearly changed. It moved from a swing-trade to being a long-term investment. But what kind of investment is it? I would not call this a core holding, but it would not surprise me if I hold shares for many years to come, in varying amounts, occasionally trimming and buying more. Even though Ford is now paying a growing dividend, I still view it as a growth stock, initially part of the value portion of my portfolio, and now part of the growth section. With its cyclical nature, I keep careful watch on it.
Questions to consider:
What percentage of your portfolio is this stock? How eager are you to buy more? If you are not, what conditions would have to change before you would buy more? What conditions would cause you to sell?
The recent purchase of shares moved my 4.35% overweight holding to be a 5.11% very overweight holding in my portfolio. My ideal size would be each position about 3%, with my favorites being around 4%. I am not interested in buyng more Ford shares beyond this, and was not looking to buy more in December when I did, but the sudden appearance of a likely 10% gain, made me pull the trigger and increase my holding. At my stage in portfolio building, it will not likely remain an outsized position for too long as contributions will diminish its relative percent.
Dividend
If my goal is to build a growing income stream for use in retirement, then taking a hard look at the dividend is of prime importance in our evaluation of a holding. There are ample questions to answer.
1. Is it providing enough income? If not, does it have another purpose and is it fulfilling that purpose?
Ford is not quite providing enough income with a 2.5% dividend as my goal is to have a 4% average dividend in the portfolio. The whole portfolio does not yet yield 4% and Ford has not pulled its weight in that department, especially as a large position. However the 75% capital gain more than makes up for it since I do not need the income now. Strength of dividend was not the reason for my initial purchase and is not the current purpose for holding Ford.
2. What is the company's history of dividend increases?
Ford reinstated its dividend for 2012, doubled the dividend in 2013, and has raised it again by 25% for 2014 to 3.11%, so the dividend-growth is helping the yield to move into a range more acceptable to dividend seeking investors, including myself. As the stock becomes attractive to a broader base of investors, the share price will continue to improve.
3. What is the Chowder number?
The general rule is that dividend yield plus dividend growth should equal at least 12. If a company falls below a total of 8, it is in danger of being cut. For utilities, telecoms, and MLPs, 8 is sufficient. For a lower-paying dividend company a total 15 is required to make up for the lack of stability the dividend provides. For the full explanation read Chowder's Instablog. Do yourself a favor and read all his instablog postings.
Since Ford does not have a 5 year dividend-growth history, it is not particularly accurate to calculate a Chowder number, but it is one of the first things I do for each holding at time of review.
3. How is the payout ratio?
In order to keep a dividend safe, a regular corporation should have a payout ratio of under 50%. (Income Trusts, MLP's, REITs, etc have different payout metrics and this rule does not apply for them.) According to TD, Ford's payout ratio is currently 24.3%. There is ample room for them to continue to increase their dividend and even at an attractive clip.
Fundamentals - David Fish's CCC lists
I do not use the CCC (Champions, Contenders and Challengers) lists when deciding if a stock is worthy of entrance into my select group of companies. For me, it is simply too many numbers with not enough context. However, it is extremely useful when evaluating a current holding as all the numbers are so handily organized and clearly displayed.
Ford has not yet made it onto the CCC list yet, as the Challengers need to be paying a dividend for at least 5 years, and Ford only restarted the dividend in January of 2012 - my very first dividend payment - so I will have to do the research myself.
The P/E is 11.3, which is still below the market average. The price to book is 3.1. Return on Equity is 29%, the highest in the industry, and Gross Margin is 13%. The Debt to Capital seems a little high at 85% especially compared to the industry average of 55%.
Ford is given a 4 star "buy", high risk, and B- rating by S&P.
Here is the chart of analyst's recommendations.

Earnings
How do the company's earnings look? Are they growing? Are earnings growing faster than their expenses? Have often has the company missed earnings expectations over the last few years? What is the likelihood that earnings growth will continue? What are the growth prospects for the company?
S&P estimates that Ford's profit will shrink in 2014, the reason for the recent share price drop. However, this is because they will have significant expenses to roll out new vehicles. They also expect this to cause a rebound for 2015. Risks to these earnings include the significant competition and higher input costs. The European segment has been lagging and that is expected to continue until the European economy improves. They have a 12 month target price of $18, and consider $18.50 to be fair value. Ford has regularly missed earnings, but not in the past 4 quarters. I have been hearing lately that Companies seem to be guiding lower, so the chances of a miss might be a little less than normal. Though further misses may be good buying opportunities, I will not likely be participating.
Valuation
For valuation, I always turn to the very handy FAST Graphs which tell the story clearly.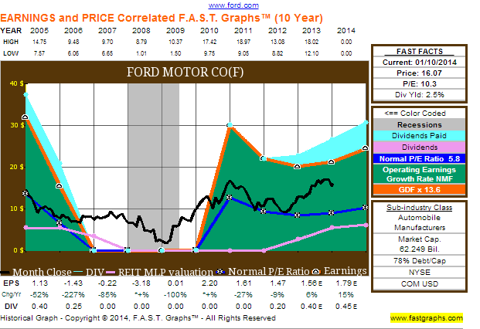 Ford is shown as clearly undervalued compared to the orange valuation line based on earnings. The share price would need to appreciate 30% to meet the orange line. Do I think this is about to happen? No. But it is good to know there is some room to grow here. It is also nice to see the dividends (blue shaded area) starting to be significant.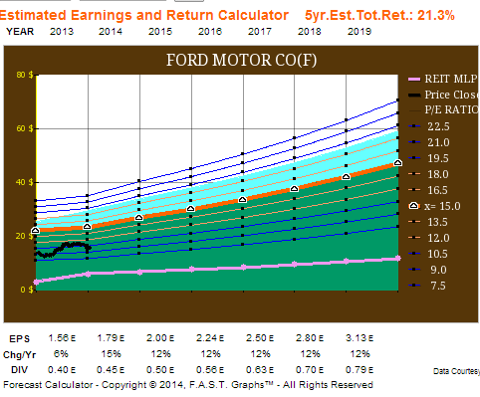 Technicals
As I do not plan to sell, and because I am in the accumulation phase, the main question I ask when looking at technicals is usually "Is this setting up for a purchase opportunity?"
Previously, I played trader with some of my dividend-growth names. If the stock ran up and I could anticipate the stock pulling back, I would sell and get back in before the next ex-dividend date. This was a generally successful way to increase my share count and therefore income, but a couple missteps later, I realized I was just back to trading. It is far safer to buy extra shares of something you want on a dip than to try to time both a top to sell and then an attractive entry point on a deadline. It also disrupts that happy DGI portfolio SWAN side effect. (Sleep Well At Night)
Ford is not on my "keep forever, if possible" list of core holdings mostly because of its cyclical nature. I will lighten up on it when I feel the economy beginning to change negatively for the industry. As it is, it is a positive company in a positive sector. For other companies, such as General Mills (NYSE:GIS) there is little that would entice me to sell those shares as a dramatic share price drop would cause buying orders. Only drastic changes to the company or a cut in the dividend would cause selling.
Since I am looking at Ford long term, here is the weekly chart from Stockcharts.com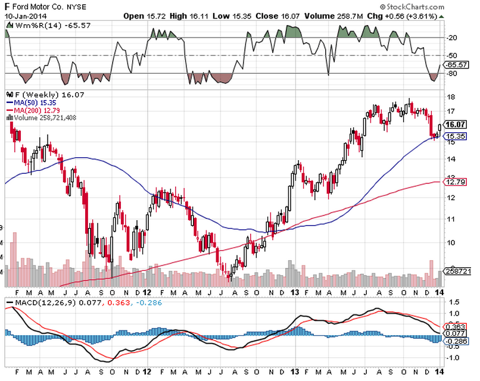 This chart shows my entire holding history. Since I have recently made a purchase and my position in Ford is already overvalued, I am not really looking for another entry point, I am mostly concerned with why I would not want to sell. An interesting thing to note is that the recent price drop (triggering my buy) did not break through the support of the 50 week moving average (blue line). Another positive sign is the last 3 bars of the blue histogram under the MACD a the very bottom of the chart are heading upward as is the black line. The black line is heading towards the red one and if it crosses it, it is a very positive sign. Look at what happens to the share price at other times when this happens. There are no technical reasons to sell, based on what I can see in this chart. Take note that this chart is not the only one. Looking at shorter and longer term is helpful, but this one is adequate for this demonstration.
News and Articles
I check my portfolio's stockcharts every day (often many times) as well as the news and Seeking Alpha articles related to my stocks. So this section is already likely complete even before the review. Nonetheless, it is good to review the significant news items that have affected the target company since your previous review.
There has been much speculation that Allan Mulally, Ford's CEO will be moving along. He has done an amazing job turning Ford around and some feel that job is done. The very recent upward spike in the share price is due to the announcement that he will not be stepping down in 2014 and that the dividend will be raised by 25%.
The Ford news stream is massive but here is a few headlines that I would consider worth including in a quarterly review.
Jan 6: Ford Sales Increase by Nearly 50% in China in 2013, Setting a New Record.
Jan 4: Canada Auto Sales Best Ever in 2013: Ford Still Tops
Dec 18: Ford Plans Most New Models In History in 2014
Nov 1: Ford Motor Recalls 2,600 Focus Electric Cars for Potential Power Loss
Final Questions
Is partnering with this company going to get me to my goals?
My goals are modest. I need 4% in dividends and 5% in share price growth from each company (in addition to significant contributions) on average for the next 20 years to get me to financial freedom in time for retirement. I think that, for now at least, Ford Motor will help me meet those goals, so I will continue to partner with this quality company.
Is there another stock in the same space that has better fundamentals or lower valuation with a higher yield that might be worth doing all the due diligence for and paying the fees to switch into?
Being content with what you have is a practiced art and we must avoid the 'grass is always greener' trap. However, it is good to be aware of the comparables. Just because another stock has had higher returns over recent history does not make it a good idea to switch. In fact, I think that might make it a comparatively poor choice. It is often better to choose the underperforming company in stocks that trade similarly with similar metrics, as it is likely to play catch up over the longer term. This is often the case in the Canadian banks, for example.
Process Notes
Best of all, the time required to complete the evaluation process is much different. My due diligence 12-step process takes 4-8 hours, depending on my familiarity with the company, how much time I have, and how much I want to read. In contrast, I can often determine in one quarter of that time all the necessary information to evaluate a holding. Subsequent quarters are taking even less time as the broader questions have already been answered. A reports check and a numbers check, where David Fish's work really shines, is often all that is required.
I keep a large binder nearby. The front pages have my portfolio in different forms, as has been demonstrated throughout my articles; by sector, by percentage, by earnings date, etc. The largest middle section has tabs for each of my 30 holdings with all the research I have done on each stock. The front page of each tab displays on a chart, all the information for buys, sells, and dividends, such as cost, price, adjusted cost base and ACB/share. Even though the vast majority of my holdings are in tax-sheltered accounts, I keep track of the same information that would be needed for taxes as it is handy to refer to. The final section contains my research scribblings and conclusions for each company I research, but do not purchase, following the 12-step process.
I have spent many, many hours over the past 6 months getting to this place in my portfolio set-up, and research. I expect that over this next year I will spend even more. After that, however, I expect portfolio management to be far less demanding. It has been a great educational adventure and I look forward to seeing what this year brings.
In summary, I am not recommending Ford as a buy or sell for you. How could I? I do not know what your individual goals and strategies are, or how this holding would fit with your other holdings. All I am recommending is that you regularly review your holdings and ask yourself these questions to help you determine if the target company is still worth continuing to hold.
Do you have a regular schedule to review your holdings? Do you have a standardized process to review your holdings? What other questions do you ask yourself when trying to decide if a company already in your portfolio is worth your continued partnership. I look forward to your input.
Disclosure: I am long F, ENB, GIS, MCD, . I wrote this article myself, and it expresses my own opinions. I am not receiving compensation for it (other than from Seeking Alpha). I have no business relationship with any company whose stock is mentioned in this article.