Today, the market should be in store for a pullback. We have a number of indicators that have come out and are buzzing around that are not too great fundamentally for the market. Futures are up going into the day, but once some market buzz at the beginning of the day dies off, initial claims and a very toppy market should weigh on stocks. In case it does not, however, I have selected a short sale that should do well either way.
Short Sale of the Day: Steinmart Inc. (NASDAQ:SMRT)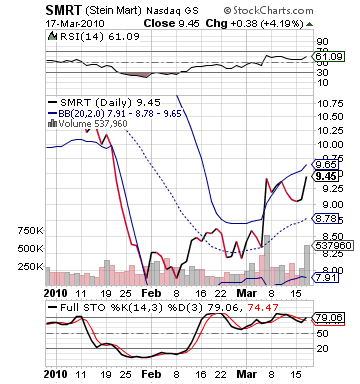 Analysis: Steinmart, this morning, continued the retail trend with some really sexy earnings. The company reported an EPS of =0.19, which beat the 0.17 estimate. The company's reported revenues also beat estimates by over 1%. The earnings, however, were not exceptional, and the stock is up over 7% in pre-market trading. Revenue was down 6% YOY.
The stock has moved up way too much on these earnings and even more so when looking at the technicals on short term. The stock was majorly overbought going into earnings, and the stock had priced in earnings, increasing 25% in two weeks. SMRT was right at its upper bollinger band, and the 7% increase has skyrocketed the stock. Now, it is in the middle of a breakout with expanding bands, but it really cannot maintain that sort of gains. Profit taking is going to occur.
I have adjusted earnings to allow for even more gains, especially since futures are up slightly. I think this one will get a small pop and die off.
Entry: We are looking for an entry at 10.35 - 10.45.
Exit: We are looking to cover for a 2-3% gain.
Stop Buy: 3% on top of entry.
Disclosure: No positions