Line of Business
CoStar Group, Inc. (NASDAQ:CSGP) is a leading provider of information systems, analysis, and marketing services for the commercial real estate industry. The company was founded in the United States in 1987 and has expanded internationally into the UK and France. CoStar uses its proprietary databases and research assets to provide comparable sales information, data analytics, marketing services, and industry news. CoStar's customers include real estate brokers, landlords, appraisers, and financial institutions. In their FY 2012 10-k, CoStar boasts a blue-chip customer base including names such as CB Richard Ellis (NYSE:CBG), Jones Lang LaSalle (NYSE:JLL), Bank of America (NYSE:BAC), Citibank (NYSE:C), JP Morgan Chase (NYSE:JPM), Wells Fargo (NYSE:WFC), Prudential (NYSE:PRU), BlackRock (NYSE:BLK), and many others.
Throughout the company's history, CoStar has grown organically and through a number of acquisitions. In April 2012, CoStar completed its largest acquisition with the purchase of LoopNet. Loopnet operates an online marketplace for both rental and for sale properties. Loopnet was acquired for total consideration of $883.4 million. The acquisition was funded with a combination of cash on hand, borrowings, and an equity offering.
Financial Performance
When I began my research on CoStar, I was surprised to see how stable the company's financial results have been over the last five years. While revenues did decline during the financial crisis, the company continued to perform fairly well, even though the real estate industry as a whole suffered greatly. CoStar fared far better than many of their customers did during 2008 and 2009.

Source: SEC 10-K and 10-Q filings.
Growth returned in 2010, with revenues improving over 60% from 2009 to 2012. The jump of revenues in 2012 and 2013 is primarily a result of the acquisition of LoopNet, although the company does continue to grow organically.
Financial Condition
As a service company, CoStar has few tangible assets. The company's largest assets are their database of real estate information, IT infrastructure, and customer relationships. To fund a portion of the Loopnet acquisition, the company borrowed $175 million in the form of a term loan which has been paid down to $157.5 million as of the most recent quarter end. The company reported cash balances of over $222 million at 09/30/2013 which appears to be more than sufficient to cover any debt payments or working capital needs in the foreseeable future.
Valuation
First, I put together a trailing twelve month analysis from the most recent 10-K and 10-Q. As a result of the recent acquisition, CoStar has a significant amount of non-cash amortization expense which understates Net Income. This makes normal P/E ratio analysis rather useless. Instead, I decided to focus on Enterprise Value to EBITDA multiples.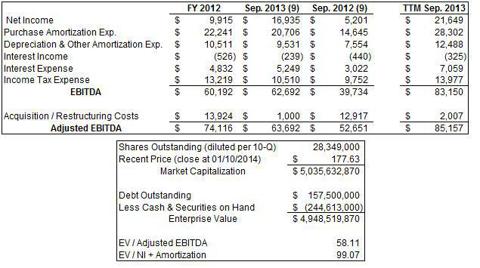 Source: SEC 10-K and 10-Q filings, Yahoo Finance
The company has a current enterprise value of over $5.1 billion, while EBITDA generation is only on an $85 million annual rate. This results in a sky high 58x EBITDA multiple. While the company's growth history is impressive, in my opinion there is no rational justification for this kind of share price.
Conclusion
At their core CoStar is a data company; this comes with both benefits and drawbacks. CoStar has had the benefit of relatively low capital requirements, manageable overhead expenses, and the ability to grow very rapidly. Unfortunately for CoStar, there are relatively few barriers to entry into this type of business. While CoStar does enjoy dominance over their current competition, entrance of new companies into the market could drastically harm the business. Companies like Google, Bloomberg, and others have the access to market information, data collecting capabilities, and strong market reputations.
CoStar appears to be a growing, industry leading, well managed company. I believe the company will continue to improve their revenues and profitability, I believe that the organic growth rate of the company will slow as CoStar saturates the market. I do like the company overall, however the current market valuation is simply too high. Good companies do not always make good stocks.
Disclosure: I have no positions in any stocks mentioned, and no plans to initiate any positions within the next 72 hours. I wrote this article myself, and it expresses my own opinions. I am not receiving compensation for it (other than from Seeking Alpha). I have no business relationship with any company whose stock is mentioned in this article.