TFT-LCD equipment, which grew 28% in 2008, dropped 16% in 2009, according to a report LCD Market: Technology Directions and Market Analysis.
LCD manufacturers had announced capex reductions of about 50% for 2009 in response to the global economic crisis, but the equipment market managed to drop only 16% as unit shipments ramped.
The Information Network forecasts array processing equipment to increase more than 50% in 2010 to meet demand from resurgence in purchases of TVs, Notebooks, and Desktops.
Large-size TFT-LCD panel shipments increased 21.0% from 436.6 million units in 2008 to 528.3 million units in 2009. Revenues decreased 15.0% from $72.7 billion in 2008 to $61.8 billion in 2009. LG Display (NYSE:LPL) led the market based on shipments with nearly a 25% share, taking the lead from Samsung (OTC:SSNLF). The latter company let the market based on revenues with more than a 27% share.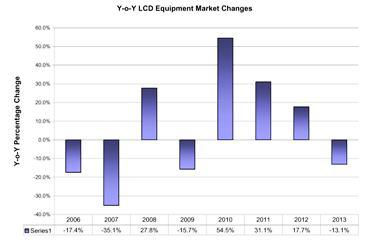 Panel makers are stringently controlling costs while improving the technology innovation at this time, exactly what's happening in the semiconductor industry. In the U.S., the only major supplier of equipment for LCD manufacturing is Applied Materials (Nasdaq:AMAT) through its AKT division. Revenues for the company dropped 49% in 2009. As the LCD industry moved to Asia, so too are the equipment manufacturers such as Nikon (OTCPK:NINOY), Canon (NYSE:CAJ), Dainippon Screen (OTC:DNPUF), Ulvac, Hitachi (HIT), and Daifuku, all of Japan. Other regions of Asia do not have much of an equipment infrastructure, yielding to Japanese manufacturers even though Japan holds less than a 10% share of LCD panel sales.
Disclosure: No positions