On Thursday, IBM announced that it will invest $1 billion to create a new business unit for Watson, its innovative cognitive computer system, which is designed to understand questions asked in natural language and responds by quickly analyzing huge amounts of data. Watson was designed specifically to compete in the television quiz show "Jeopardy!", which it won in 2011 by competing against former winners Brad Rutter and Ken Jennings. Having designed such a system, which aims to 'think' much more like human beings, IBM seeks to commercialize this technology and restore investors' confidence in its future growth prospects.
The potential applications for cognitive systems like Watson are virtually endless. Cognitive systems could replace numerous interactions, where currently trained professionals are required to provide the necessary advice to clients. As part of the $1 billion investment, IBM has devoted $100 million for developers to build applications that use their Watson system. This would help the company to quickly spread the technology to a vast array of different applications, which could encourage more companies and industries to adopt its data analytics and cognitive systems.
CEO Ginni Rometty has set a very ambitious target for Watson to contribute $10 billion in yearly revenue by 2023. However, applying the system to distinctive applications has not been as easy though, which is why Watson has yet to generate any meaningful revenue to IBM. IBM is particularly looking at developing Watson for applications in healthcare and financial services. IBM recently won a $12 million contract with DBS, a Singapore bank, to help financial planners to identify the most relevant products for its wealth-management clients.
IBM has been working with the Memorial Sloan-Kettering Cancer Center in New York to develop Watson as a tool to select possible cancer treatments for individual patients. Watson analyzes huge quantities of academic studies and patient records to determine the most effective and cost-efficient form of treatment. IBM engineers and the doctors initially struggled to overcome issues with integrating Watson in the decision making because of problems with communication and the complexity of health issues. The task to design a system which largely replaces expensive trained professionals from much of the decision making is truly monumental, and so it shouldn't be unexpected for these problem to arise from time to time. Although much more work is needed, Watson could be used on real patients by the end of this year.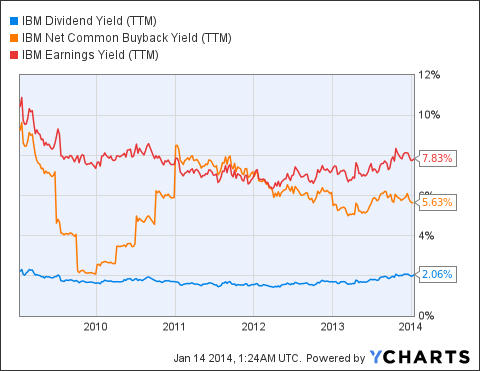 IBM Dividend Yield (TTM) data by YCharts
Over the past year, IBM's shares have lagged behind the S&P 500, and the technology sector, as investors have become increasingly concerned with the company's failure to reduce its reliance from its legacy systems and services business, and its slow shift to cloud computing. Currently, IBM is trading at just 11.0 times expected 2013 earnings, despite the company returning most of its free cash flow to shareholders through dividends and huge stock buybacks. However, there are growing concerns that the company's EPS growth is increasingly dependent on buyback, whilst the underlying businesses are seeing revenues decline, and margin expansion cannot keep profitability growing forever.
Founded in 1911, IBM has overcome many shifts in the dynamic technology sector. One of the first products the company manufactured was the electric tabulating machine; and when that product become outdated, IBM simply moved on to develop magnetic storage systems and computers. During difficult times, it has departed from its struggling businesses, including spinning off its Lexmark printer business in 1991, and selling its personal computer business to Lenovo in 2005. This enabled IBM to focus on future growth opportunities, and led to the company's success to this date.
Watson has huge potential applications, but there are significant obstacles which prevents the technology from currently being widely adopted. Whilst Watson's application prospects in the short- to medium-term remain uncertain, IBM's ability to adapt through various past technology shifts gives us some optimism that the company would find future opportunities. Nonetheless, previous technology shifts have often been tumultuous for the company's shareholders; and so this transition to the cloud and Watson-based applications is unlikely to be a smooth one.
Disclosure: I have no positions in any stocks mentioned, and no plans to initiate any positions within the next 72 hours. I wrote this article myself, and it expresses my own opinions. I am not receiving compensation for it (other than from Seeking Alpha). I have no business relationship with any company whose stock is mentioned in this article.