After reporting positive earnings during the first three quarters of 2013, Alcoa (NYSE:AA) announced very weak fourth quarter results. The company posted per share losses of $2.19 missing analysts' estimates of $0.06 earnings per share. This has resulted in full year losses of $2,285 million (EPS: $2.14) against earnings of $191 million (EPS: $0.18) in 2012.
Three factors that negatively impacted the fourth quarter and full year earnings were (1) lower year-over-year revenues, (2) impairment charges and (3) higher restructuring and other charges. Let's have a detailed look at each of these factors.
Revenues
Alcoa's top line shrunk 5.3% YoY and 3.12% QoQ during the fourth quarter but still met analysts' expectations. The revenues in the fourth quarter were $5.59 billion compared to analysts' estimates of $5.36 billion. The revenues were affected by lower average realized prices of aluminum.
The over-supply of primary and fabricated aluminum caused a decrease in the metal's price by 7% year-over-year resulting in lower industrial profits. In September, November and December 2013, the price hit its lowest level compared to the prices of the past two years. The graph below shows the historical aluminum prices on the London Metal Exchange (LME).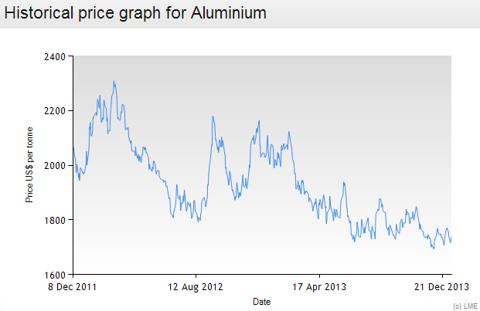 Source: London Metal Exchange
This negative impact was partially offset by higher production volumes and shipments in the alumina segment. The alumina and engineered products and solutions segments experienced improvements in sales while the primary metals and global rolled products segments experienced declines in the sales in both the fourth quarter and full year 2013 versus the respective periods in 2012. The full year net revenues declined 2.82%.

Source: Earnings Release
Margins
Alcoa's YoY gross profit remained flat during the fourth quarter due to cost of goods sold as a percentage of sales. However, the company faced an operating loss of $1,998 million with an operating margin of -35.77% mainly due to the writing down of the value of aluminum smelting operations. The aluminum producers are struggling against the excessive supply of metal creating stubbornly weak prices. As mentioned above, the London Metal Exchange reached its lowest level resulting in 7% lower than average prices during the last quarter.
Consequently, the company has idled one-sixth of its smelting capacity and could make more cuts. It recorded $1,731 million as an impairment of goodwill and $380 million as restructuring and other charges. The restructuring and other charges in 4Q12 were only $60 million.

For full year 2013, Alcoa's gross margin was considerably better due to lower cost of goods sold but the operating margin declined significantly. Like the operating margin, net margin also fell significantly this year.

Excluding the impact of non recurring items, Alcoa's net margin has improved by 44 basis points and its net earnings have grown by 36% YoY. Adjusted per share earnings in 2013 is $0.33 per share compared to $0.24 per share in 2012.
Shareholders' Gain
The dividend paid to the investors remained at the same rate of $0.03 per share on a quarterly basis. The yearly dividend was $0.12 per share. Alcoa has been paying dividends at this rate since 2010 when the dividend was cut by approximately 54% on a yearly basis.
The company did not make any share repurchases this year either. FY08 was the last year that Alcoa bought back its shares.
With regards to price gain, the company's stock appreciated 18.24% in 2013. So based on these statistics I would say that the shareholders' returns in 2013 were not impressive.
After the fourth quarter and full year earnings release the stock price depreciated by 6.65% in just one day and further reducing the stock's attractiveness.
Targets
Now let's have a look at whether or not Alcoa was able to meet the targets set for 2013.
The first target was to generate productivity gains of $750 million. By delivering greater operational performance including process productivity, procurement savings and overhead cost reductions, the company easily met this target and generated $1,117 million of productivity gains in 2013.
The second and third targets include managing growth capital expenditures of $550 million and control sustaining capital expenditures of $1 billion. These targets were also achieved as Alcoa managed its growth capital expenditure of $407 million against the set target of $550 million and controlled sustaining capital expenditures of $786 million against $1 billion.
The fourth target of attaining a Saudi joint venture was also accomplished as the company invested $159 million against a $350 million plan.
The fifth target was to keep the debt-to-capital ratio within the 30% to 35% range. Alcoa maintained its lowest year-end net debt of $6,882 million since 2006. Net debt reduced by 1.23% from 2012 net debt but the company still could not achieve the target as the debt-to-capital ratio by December 31st, 2013 was 38.1%.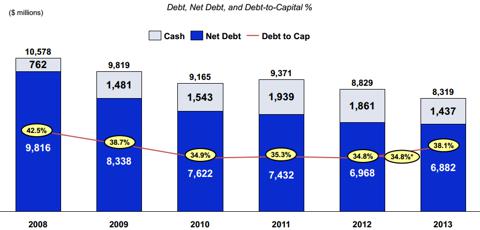 However, if we exclude the impact of the impairment of goodwill and deferred tax valuation allowances then Alcoa's debt-to-capital ratio 34.8% by the end of 2013.Therefore we can say that the company also accomplished this target.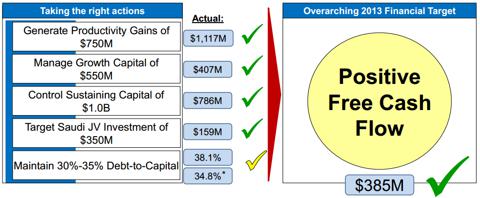 By achieving all these goals, Alcoa actually wanted to make a positive free cash flow in 2013. Although the company had a positive free cash flow at the end of fiscal year 2012 by the end of the first three quarters of 2013 its free cash flow was negative due to lower operating cash flows and higher capital expenditure. However, at the end of the fourth quarter of 2013 the company achieved the target as its free cash flow by December 31st, 2013 was $385 million.
Source: 4Q Earnings Presentation
Bribery Case
Alcoa pleaded guilty for violating corruption laws. The company agreed to plead guilty to one count of violating the Foreign Corrupt Practices Act. for which it has to pay $223 million. According to the Department of Justice, the company will be paying this amount in five installments over the next four years.
Alcoa also settled civil charges brought by the Securities Exchange Commission under which it will pay $161 million that it will also pay in five installments over the next four years. Therefore the company will be paying a total of $384 million in fines.
The payment of these fines will negatively impact the company's cash flows and its liquidity position as after the reduction in cash and cash equivalents the current ratio will go down.
2014 Outlook
The company's revenues are expected to grow in 2014 compared to 2013 as aluminum prices are projected to rise this year. The chart below shows that the prices in 2014 will be approximately 9% higher than the prices were in 2013.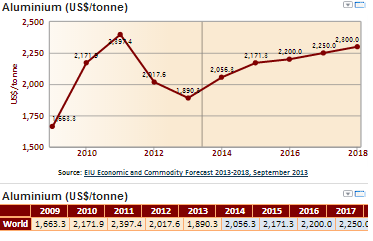 Source: knoema
However, there are some analysts who do not believe that prices will rise in 2014. So currently a mixed opinion is prevailing in the market regarding the metal's future prices.
The demand for the company's products is also expected to grow due to an upcoming growth in its end markets. The growth in the commercial aircraft manufacturing industry is expected to reach a record level due to increased production rates, the growing travel demand, and increased security requirements in emerging markets. The total growth in this sector would be 7% to 8% higher in 2014 compared to growth in 2013.The company recently signed a $110 million deal with Airbus.
The outlook for the automotive sector remains positive due to notable growth in the Chinese and US markets. The sector is projected to grow by 1% to 4% YoY in 2014. Similarly the beverage can packaging and commercial building and construction sectors are expected to grow in 2014. The YoY growth predicted for the beverage can packaging industry is 2% to 3% whereas the YoY growth predicted for the commercial building and construction sector is 4% to 6% in 2014. The only end market in which Alcoa operates that is expected to decline is industrial gas turbine.
These demand projections of Alcoa's products guarantee year-over-year positive revenue growth for the company in 2014 even if the aluminum prices do not rise.
Final Takeaway
Alcoa posted disappointing fourth quarter and full year earnings reports missing analysts' estimates of its bottom line growth. However, the company still managed to meet its targets and achieve a positive free cash flow despite net losses. However, the cash flow is going to be hurt in the future when the company pays fines regarding corruption charges.
The company's 2014 outlook seems slightly better than 2013 due to positive growth in its end markets after which I hope it would not need to further cut its capacity. But as the company currently does not have any plans to raise dividends or initiate a share repurchase program any growth in the company's revenues or earnings would not notably affect the shareholder's profits.
To attract more investors Alcoa needs to be generous while paying profits to them. So after analyzing the whole scenario I would recommend that investors should wait for price dip and a price dip would be a potential entry point.
Disclosure: I have no positions in any stocks mentioned, and no plans to initiate any positions within the next 72 hours.
Business relationship disclosure: The article has been written by APEX Financial Consultants. This article was written by one of our research analysts. APEX Financial Consultants is not receiving compensation for this article (other than from Seeking Alpha). APEX Financial Consultants has no business relationship with any company whose stock is mentioned in this article.