By Chris McKhann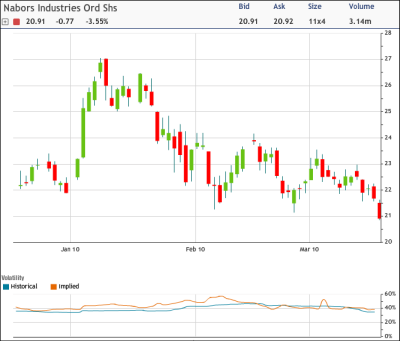 Shares of Nabors Industries (NYSE:NBR) are falling fast this morning, and traders are looking to take advantage of the slide with options that expire tomorrow.
The energy driller is trading at $20.91, down 3.55 percent on the day as shares finally break down through what had been support at $21.50. This continues the fall from NBR's 18-month high of $27.05 set in early January.
With expiration tomorrow, the March 21 calls are active, with volume of nearly 5,000 exceeding open interest by more than nine times. Almost all of these contracts have been sold, with big blocks going this morning for $0.60 and driving the price of the options all the way down to $0.30.
Some of the later action may be traders actually closing out some of their already- profitable positions. Selling options going into expiration can be a dangerous game, as the potential risks quickly outweigh the rewards, so traders attempting this must be nimble.
Disclosure: No positions