Angie's List (NASDAQ:ANGI) had a volatile performance in 2013, marked by a peak price of $28.32. I made, with input from several other Seeking Alpha contributors, a bold prediction on July 9th that ANGI's all-time high occurred on July 8th and that we would see $5-$10 by the end of the year. My one-year price target was $10. The below chart (from Google Finance) highlights the 2013 performance of Angie's List with red marks signifying my 'sell' articles, including my latest "Angie's List -- a Deferred Revenue Train Wreck," published on October 24.
click to enlarge images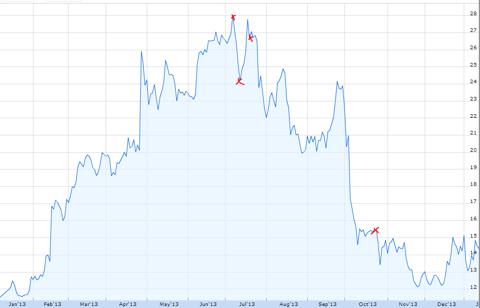 2014 Price Target
Although I was wrong on seeing $5-$10 by the end of the year, my price target of $10 was closer than any other analyst or contributor that I saw during the same time frame (the majority of analysts had price targets ranging from $25-$32). As of 13 January, I am adjusting my year-end 2014 price-target to $5, with a long-term view of $0. This contrasts to current analyst price targets (according to Yahoo Finance) of $11 to $31 with a median of $24. The outlier $11 target is from Singular Research as of 21 August 2013.
Recent Catalysts- Short Covering & Profit Taking
Although ANGI was on a plunge leading up to and following Q3-13 results, briefly approaching $12 in November, the momentum quickly reversed heading into 2014. As shown below (taken from Nasdaq), the short interest on 15 December ($12.31) and 31 December ($15.15) decreased by approximately 193k shares. While this isn't a huge decrease, compared with average volume- this covering could have slightly increased the 'bid' price. Also, note that the average daily volume of 1.01M shares is misleading due to a 2.28M trade day on 31 December-the adjusted average is closer to 890k. This 'covering' is logical due to the fact that a majority of the shorts (note the huge ramp from July into September) were holding large profits and may have wanted to cash them into the 2013 tax year.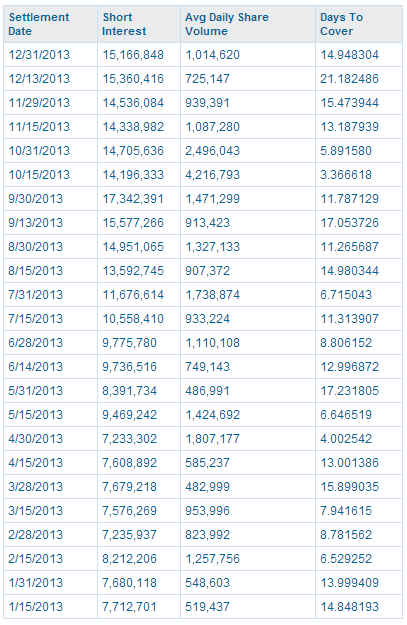 Raymond James Upgrade?
Another recent catalyst was the Raymond James (RJ) upgrade by Aaron Kessler on January 9th to a "strong buy" and a price target of $23. RJ's Aaron Kessler anticipates "a pick-up in sales productivity and net subscriber growth this year." The previous RJ action was a downgrade on July 25 (after the stock began falling apart) from "Strong Buy" to "Outperform" and a $29 price target. I personally believe Kessler loses most of his credibility by suggesting a "strong buy" but at the same time trimming his price targets by 21%. If ANGI was really a great investment (RJ's lowest rating was "Outperform"), shouldn't the price target in January 2014 ($23) be higher than his price target in July 2013 ($29)? Not much "outperformance" here as the S&P returned 9.1% over the same period versus a -47% return for ANGI over the same period.
I dislike calling out analysts on their price targets, because everyone (myself clearly included), makes mistakes. However, what I dislike more is an industry-wide lack of accountability and the habit of the market to seemingly kowtow to the latest change in "ratings." Case in point is the intra-day jump in ANGI's stock price of up to 15% on zero news with the exception of Kessler's upgrade-an upgrade (while technically a downgrade from July 2013's price targets) that should be taken at $0 face value due to his horrendous previous projection.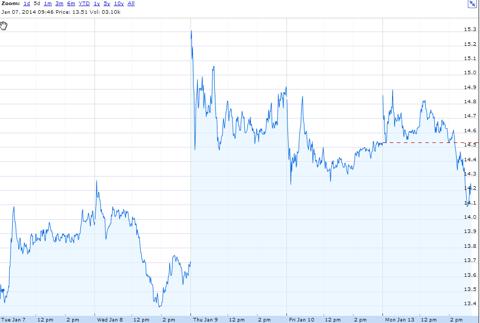 My Thesis on Angie's List
My investment thesis has not changed over the past 6 months. In short, Angie's List runs a business model that is disingenuous at best due to the perception that the company offers a qualified network of paid subscribers to only list the best possible contractors. In reality, ANGI receives the majority of its revenues by selling advertisements and list inclusions to service providers.
Business Model
As of Q3-13, only 26% of the revenues were from "memberships," a figure that will continue to plummet due to a newly implemented company strategy to chase growth by offering reduced-price memberships. An interesting look at how strong the conflict of interest is becoming is demonstrated by the multiple of average (quarterly) service provider revenues to membership revenues. Initially the ratio was below 60, but has recently surpassed 150. This means, in a business sense, that a service provider is 150x more important than an average member to fulfilling the top-line. This is a very dangerous, disingenuous, place for a company focused on "premium membership experience/quality" to be in. I believe ANGI is morphing more and more into a direct comparable with Yelp (NYSE:YELP) and Google (NASDAQ:GOOG). The latter are free and offer many more reviews and choices of providers. In short, ANGI is charging much more for a vastly inferior product.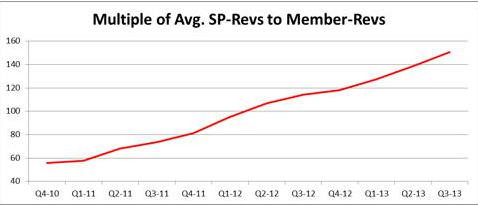 The Financials
As I've previously covered, ANGI is only able to keep her "head above water" through the extensive use of both deferred revenues (prepayments for subscription/advertising service) and accrued liabilities (delaying of payments).
This discrepancy is shown through a 9M reported GAAP loss of nearly $36M while operating cash flows have been a positive $13.4M. The $34.48M in accrued liabilities must be paid within the next 12 months (8.5 months as of this publication), and ANGI has over $73M worth of promised services.
Through this financial approach, ANGI is able to hold a cash balance of $62.58M as of September 30 2013, despite having an insolvent (negative equity of $23M) balance sheet.
While I believe it is possible for ANGI to report an operating profit (analysts expect a 14c EPS), the year-end operating cash flows will almost undoubtedly be negative as ANGI is forced to repay significant liabilities and the deferred revenue growth will slow.
If ANGI reports a 14c EPS profit (approx. $8.2M profit), the yearly loss will still be around $27.6M and yearly operating cash flows (assuming liabilities are repaid and not extended further) will be sharply negative. Analysts have chosen to downplay the EPS figures and focus on operating cash flow, for Q4-13 results, I expect both management and analysts to reverse their posture and emphasize one-time EPS figures over underlying cash flows. I do not expect the market to be bullish on this reversal.
Lawsuits
Angie's List is subject to a volley of shareholder lawsuits, which will likely result in zero return for the unfortunate "bag holders," but will continue to provide negative press for the company. Michael Sacerdote provides a succinct coverage of the potential impact of these lawsuits in his December 29 article.
Valuation
I have extensively discussed the financials and deteriorating business model in my previous articles, and I plan to provide updated coverage following the Q4-13 results. Another Seeking Alpha contributor, Elephant Analytics, has provided a well-framed valuation model that I mostly agree with. His price-target is $9 assuming continued membership growth into 2015.
I am doubtful that Angie's List will be a going concern by the end of 2015 and am pessimistic on the growth rates of service provider revenues. I believe Elephant's model is a decent baseline, perhaps even semi-bullish, model of ANGI's valuations. I see a long-term valuation of $0, and a 1-year target of $5.
Investment/Trading Recommendations
I would stay away from directly shorting ANGI due to the huge short float. I prefer options and I am currently long $12.50 puts for February 2014 (trading at 80-85c). I also like the $10 puts for January 2015 which are trading for around $1.70.
While 2014 could be a wild ride due to the high short float (hence my approach of shorting via puts), this company and stock will almost certainly end in disaster.
Disclosure: I am short ANGI via $12.50 February 2014 puts. I wrote this article myself, and it expresses my own opinions. I am not receiving compensation for it (other than from Seeking Alpha). I have no business relationship with any company whose stock is mentioned in this article.