This morning, Google (NASDAQ:GOOG) reported an acquisition of Nest Labs for $3.2bn. For those who haven't heard of it, Nest was set up by ex- Apple employees to modernize and re-design standard household implements, beginning with the thermostat.
Before I look at this deal in more detail, I would like to state that I think both Google and Nest are tremendous companies. Google is a stock I would happily put into my kid's trust fund, while I have found the Nest thermostat a fantastic product in all regards. Still, as much as I love a porterhouse from London's Hawksmoor, I wouldn't pay $500 for one!
This acquisition will not significantly impact Google as this is a company with $58bn in the bank and expected net earnings of $15bn. The acquisition price of $3.2bn amounts to $11.56 per share, meaning that even if Nest is a complete turkey, the share will lose only 1% of it's current valuation, however in the UK we have a saying "look after the pennies because the pounds look after themselves".
The CEO is already one of the wealthiest and most successful businessmen in the world and it is more likely than not that his interests do no align with shareholders but with gross overpayment of small acquisitions you have to wonder, is there a risk of Mr Page overpaying for a far larger asset?
How do I conclude that this $3.2bn valuation was too rich; after all I think the product is incredible and I would (and have) these products in my own home?
I will look at the estimated sales figures, the cost of development, the patent defensibility and the knock on effects of association with Google.
Sales Figures
These have not been given out privately and the FT have stated that the company have sold a few hundred thousand and during their last capital raising, it was stated they were selling forty thousand per month. Lets assume that they will sell 5 million units next year (growth of 1000% in one year), at $130 a go, we get sales of $650m, valuing the company at 5x Sales. This is a stretch assuming a huge stretch of sales (the current valuation is something like 50x sales!).
Cost of Development
Nest Labs has been active for four years and employ more than one hundred people and so how quickly (and expensively) could incumbents like Honeywell or indeed Google (if they were to copy this idea)? The product is simple enough, a standard thermostat with some smart software behind it as well as a great design.
I want to get my imitation to market quickly so I employ 1000 people (10x Nest's staff) at $200,000 per year. I think that a 100,000 square foot factory in the hearty of Mayfair ($120 per square foot per year) is an appropriate and cost effective base of manufacture. I pay Marc Jacobs $50m in cash to come up with a better design and then allocate Tesco's entire $160m marketing budget in order to get consumer traction. Finally, I decide that because my product is so great, I'm going to let my staff drink only Cristal with 10 bottles per staff member.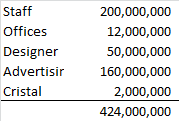 With this enterprise, I am spending only $424m per year and so even if it takes 4 years, I have still come in at half the acquisition price!
We have seen Instagram and Waze get picked up for $1bn and the difference here is that both companies had a user base. The thermostat market doesn't! The product is a great step forward for home automation but at the end of the day, there is nothing that is difficult to recreate at a reasonable price.
Patent Defensibility
The company bought a number of patents from Intellectual Ventures and is still involved in disputes with both Honeywell and Allure Energy but at the end of the day can you really patent a thermostat to copy competition.
Maybe elements of the software can have a unique aspect to it but the simple truth is that the machine has a simple program that follows your energy consumption, optimizes it and allows wifi interaction. There is nothing that will stop rival companies developing a solution.. in fact, here are a few
Tado, Honeywell, Hive, Ecobee.
Association With Google
Although Nest has come out and stated that data coming in through their products will remain with Nest and not Google, this won't change the fact that this will always remain a concern and a possibility. Both Spanish and French governments have already fined Google for data misuse with Holland potentially becoming another annoyed party.
There will be a number of potential customers who will be put off by this potential data free for all, which will damage Nest to a small degree.
Rounding up this article, Buffett once stated that you should buy a company that even an idiot can run, because sooner or latter, one will. I am not saying that Page is an idiot. He is an innovator, entrepreneur and genius. I am saying that this company is currently not operated in the best interests of shareholders and this overpriced acquisition proves it.
I am pretty sure that if I conducted a survey between shareholders of whether they would want $11 cash or a share in a company valued at an EV/Sales of 50x with no moat I could safely predict the results.
Disclosure: I have no positions in any stocks mentioned, and no plans to initiate any positions within the next 72 hours. I wrote this article myself, and it expresses my own opinions. I am not receiving compensation for it (other than from Seeking Alpha). I have no business relationship with any company whose stock is mentioned in this article.