Anybody following the market on Monday probably saw that SodaStream International (NASDAQ:SODA) had an ugly warning that sent the stock plunging 26% for the day. The manufacturer of home beverage carbonation systems continues to struggle to obtain investor confidence, even though, it generated nearly 30% growth for 2013.
The stock is down roughly 50% from the early 2013 highs so is now the time to load up on the stock at around $37?
Warning Details
The company provided the following preliminary results for 2013:
Revenue to be approximately $562.0 million.
Adjusted net income to be approximately $52.5 million.
Net income to be approximately $41.5 million.
In the press release, the company blamed a generally challenging holiday selling season in the US plus lower sell-in prices and higher product costs. The company expects some of the margin headwinds to continue at the start of 2014, but it claims the company is on the right path to meet long-term goals that included reaching $1 billion in annual sales by 2016.
The past guidance back in the Q313 earnings report was for revenue around $567 million and adjusted net income of $65 million. In essence, SodaStream was able to nearly reach the revenue targets while vastly underperforming on earnings due to margin pressures that included currency exchange impacts.
Carter Worth Suggests $30
Considering holiday sales in the US were generally disappointing to most retailers including the recent warning from Bed Bath & Beyond (NASDAQ:BBBY), it is very likely that the issue wasn't SodaStream related. This sell off provides a solid entry point for long-term investors.
According to technical expert Carter Worth, Chief Technical Strategist at Oppenheimer & Co., the stock hit a double top back in May and is now headed to $30. See the below chart and watch his appearance on CNBC today right here:
Chart - 3 Years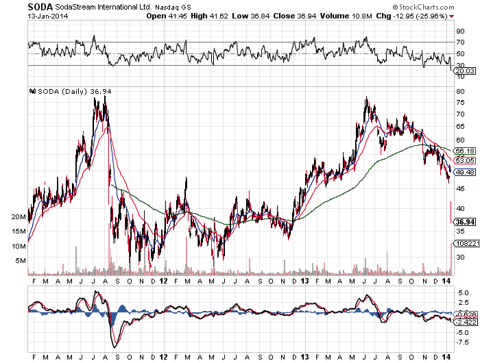 Industry Fundamentals
The carbonated beverage industry is under pressure, but oddly only the stock of the fast-growing home beverage maker has seen any selling pressure. While Coca-Cola Company (NYSE:KO) and PepsiCo (NYSE:PEP) aren't generating any revenue growth, SodaStream continued to grow 29% this year despite the warning. See the below revenue growth for an $800 million stock that generated $562 million in revenue.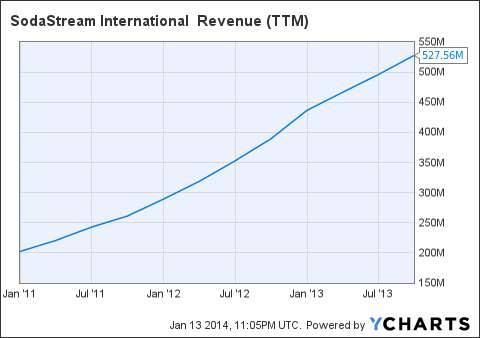 SODA Revenue (TTM) data by YCharts
Clearly that chart should look like one that attracts a lot of investors, but oddly the investment community is just as willing to pay up for the flat revenue streams of Coca-Cola and Pepsi.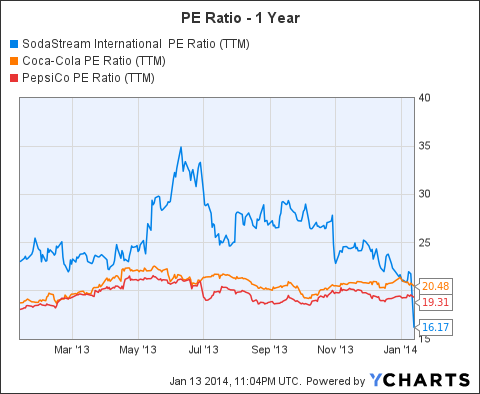 SODA PE Ratio (TTM) data by YCharts
The biggest concern continues to be that SodaStream is a fad and no doubt the weak Q413 numbers will bring out those calls again. The below slide from the recent investor presentation provides some hints that the product is able to achieve significantly more market penetration. The penetration levels in Sweden and Finland provide a sign that the Q4 issues were more a weak holiday issue and not SodaStream related.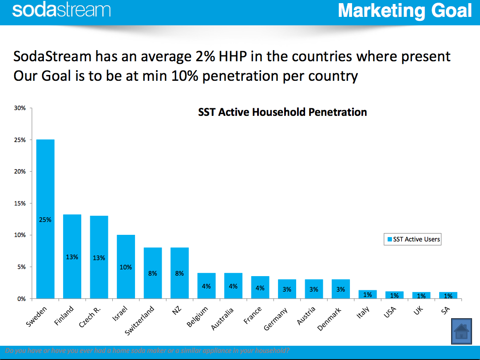 Conclusion
The weak results from SodaStream are definitely disappointing, but investors need to keep in mind that the retail sector has underperformed this holiday season. The soda machine products might no longer be considered a holiday gift limiting the expected holiday upside lift. Regardless, no sign exists that SodaStream products are out of favor with consumers. The stock is very attractive at these levels. If it does drop to the $30 level suggested by chart expert Carter Worth, investors better step up and take advantage of the gift from the market.
Disclosure: I am long SODA, . I wrote this article myself, and it expresses my own opinions. I am not receiving compensation for it (other than from Seeking Alpha). I have no business relationship with any company whose stock is mentioned in this article.
Additional disclosure: The information contained herein is for informational purposes only. Nothing in this article should be taken as a solicitation to purchase or sell securities. Before buying or selling any stock you should do your own research and reach your own conclusion or consult a financial advisor. Investing includes risks, including loss of principal.