Investors in Abercrombie & Fitch (NYSE:ANF) had a good start to the new year after a very difficult 2013. The retailer updated the market with a very strong outlook for the current fourth quarter, prompting the company to boost its non-GAAP guidance for 2013.
Declines in comparable sales are flattening out rather quickly, while direct-to-consumer sales are accelerating nicely. If Abercrombie can deliver on further improvements, growth might be within reach for the first quarter, creating much more potential.
Update On The Fourth Quarter
The specialty clothing retailer gave an "upbeat" update for the nine-week period ending on January 4, covering the majority of the fourth quarter.
Comparable sales, including direct-to-consumer sales fell by 6% for the period. US sales fell by 4% while international sales fell by some 10%. It is actual store sales which are under pressure as direct-to-consumer comparable sales were up by 25% compared to the comparable period last year.
Note that these are significant improvements from the third quarter at all three segments. Comparable store sales fell by 14% in the US in the third quarter while international comparable sales fell by 15%. Direct-to-consumer comparable sales rose by 11% in the third quarter, marking significant improvements. If these trends continue, growth in terms of comparable sales might be within reach for the US stores in the upcoming first quarter.
Based on these better than expected sales results, despite the actual fall in sales and lower costs, earnings are seen higher than previously expected. Full year adjusted non-GAAP earnings are now seen between $1.55 and $1.65 per share. Previously, the company was looking for earnings of $1.40 to $1.50 per share.
Note that GAAP earnings exclude various restructuring charges, impairment charges and store closure charges. Abercrombie stresses that the performance is "solid" in this promotional environment, while it is happy with the shape of its inventory at this point in stage.
Take notice that Abercrombie is scheduled to release its fourth quarter and full year results on the 26th of February.
Long Term Growth...
Abercrombie has an excellent track record of long term growth, yet it has seen its fair share of troubles. As can be seen below, revenues fell from $3.7 billion to $2.9 billion during the recession, triggering a 75% sell-off in its shares.
Operations recovered with revenue growth accelerating since 2010. In the wake of these improvements, shares have risen sharply again followed by a renewed downtrend in 2012 and 2013.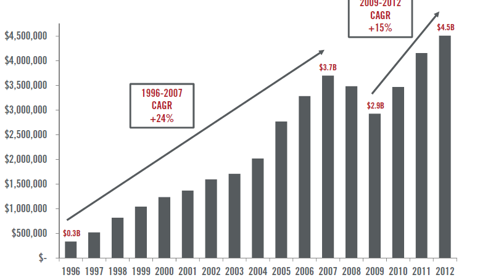 ...On The Back Of International Expansion And Direct-To-Consumer
Growth in recent years has been driven by two major trends. This obviously includes the growing international operations as well as the solid direct-to-consumer sales.
International sales have grown rapidly in recent years, displaying a compounded annual growth rate of 58% in the period 2009-2012. Store openings and comparable sales growth have driven these results.
Note that 2013's sales results are not known yet. As the company has aggressively increased its international store base in 2013, sales were flattish as comparable store sales fell by 15% in the third quarter. In its latest release, Abercrombie updated the market that the fall in comparable sales has slowed down to declines of 10% in the first period of the fourth quarter.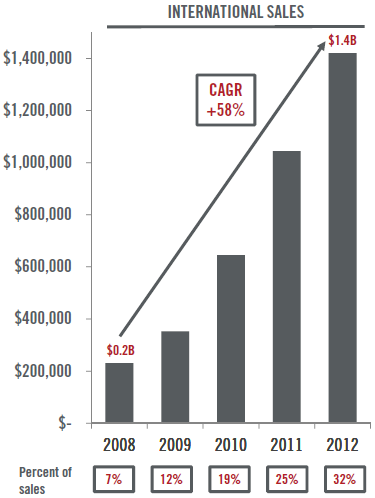 Another major driver have been the direct-to-consumer sales which showed a CAGR of 34% in recent years. Comparable direct-to-consumer sales rose by 11% in the third quarter, showing a decent acceleration towards 25% in the first part of the fourth quarter.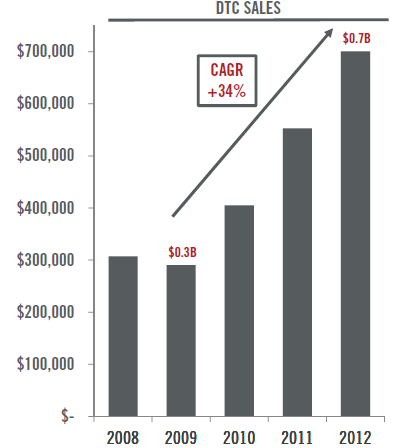 Impressive Growth, But What About Margins?
The overall growth displayed by the firm has been very impressive, even as sales saw a meaningful setback during the recession and last year. The update shows that the situation appears to be stabilizing rapidly, giving renewed prospects for growth.
What has been a big concern and a long term drag on the shares has been the disappointing margin developments. Operating margins came in between 18 and 21% between 2003 and 2007. Margins plunged in the recession and despite the top line growth recovery since 2010, margins remained at structurally lower levels.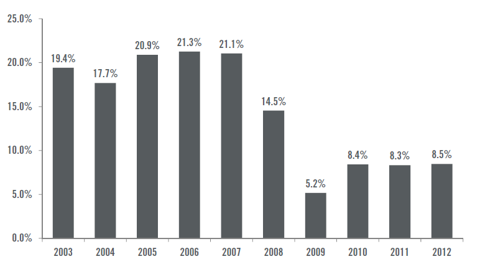 Takeaway For Investors
Investors were really enthusiastic with the update for the final quarter sending shares 12% higher on Friday to levels around $37 per share. At these levels the business is valued around $2.8 billion. Operating assets of Abercrombie are valued at a similar level with the company holding $257 million in cash and equivalents while operating with roughly $200 million in debt on its balance sheet.
As such investors are still in doubt about two lasting trends. On top of structurally lower operating margins since the recession, 2013 has been a very difficult year. Even looking at non-GAAP earnings of $1.60 per share, the valuation is steep at 23 times earnings. So far, that is in the first nine months of 2013, Abercrombie reported GAAP losses of around $20 million. The difference between GAAP and non-GAAP earnings is large and due to extensive charges related to profit improvements, impairment charges and restructuring charges.
A little comforting is the quarterly dividend of $0.20 per share, providing investors with a dividend yield of 2.2%.
As such Abercrombie is now a company with roughly $4 billion in annual sales, which despite 2013's hiccup has reported solid growth over the past decades. Assuming the firm can restore operating earnings to 10-15% of sales, operating earnings of $400-$600 million should be attainable in a reasonable scenario going forwards. Assuming a 30% tax rate, this results in GAAP earnings of around $300 to 400 million. Combined with a price-earnings ratio of 15, this could result into a valuation just north of $5 billion, translating into a $70 price target.
As such Friday's jump might be just the start but there is a long way to go. Assuming that Abercrombie can restore its earnings while stabilizing revenues and thereby offer renewed growth prospects, there is much more potential.
Disclosure: I have no positions in any stocks mentioned, and no plans to initiate any positions within the next 72 hours. I wrote this article myself, and it expresses my own opinions. I am not receiving compensation for it (other than from Seeking Alpha). I have no business relationship with any company whose stock is mentioned in this article.