Click to enlargeAlthough I have considered selling ConocoPhillips (NYSE:COP) a few times over the 25+ years I have owned it, not doing so has taught me a valuable lesson: buying and holding a good quality dividend paying energy company can be very rewarding over the long run. That said, I review my core holdings every year to confirm (or disprove) their investment potential. I just performed this exercise for COP and here are 5 reasons why I will keep, and possibly increase, my position in COP for the long term:
Reason #1: Excellent position in "Shale USA"
COP is the #2 producer in the Eagle Ford shale with production of over 130,000 boe/day as of Q3. Generally considered to be the most economic shale play in the US, the EF is advantageously located near the domestic refining and chemicals hub on the US Gulf Coast. COP also has excellent acreage in the Bakken and over 1 million net acres in the Permian Basin.
Reason #2: Canadian Oil Sands
COP has over 1 million net acres of top-tier Canadian oil sands giving it a total resource base of ~16 billion boe. It has plans to grow net oil sands production to near 200,000 bbls/day by 2017 with a cash margin of ~$40/boe (slide 20 of this recent presentation).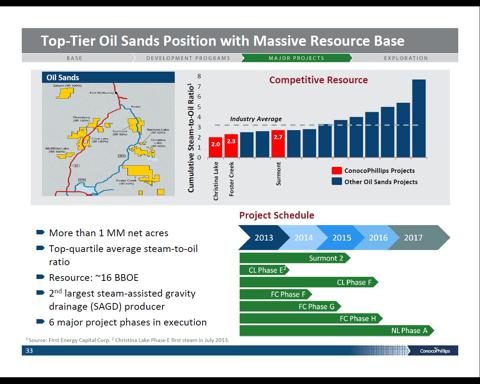 Click to enlarge
Reason #3: Alaska
ConocoPhillips is the largest oil producer in Alaska. In 2012, COP produced 204,000 boe/day and 55 Mcf of natural gas per day in Alaska. Alaska recently repealed Sarah Palin's regressive oil tax in favor of a 35% flat tax. In addition, the state has recently announced plans to participate in the "Alaska LNG" pipeline project with partners COP, ExxonMobil (NYSE:XOM), BP (NYSE:BP), and TransCanada (NYSE:TRP). Both of these actions are bullish long-term catalysts for ConocoPhillips in Alaska.
Reason #4: Australia LNG
COP has a leading position in Australian LNG. In 2012, COP produced 85,000 boe/day at multiple projects across Australia and Timor-Leste. The Australian Pacific LNG Project ("APLNG") is scheduled to begin shipping LNG to Asia in 2015. The first two production trains at APLNG's facility on Curtis Island will have a capacity of up to 9 million tons per annum and the project will ramp up to ~80,000 boe/day by 2017 (slide 24). Cash margins are expected to be in the range of $40-$45/boe and will provide a steady stream of stable cash flow to the company for decades.
Reason #5 Management
ConocoPhillips' management has established itself as one that fulfills its promises. Execution of the company's ambitious strategic plan over the past few years went off with nary a hitch. The feat is impressive considering it was done during a period of worldwide economic weakness. The spin-off of midstream and downstream assets into Phillips 66 (NYSE:PSX) has been wildly successful and very beneficial to shareholders. The company has largely completed its asset sales and is now embarked on the growth phase of its strategic plan: delivering 3-5% growth in both production and margins out to 2017. After the company's performance over the last few years, they have earned the benefit of the doubt in terms of meeting these goals. Meantime, the company rewards shareholders with one of the highest dividend yields in its peer group (currently 4%).
It is relatively easy to come up with 5 more reasons to own COP, including: Norway (Ekofisk), Jasmine in the UK, Bohai Bay, the Gulf of Mexico (Shenandoah), and a good chance that a Venezuelan settlement should be reached this year or next and could be as much as $4/share.
Summary & Conclusion
COP was the first stock I ever bought. It was the early 1980's and it was called Phillips Petroleum (call letter "P"). The company was recovering from a hostile takeover attempt by Boone Pickens. The company took on debt to fend off Pickens and suffered as a result. Management raised the dividend to lure back investors. I was lured in - not just for the dividend, but for the company's assets. While I was tempted to sell the stock several times over the years based on short-term considerations, I have held the company through thick and thin and am very glad to have done so. At the end of the day, a good quality large-cap dividend paying energy stock, while not flashy and high alpha, can be very rewarding to investors over the long run. In fact, dividends payments alone have totally covered my initial cost basis in COP. Long-term investors in Exxon and Chevron (NYSE:CVX) can probably say the same.
COP is down ~10% from its recent highs and there are likely shareholders out there thinking it may be because of the recent lowering of Q4 production guidance due to severe weather. Or perhaps it is profit-taking after a nice 2013. Maybe the drop is due to concerns about weak oil prices, tax loss selling, or a geopolitical event like Iran's oil coming back online. However, all of these are relatively short-term phenomenon and are not reasons to exit the stock unless you're a short-term oriented investor.
Although I have predicted COP will deliver a 20% total return in 2014, let's face it - who can accurately forecast a stock's yearly performance? What I can quite confidently say is that over 5, 10, and 20 years COP will be substantially higher than it is today. Why? Because ConocoPhillips has an awesome asset base and an excellent management team in charge of growing and exploiting it.
The stock is currently valued at a significant discount to the S&P500 and it pays a hefty dividend. COP is a BUY and a stock that should be held for the long haul.
PE (ttm) = 10.5
EPS (ttm) = $6.54
Div (Yield) = $2.76 (4%)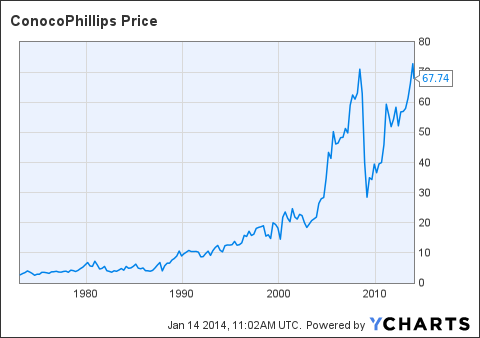 Disclosure: I am long COP, XOM, CVX. I wrote this article myself, and it expresses my own opinions. I am not receiving compensation for it (other than from Seeking Alpha). I have no business relationship with any company whose stock is mentioned in this article.
Additional disclosure: I am an engineer, not a CFA. The information and data presented in this article was obtained from company documents and/or sources believed to be reliable, but has not been independently verified. Therefore, the author cannot guarantee its accuracy. Please do your own research and contact a qualified investment advisor. I am not responsible for investment decisions you make. Thanks for reading and good luck!