What's Hot in Year Two of a Bull Market?
Like it or not (and believe it or not), we're in a bull market. Last week we celebrated the one year anniversary of the March 2009 bottom, and are sitting on 70% gains since that reversal a little over a year ago.

The event got us thinking about the shape of bull markets of the past, and the likely shape of bull markets of the future. Specifically, the one year mark got us wondering if all the expected sector rotation cycles worked out this time around, or ultimately failed as they generally do.
So, we did what any intelligent person would do – we put the theory to the test with real results, comparing sector returns over the prior twelve months to the way sectors are supposed to behave in the early stages of a new bull/expansion cycle.
Care to guess how it turned out?
Pick a Model. Any Model.

There are actually several sector-cycle theories out there. They all basically do the same thing though … they seek to identify which sectors are most apt to do well during a certain phase of an economic rebound and (hopefully) the accompanying phase of a bull market.
After a short-lived attempt to merge the spirit of each of these models into one sequence that we could consider today, the partially mismatched projected sector leadership essentially forced us to spell these out individually. We'll just have to manage the expectation and play it by ear.
So, before we actually look at the last twelve months of sector results, let's take a look at what the great gurus of the past suggested we should have seen. Here's the grid:
Sector Leadership Models for Bull/Bear and Economic Cycles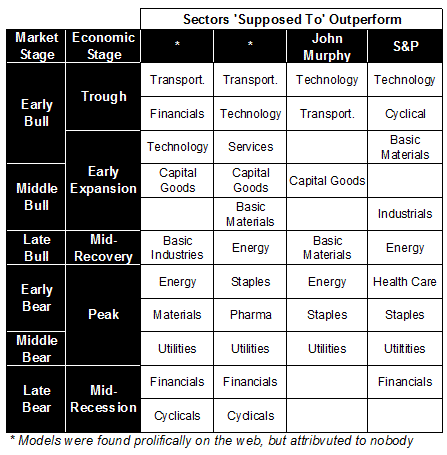 What Was Expected Over the Last 12 Months
Though we saw a few disparities about "what leads when," we can still draw a handful of important conclusions regarding what should have been leading over the prior twelve months.
And which sectors were those? We're going to say stocks just completed the 'early bull' phase, while the economy hit its trough and is now in the midst of its 'early expansion' phase. As such, technology, financials, transportation, and consumer cyclicals should have led the pack. You could make a good case for basic materials and the somewhat ambiguous 'services' sector leadership too, though that strength shouldn't have kicked in until more recently.
Actual vs. Theoretical
And how did the market actually do? Take a look at the March 2010 YOY sector percentage change chart:
Comparative Sector Percentage Change (03/09 - 03/10)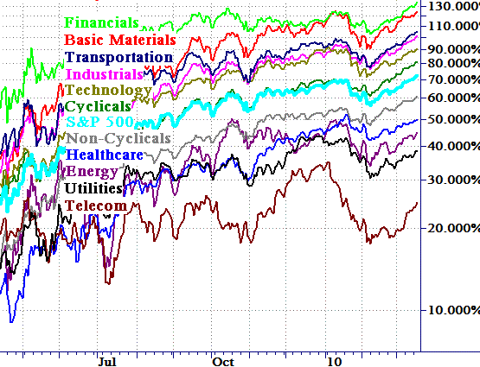 (Click to enlarge)
(Note the sector list on the chart is not only color-coded, but it's also ranked top down, from best to worst.)
Or, if you're more of a numbers person, here's the raw data …
Sector Rankings: 52 Weeks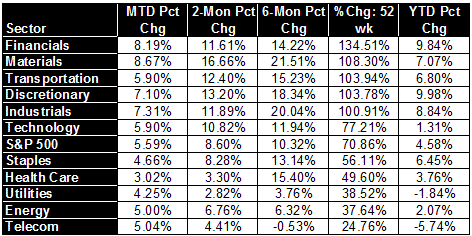 Remember how technology, financials, transportation, and consumer cyclicals were supposed to lead? Yeah, well, they were each in top half of sectors that beat the broad market ... not bad, considering there were only six sectors that did so.
As for the more recently expected strength in the basic materials sector and the services sector, there's nothing 'more recent' about bullishness than that from the materials stocks – they've been leading since day one. They're still leading though, so we suppose the theory essentially worked out.
As for 'services' (which includes things like some retail, entertainment, consulting, publishing, etc.), it's difficult to say if the modal was on or off target without a meaningful, service oriented index. But, we do know that retail, business services, newspaper, and movie studio stocks all did very well over the last 52 weeks, so we're certainly not going to score one against the sector rotation model.
Incredibly Enough ...

Incredibly enough, we'd have to say the suggested models were actually pretty helpful with picking winners this time around. It's a bit surprising, since too much of the time these theories don't hold water.
While it's still wise to be skeptical about these models, given the reasonable success of the idea so far this time, it wouldn't hurt to start looking at what's supposed to be strong during the second phase of the bull market and economic growth cycle. That should put capital goods (industrials) and basic materials at the top of the list. Just don't blind yourself to the inevitable exceptions.
Anyway, it's food for thought. It's definitely not our normal short-term fare, but a big trend is a big trend, and can be profitable, no matter how long it lasts.
We'll check in on these sector trends in the near future.

Disclosure: No positions