I've been writing about Bank of America (NYSE:BAC) for the better part of the last year, staking my claim that it's a great position to take in the banking sector due to great management, cost cutting, the recovering housing market, and its low multiple.
In 2014 alone, Bank of America is up 6.2%. In the last three months the company has seen gains of 15.3% and in the last twelve months it's grown 44.2%.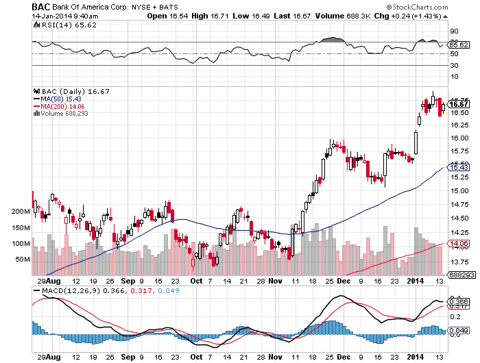 What's new since my last article? I've finally staked a long position in the company, because I feel this year's gains are only going to be the beginning for the bank.
I pointed out BAC in a recent article about my 8 Attractive Trades for 2014 - as one the companies that I would recommend holding long throughout 2014 based on the following reasons:
With continued cost cutting that's going to run into 2014, Bank of America is set to continue producing an improving bottom line, regardless of possible stagnant revenues.
Although legal issues remain the Bank's biggest caveat, BAC continues to settle litigation relating to the subprime crisis one at a time and will continue to do so in 2014.
CEO Brian Moynihan remains focused on the fundamentals, leading with a clear head, and is the backbone of the bank's lucrative performance in 2013.
Warren Buffett, already yielding a $5 billion profit on paper in his Bank of America investment, remains satisfied in the company and hasn't sold his position.
Bank of America dividends are expected to rise in 2014.
The bank is set to report tomorrow morning - Wednesday, January 15th before the market opens. Analyst estimates are coming in around $0.27/share EPS and the whisper number is $0.31. I fully expect BAC to beat the analyst estimates for this quarter, and I expect it to be a product of continued excellent management and reduction in costs. The EPS estimates are up significantly from $0.03/share the year prior.
Analysts are also expecting quarterly revenues of $21 billion and profit of $3 billion.
Additionally, analysts like Nomura Research continue to back the bank with "buy" ratings and bullish estimates.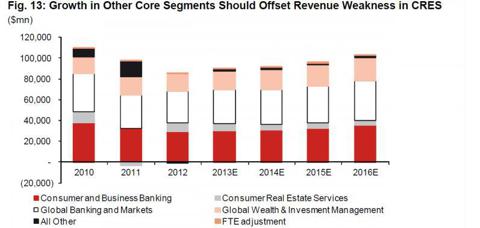 The one caveat that most investors have with BAC is the fact that they are mired by lawsuits attributable to the 07-08 subprime crisis still. Although Brian Moynihan and BAC have been able to mitigate these costs and curb them thus far, it remains a wild card for the bank and will be watched with a close eye. J.P. Morgan (NYSE:JPM) failed to start off banks on the right foot this morning, reporting a 7.3% fall in profit due to - you guessed it - legal issues.
On the other side of the coin, Wells Fargo (NYSE:WFC) reported a 10% rise in fourth quarter earnings as compared to fourth quarter 2012. Wells Fargo finished 2013 earning $21.9 billion - a 16% rise on 2012's profit and a good sign for the banking industry heading into 2014. Wells Fargo is the foremost mortgage player in the banking industry heading into 2014.
But, with the bank getting leaner and meaner - selling off $70 billion in non-core assets since 2010, I continue to believe BAC is still just getting ready for another period of brilliance that will last years to come. As the bank continues to get more efficient, I'm also expecting dividends to eventually rise and buybacks to continue.
Heading into earnings, analysts are bullish, the Oracle is still on board, and there's still plenty of room to grow for BAC. I'm long BAC for the long-term.
Best of luck to all investors.
Disclosure: I am long BAC, . I wrote this article myself, and it expresses my own opinions. I am not receiving compensation for it (other than from Seeking Alpha). I have no business relationship with any company whose stock is mentioned in this article.