One of the best ways to uncover investment ideas is to pay attention to the smart money---investors with proven track records and outsized returns. Even Warren Buffett, arguably the world's most celebrated investor, welcomes ideas from other smart investors knowing that it's impossible for one person to cover the entire universe of investment opportunities. In fact, when John Paulson made billions for himself and his partners shorting subprime mortgage bonds in what would be called "the greatest trade ever," it was an idea he learned about from another fellow investor.
About a month ago, Kyle Bass of Hayman Capital, announced a significant stake in General Motors (NYSE:GM) claiming, "GM equity represents one of the most compelling risk/reward situations of any large cap in the world today." Incidentally, Mr. Bass was also a beneficiary of the short subprime trade and he too learned of the idea from another investor.
Warren Buffett and Kyle Bass are both great investors but their styles aren't very similar. Yet, Warren Buffett is also a large GM shareholder with around 40,000,000 shares. Additionally, a couple of really smart billionaires both named David---Mr. Einhorn and Mr. Tepper, also like what they see at GM. Even banks have joined the bandwagon -- Goldman Sachs has added GM to its high conviction list.
So why is it that the smart money seems to love GM? Because it's a cheap transformer. Let us explain.
Buffett likes companies that are not only cheap, but he also needs a margin of safety and a strong brand. Since exiting the crisis GM's balance sheet has improved drastically. With a cash position well over $20B, and increasing FCF, this margin of safety is only getting stronger. The screenshot below shows a quick summary.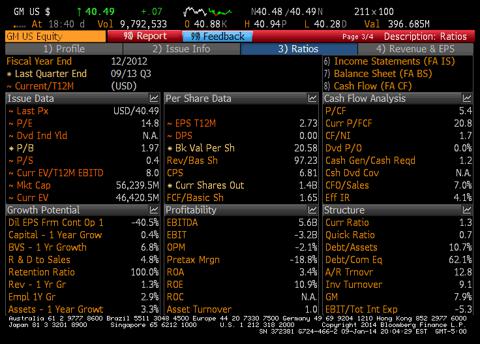 Regarding valuation, GM is cheap on many levels, as the charts below make clear.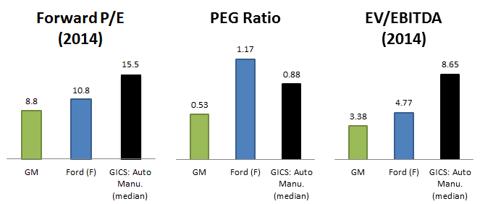 In terms of brand strength, it would be difficult to find many companies with stronger brands.
General Motors was once said to be synonymous with the American economy; there's not a man, woman, or child that isn't aware of the brand. But many are not aware of the transformations around the corner.
Say Goodbye to Government Motors...Say Hello to the New Heartbeat of America
"Like us, there's more to them than meets the eye." -Optimus Prime, Transformers (2007)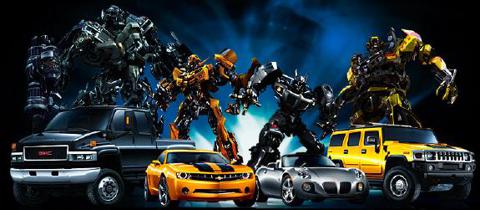 With Uncle Sam no longer with its foot on the brake pedal, and cash mounting on the balance sheet, look for a new and growing dividend to commence. In addition, the fact that GM is pulling the plug on failed projects shows that they are learning from mistakes and not throwing good money after bad ideas.
GM is still the leading car company in the world's two largest markets; China (which became number one in 2009) and the US. The increasing purchasing power of Chinese consumers and the need to replace the aging cars on US roads will both continue to drive demand in the next several years. As this recent article from Business Insider points out, GM is selling more cars in China than ever before and sales are growing at over 11% annually.
Those most familiar with the transformations taking place are the insiders. And it certainly seems they like what they're seeing -- notice the recent insider purchases below.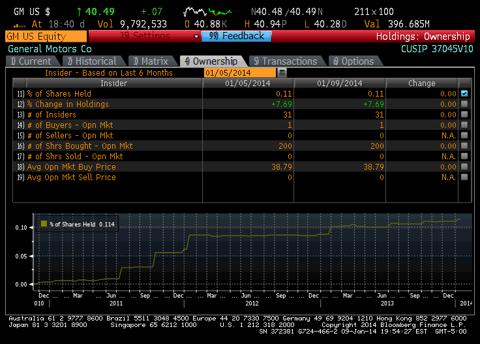 It's no wonder then that the smart money is throwing more and more good money at GM.
Disclosure: I am long GM. I wrote this article myself, and it expresses my own opinions. I am not receiving compensation for it (other than from Seeking Alpha). I have no business relationship with any company whose stock is mentioned in this article.
Additional disclosure: THIS IS NOT AN OFFER OR A SOLICITATION TO INVEST.THIS IS A PRIVATE OFFERING AND IS NOT AVAILABLE TO THE PUBLIC.