The big M&A news coming out of the technology, media and telecom sector today was Charter Communications (NASDAQ:CHTR) proposed merger with Time Warner Cable (TWC). Terms of the deal valued the transaction in the low $130's, and included $83 per share in cash consideration with the balance being paid in Charter stock.
This is a meaningful event in the media consolidation scenario that John Malone laid out at last summer's Allen & Co technology conference in Sun Valley, Idaho.
The news of a potential Charter / Time Warner Cable tie up makes it a great time to review Central European Media Enterprises (NASDAQ:CETV) ("CEME"), which is 49% owned by Time Warner (NYSE:TWX).
Shares of CEME experienced a dramatic sell off in early November when the company announced it may need to raise cash via an equity offering to satisfy upcoming debt obligations. In the press release, CEME's co-CEO's Michael Del Nin and Christoph Mainusch commented:
We continue to take steps to conserve cash, including targeted reductions to our operating cost base through cost optimization programs and restructuring efforts, the deferral of programming commitments and capital expenditures and the deferral and cancellation of development projects. Due to the level of negative free cash flow anticipated for 2013, we will need additional capital and we are currently evaluating all options available to us, including debt and equity financings, asset sales and the renegotiation of payment obligations with a number of major suppliers. In this respect, we are in discussion with Time Warner Inc. regarding a possible capital transaction, including debt, to address our liquidity position. These discussions are preliminary and there are no assurances regarding the ultimate outcome. If we are unable to secure additional financing, we will be unable to meet our debt service obligations and generally fund our operations sometime within the next twelve months.
The stock quote has since rebounded, and with more news of media consolidation in both North America and in Europe, CEME could potentially be put in play or provided a capital injection by TWC to protect their investment.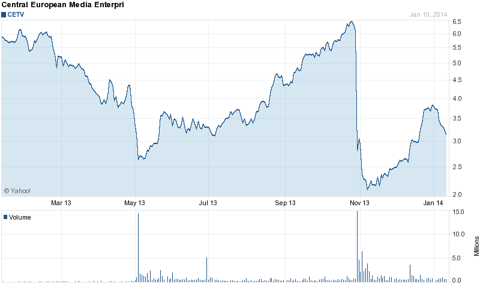 The Business
CEME operates a total of 35 television channels across the Czech Republic, Slovak Republic, Slovenia, Romania, Croatia and Bulgaria, as well as a portfolio of websites and the video-on-demand service Voyo. CEME generates revenue from two primary sources: (1) advertising and (2) carriage & subscription fees.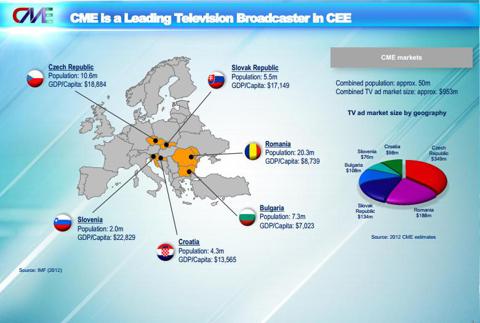 CEME has significant market share in each of its respective market, but still needs more scale in order to spread more revenue across its fixed cost base. To that end, I understand CEME attempted to raise its advertising prices which resulted in an adverse reaction from advertisers and caused ad revenue to slump 17% for the 9 months ended September 30, year-over-year.
Turning to the next stream of revenue in CEME's dual monetization model, carriage fees increased 31% year-over-year (but on a smaller revenue base). I understand CEME also renegotiated certain existing and closed new carriage fee arrangements with television operators in Romania and Bulgaria, much of which is expected to begin to accrue to revenue in 2014.
Valuation
CEME is valued at ~$400 million and is encumbered by $940 million in senior debt, made up of four sets of notes, including:

With respect to the debt issue, there is still plenty of time to refinance, sell assets or recapitalize the business as the 2015 Convertible Notes do not mature until November 15, 2015 (more than 22 months from now). While the leverage is a concern, I think the market overreacted to the CEO's comments given there is ample time to restructure the debt or sell assets. And, given the debt balance is small ($940 million) in relation to the size of TWC, it could takeover the remaining CEME equity it doesn't own and consume the debt balance with ease.
Catalyst
Another potential catalyst to push CEME's stock quote higher is the high probability that Spain's media conglomerate, Grupo Prisa (NYSE:PRIS) (NYSE:PRIS.B), gets multiple offers for its 56% interest in Digital+, Spain's leading pay-TV business. After recently completing a debt refinancing, Prisa's new debt agreements require it to sell non-core assets within 3 years in order to deleverage. When a potential transaction is publicly disclosed for Digital+, I expect the news to help investors to re-rate CEME.
Conclusion
CEME is not a great business given its recent performance. When combined with financial leverage, the equity becomes predictably volatile. Therefore, investors should monitor any debt recap or asset sales with vigil. CEME does have a large, stable shareholder in TWC (or potentially Charter), so I think that should provide at least some comfort to investors.
I also expect that if a deal is consummated between TWC and Charter, that the combined entity will likely want to take full ownership of CEME to clean up its reporting structure.
Finally, more consolidation in Europe, including a potential deal for Digital+, could help investors regain its risk tolerance for a (temporarily) struggling media company levered to developing economies in Central Europe.
For nimble traders, CEME may provide a compelling opportunity to take advantage of what I expect to continue to be volatile trading conditions until a resolution with respect to the debt is complete.
Disclosure: I am long PRIS.B, . I wrote this article myself, and it expresses my own opinions. I am not receiving compensation for it (other than from Seeking Alpha). I have no business relationship with any company whose stock is mentioned in this article.
Additional disclosure: I may initiate a position in CETV at any time.