Procter & Gamble (NYSE:PG) should be considered at the core of every dividend growth portfolio. Currently yielding a 3.00% dividend, it carries the backing of some of the most recognizable brand names in the world. These include names like Bounty, Pampers, Mr. Clean, Tide, and Gillette. The company also boasts an impressive track record of annual dividend growth, approaching 60 years of consecutive increases.
As a dividend growth stock, Procter & Gamble is currently increasing dividends at a five year compound annual growth rate of 6.91%. The latest increase from $0.562 to $0.602 represents a 7.12% bump. Dividend growth is decelerating when compared to the ten year compound growth rate of 9.43%. The following graphs show dividend and growth rate data for the last ten years.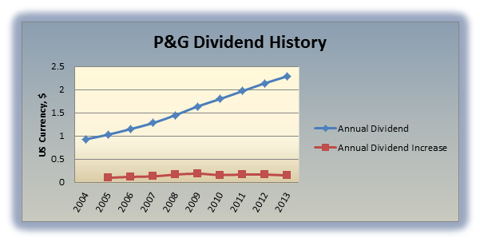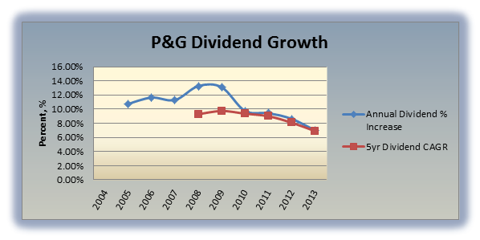 While P&G has been consistent in the absolute amount of dividend increases, progressively higher increases are needed to reverse the decelerating compound annual growth rate.
Yield and dividend growth are important, but I also seek out companies with high sustained profitability. P&G has maintained a minimum net margin of at least 10% over the last ten years with the 2013 fiscal year ending at 13.44%. The following graph highlights P&G's consistent profitability since 2004.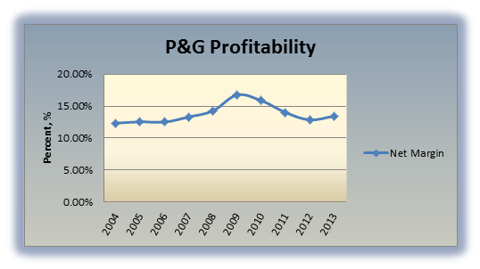 P&G is currently trading at a P/E multiple of 20.41. Overall valuation has trended down over the last ten years, even when excluding the 2008-2009 market collapse. Investors are simply not willing to pay as much for P&G as in years past.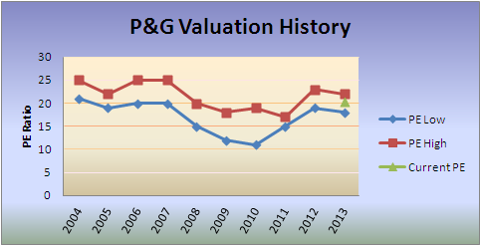 Average analyst EPS estimates for 2014 and 2015 are $4.29 and $4.66 respectively. At the current PE of 20.41, this would theoretically translate to share prices of $87.56 and $95.11, representing average annual earnings growth around 10% through 2015.
I am always on the lookout for high quality dividend growth stocks to add as a core position. Procter & Gamble fits my core criteria with a current yield over 2.00%, net margin over 10%, projected earnings growth, and a history of annual dividend increases.
An investor interested in opening a position in P&G could use the following technique to limit the risk involved. As a protective measure, a put back spread using LEAPs options could be opened to limit risk on 100 shares of PG. This method also keeps potential capital gains uncapped.
For example, a 87.5P/72.5P back spread expiring in January 2016 could be opened at a net credit around $165. This involves selling one Jan 16 87.5P option for $1535 and buying two Jan 16 72.5P options for $1370 ($685 per option). Assuming shares of P&G were purchased at Friday's closing price of $80.30, this would effectively limit the maximum annualized rate of loss to -10.91%, which includes expected dividend payouts through January 2016 amounting to $482.
Disclosure: I am long PG, . I wrote this article myself, and it expresses my own opinions. I am not receiving compensation for it (other than from Seeking Alpha). I have no business relationship with any company whose stock is mentioned in this article.