I've been long Intel (NASDAQ:INTC) for about a week now. I penned an article yesterday stating what my five main reasons were for buying Intel:
The company has staying power - with $8.4 billion cash on hand and a price/book ratio of 2.29 - the company isn't going anywhere anytime soon.
Despite the stock not moving a ton, Intel continue to raise its dividend, thereby increasing its dividend yield. Right now, Intel pays a handsome 3.52% dividend in the form of $0.22/share.
Intel has consistently traded near a P/E of around 13 for the past few years. Unlike many other companies that have inflated P/E ratios due to the macro market bullishness, Intel remains a stock that investors keep "roped in", and is no way too expensive from a fundamental standpoint.
The PC market has bottomed and Intel stands to benefit as it rebounds, even though Mac will continue to gain market share on PCs.
A large short position, now consisting of 224 million shares, could be squeezed out relatively soon - especially with potential positive earnings on deck.
Intel has traded between $17 and $27 for the last couple of years. The company, technically, recently broke its resistance at $25. The next major resistance for the company comes at $27, which it touched almost two years ago. If INTC can break $27, it's on its way to $30 after condensing - and also pending that the macro markets hold bullish.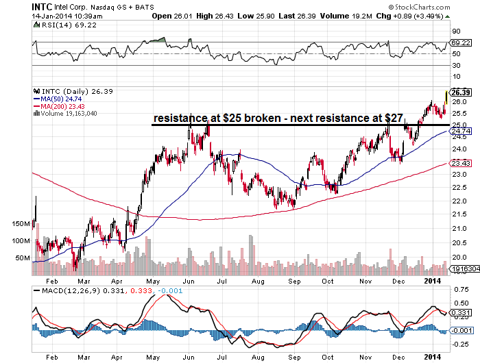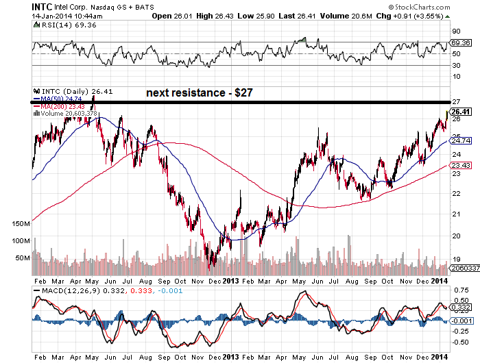 Intel has been charging a path this week so far, up in consecutive trading days. This morning - Tuesday - Intel is trading up over 2.5% currently and was upgraded by J.P. Morgan (NYSE:JPM) from neutral to overweight. They put a price target of $29 on the stock. A majority of analysts heading into earnings have Intel as a "hold" or a "strong buy" - with upper echelon price targets above $30.
(click to enlarge - source: Analyst Estimates @ Nasdaq.com)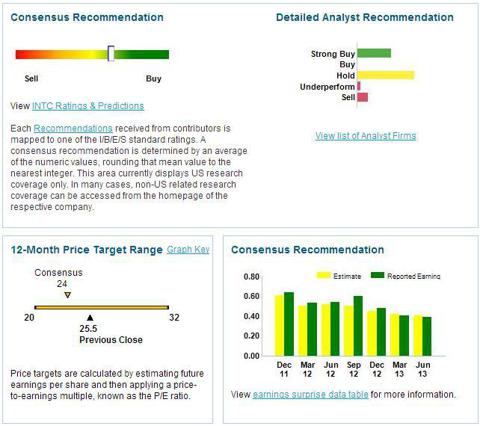 Additionally, Jefferies is bullish on the stock heading into earnings:
Jefferies analyst Mark Lipacis reiterated a Buy rating and $32 price target on Intel saying a 2016 bull case suggest EPS of $3.00. The firm is also a buyer of the stock ahead of Intel's Q4 report.
Intel is set to report on Thursday of this week after market. It'll be looking to continue the momentum it started last quarter when it surprised by 9%. All eyes will be on how sales fared over the past quarter in the midst of the poor PC market. Intel's margins will be the focus to assure investors that they can continue to monetize the PC market even when its struggling.
Analysts are expecting $13.7 billion in revenues and annualized revenues of $52.56 billion - a small decline from the year prior.
I remain bullish long-term on Intel, and although I'd love an earnings pop, I'd also like to buy on a potential dip. Intel is a dividend paying growth stock that tailors to long-term investors. This is not an earnings I'd be playing an options straddle on, in other words. Either way, I'm holding my Intel position and potentially adding if earnings don't impress. Intel remains a safe stock in a PC sector that I expect to see rebound in 2014.
Disclosure: I am long INTC, . I wrote this article myself, and it expresses my own opinions. I am not receiving compensation for it (other than from Seeking Alpha). I have no business relationship with any company whose stock is mentioned in this article.