If you asked me if I would ever write a pro-gold article five years ago, I would have told you: "not in a million years". I am a contrarian by nature and the metal was just too popular for my tastes. I never considered writing about in on Seeking Alpha before, partly because I got the impression it incites hot debate; but today I do want to discuss my sudden interest in the Market Vectors Gold Miners ETF (NYSEARCA:GDX).
Basically, I've been a bear on Gold and Gold ETFs, like SPDR Gold Shares (GLD), since gold has been trading at $800-$900 an ounce, gradually getting more bearish while the metal kept setting record after record. Even now, it is trading well above the levels where I initially became skeptical about the attractiveness of the metal and its miners as an investment.
I'm still not ready to invest directly into gold, but a position in a Gold Miners ETF is something I consider. Over the past ten years the SPDR Gold Shares managed to return 118% while the Gold Miners did much worse with a total return of -39.48%. This disparity has resulted in a much better price / cash flow picture at the company level. As I search for investment ideas from a bottom-up perspective I started noticing a pattern of attractively valued gold miners.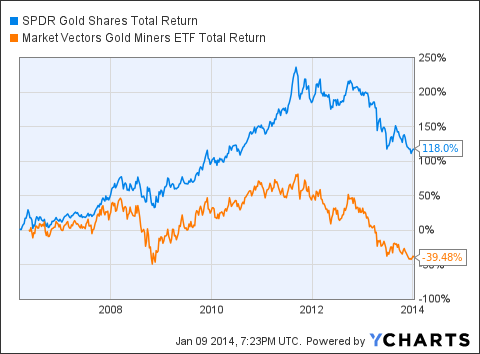 GLD Total Return Price data by YCharts
The Gold Miners ETF grants access to a package of gold miners like: Goldcorp (NYSE:GG), Barrick Gold Corporation (NYSE:ABX), Newmont Mining Corporation (NYSE:NEM), Randgold Resources (NASDAQ:GOLD) and Yamana Gold (NYSE:AUY).
I understand the attractiveness of Gold as a hedge. Yet, I don't like setting up hedges that have a negative expected value profile. Even if they improve the volatility of my portfolio, to me that's not worth including assets that will underperform on average. With miners at current valuations - compared to gold price - I'm much more inclined to believe there is positive expected value in the industry.
Quite some miners appear attractive to me after inputting the commonly used valuation metrics of the bigger companies into a spreadsheet:
| | | | | |
| --- | --- | --- | --- | --- |
| company | forward price/earnings | price/book | price/cash flow | dividend yield |
| Goldcorp, Inc | 27.44 | 0.9 | 12.6 | 2.6 |
| Barrick Gold Corporation | 9.41 | 1.5 | 4 | 2.7 |
| Newmont Mining Corporation | 15.11 | 1 | 5.8 | 5.2 |
| Randgold Resources Ltd ADR | 13.5 | 2 | 15.5 | 0.8 |
| Yamana Gold | 18.31 | 0.9 | 8.2 | 2.8 |
Even a few of the large miners trade below book value. Some trade at ridiculously low price/cash flow ratio's and some like Newmont offer a terrific dividend. Yamana and Barrick's dividends are nothing to sneeze at either. It's important to me that some of these companies pay a dividend. Mining companies that turn a paper profit and keep shoving cash into promising project after promising project, without ever paying out cold hard cash, scare me.
Together the above miners make up over 40% of this particular ETF. An alternative approach would be to cherry pick gold miners. My approach in that case would be to pick the lowest cost producers with strong balance sheets; these companies will have the best chance at survival in a worst case scenario. In theory I think the latter is a superior tactic but in practice there are a few reasons why buying the Gold Miners ETF is preferable:
Going through all the available gold miners is very labour intensive and without being a sector specialist it's still easy to miss important things.
The locations of all the different mines open you up to all kinds of political and geographical risk. Diversifying this away might be preferable to studying emerging market political risks. Again, the more labour intensive method might be more profitable and ultimately less risky.
Returns are mostly driven by what the market thinks gold will be worth in the future. Both individual companies and the ETF will profit in a positive scenario.
The costs of buying this ETF instead of 4-5 different miners might very well be much lower. Especially if you are trading on a small scale, the difference can be noticeable.
This opportunity lies in the disparity between the development of the gold price and that of miners. Although investing in individual miners will capture that opportunity, the ETF will serve just as fine. In addition, the ETF doesn't expose you to company specific risk to the same degree.
Disclosure: I have no positions in any stocks mentioned, and no plans to initiate any positions within the next 72 hours. I wrote this article myself, and it expresses my own opinions. I am not receiving compensation for it (other than from Seeking Alpha). I have no business relationship with any company whose stock is mentioned in this article.