SandRidge Energy, Inc. (NYSE:SD) is an oil and natural gas E&P company. It also owns and operates (with its subsidiaries) gas gathering and processing facilities and CO2 treating and transportation facilities; and conducts marketing operations. Lariat Services Inc., a subsidiary, owns and operates a drilling rig and related oil field services business. SandRidge assets are in the Mid-Continent, the Permian Basin, the Gulf of Mexico, West Texas Overthrust, and the Gulf Coast.
The Gulf of Mexico assets mentioned above have been sold recently to Fieldwood Energy LLC for $750 million in cash and the assumption of $370 million of abandonment liabilities. The deal is expected to close in mid-February 2014. SandRidge retains a 2.0% overriding royalty interest in certain exploration prospects. Some decry this as selling at a loss, and some as management indecision or poor management. I don't think either of these complaints are valid.
First, the total sale is not really a loss for the company as some seem to claim. The sale price comes to $750 million plus $370 million in abandonment liabilities. This comes to $1,120 million. Plus, SandRidge gets the 2% overriding royalty interest, which may turn out to be worth quite a lot, especially since the company will not have to pay for any of the development or production costs involved. SandRidge acquired these assets for $680 million in cash and 74 million shares of its stock in early 2012 through the acquisition of Dynamic Offshore Resources, LLC. At the time, it was trading at $8.02 per share. The company's stock price closed on January 13, 2014 at $5.91. 74 million of such valued shares amounts to $437.34 million. If you add the $680 million in cash to this, you get $1,117.34 million. SandRidge has technically profited by $2.66 million plus the 2.0% overriding royalty interest in certain exploration prospects (in the Gulf of Mexico assets). In other words, the deal was effectively a wash.
Second in 2011, when the original buy deal was thought up, the assets looked like a great deal. They probably are still a great deal for another company -- Fieldwood Energy LLC. SD divested 29 MMBbls of oil and 168 Bcf of natural gas proved resources with this deal. These represented daily production of 23.5 Mboe/d in December 2013. Approximately 48% of this was natural gas. However, getting rid of these assets will allow SD to focus on its Mississippian assets.
One could argue that SD could have done this before. However, the management did not really have as much data; and therefore, it had less confidence in the Mississippian assets in 2011. It wanted some good, strong, certain oil producing properties, which the Gulf of Mexico assets provided. Its lenders may have wanted this too. Now that SD has proved out and de-risked the Mississippian assets to a much larger degree over the last two years, it wants to focus on de-risking the remaining "risked" acreage (and increasing production from that acreage) in a timely fashion. To do this, it needs money. The sale of the Gulf of Mexico assets provides a good chunk of money. In addition, the Gulf of Mexico development represented a much higher risk. A dry or poorly performing well in that area is hugely expensive. Then too, the Macondo disaster has increased liability (from leakage) risks. In other words, at this point in time the sale makes perfect sense.
The redeployment of offshore capital expenditures to mostly Mid-Continent development is expected to result in 37% growth in production in the Mid-Continent for 2014 versus the 2013 levels. For all fields, SD now expects organic production growth of 26% year over year in 2014. SD cites the following Mississippian per well economics as more than adequate justification:
EUR (Expected Ultimate Recovery): 369 Mboe
Well Costs: $2.95 MM
45% IRR (Internal Rate of Return)
$2.2 MM NPV (Net Present Value)
2.0 year payback
With the extra two years of development experience (2012 and 2013), SD has good confidence in these statistics. Of course, the Internal rate of return is based to a large degree on the prices of natural gas and oil. The following chart shows how these may vary.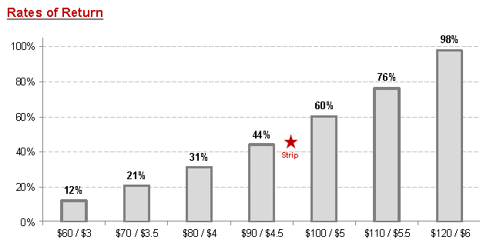 Another big reason for this sale can be seen in the picture below, which depicts the possible strata of oil development in the Mid-Continent.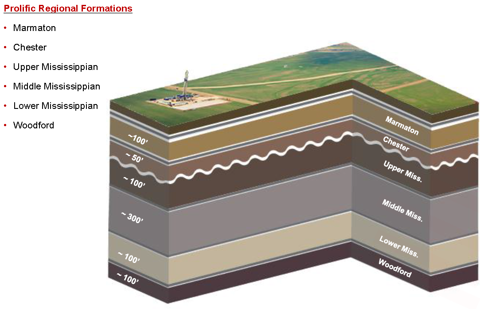 Oil can possibly be developed from all of these play zones, although the depth (and viability) of each will vary with geography. This provides for a terrific development opportunity in the Mid-Continent; and the testing of many of these zones for viability has only been done in the last two years. In fact, many zones need much more testing. Still, SD has proved that this field is a virtual treasure trove of oil and gas; and it wants as many of its 1.9 million acres as possible to be HBP (held by production) as quickly as possible. Without the above sale it would have simply lost more of these rich leaseholds to lease expirations. As it is, SD may well sell some of these leaseholds in the future to prevent that. However, the company does see these leaseholds as its primary future.
The chart below depicts SD's guidance for 2013 and 2014 for the Mid-Continent/Mississippian.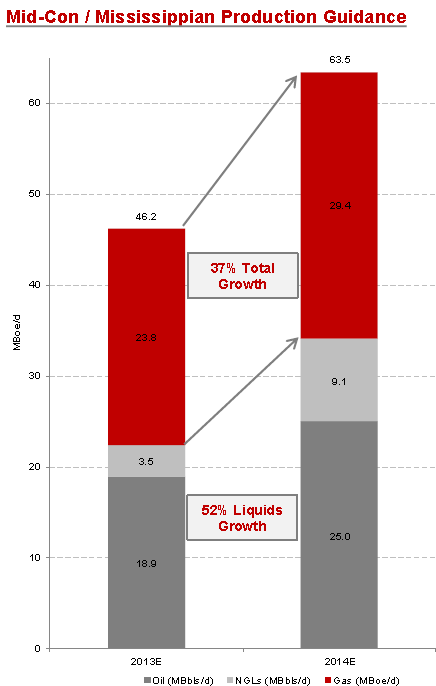 In the Mid-Continent alone, it will increase production by 17.3 Mboepd. By itself this almost compensates for the amount of production sold. Plus that much more of the Mid-Continent acreage will be de-risked in the process. As a result of the sale, SD plans to deploy an extra 3 rigs in the area in Q2 2014. It expects to add a total of 6 rigs in this area by the end of 2014. It expects these will drill approximately 30 additional wells, although some of the drilling will not add into results until 2015.
Still, the 2013 and 2014 guidance chart below shows that SD plans to replace a large portion of the production lost due to the sale within one year.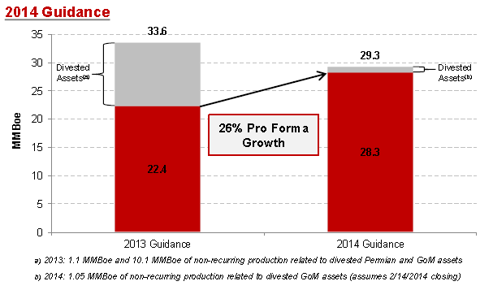 The company seems certain about replacing all of the production lost due to the sale within two years. Some might say that this all seems counterproductive. However, when you consider the asset retirement liabilities represented by the 1.9 million net acres of Mid-Continent play, this is not the case. SD will clearly make a lot more progress toward holding onto these rich resources for the long term with the extra monies from this sale. The company currently claims to have over 600,000 de-risked acres in its focus areas in the Mid-Continent. I take this to mean that they still have about 1.3 million net acres to de-risk. That is a lot; and I expect SD to sell some of this acreage as part of that process. However, the sale of the Gulf of Mexico assets is a step in the right direction toward keeping (and developing) these rich and profitable assets.
In sum, the company's management has made a "good move" at this time. It is much more expert in developing the Mid-Continent than it is in developing offshore assets. It seems a "no-brainer" that SD should concentrate on its strengths. It is a given that it needs to de-risk more of the Mid-Continent acreage. The management has not worried about looking foolish. They have bitten the bullet; and to my mind they have done the right thing. I respect this. It bodes well for the future of the company. Further, the Nymex natural gas price has been strong of late. At the time of this writing on January 14, 2013, the Nymex price is approximately $4.33/mmbtu. A big draw down is expected this week from last week's "Polar Vortex"; and more cold weather is expected within the next week. The Farmers' Almanac prediction for a colder than normal winter for 2013-2014 is being exceeded so far. Further SD has good hedges, so its income should be stable. As it de-risks more of its assets (and proves out more of its fields), analysts are sure to see it as a stronger company. It is a buy.
The two-year chart of SD provides some technical direction for this trade.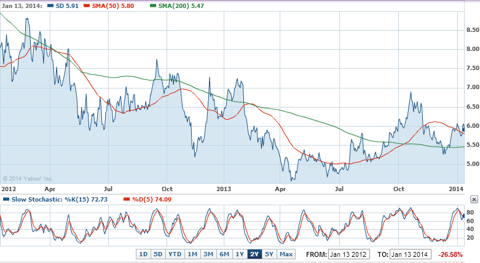 The slow stochastic sub-chart shows that SD is near overbought levels. The main chart shows that SD may have bottomed recently. It is showing a pattern of higher lows that appear to be an uptrend. The fundamentals back this up. The attempt by some critics to label SD's management as wishy-washy or foolish are inappropriate. The management team has simply made a hard decision; and they will likely have to make more hard decisions. However, they do seem to be keeping the company headed in the right direction. They have also been buying shares themselves, with 4,172,040 purchased in the last six months (+2.7%). Naturally, the growth figures for EPS and revenues will be down; but I think I have explained the reasons and the strategy for that above. Further, the clock is about to roll around on FY2013. SD should have some much easier comparisons in 2015; and those should show good growth. Once FY2013 is behind us, analysts and investors will be looking at good growth for FY2015 from the FY2014 levels. That will likely give the stock price a boost. SD is a buy. It currently has an average analysts' recommendation of 3.2 (a hold). However, it has a CAPS rating of four stars (a buy). Things are looking up at SandRidge, and investors should take a hard look at this stock.
NOTE: Some of the fundamental fiscal data above is from Yahoo Finance.
Good Luck Trading.
Disclosure: I have no positions in any stocks mentioned, but may initiate a long position in SD, over the next 72 hours. I wrote this article myself, and it expresses my own opinions. I am not receiving compensation for it (other than from Seeking Alpha). I have no business relationship with any company whose stock is mentioned in this article.