The majority of the risk involved with early stage investment in companies seeking FDA approval for their pipeline lies in the fact that the vast majority of candidates fail. The rest of the risk is rooted in the time, and cost, to the company conducting the trials. The approach of one company seems to offer investors a chance to gain exposure with reduced risk. That company is Retrophin (NASDAQ:RTRX), and here's why.
Orphan drug status and Accelerated Approval
In all likelihood, those reading this will already know what the term "orphan drug status" refers to, but for those who don't here's a quick primer. Introduced in 1983, the Orphan Drug Act was designed to facilitate the process through which treatments for rare diseases get to market. A drug with orphan designation benefits in a number of ways, including tax incentives, enhanced patent protection, extended marketing rights and research subsidies. Obviously, the drug must work, but one with orphan status will often get to market much quicker and at a much lower cost (to the company developing it) than one without. Further to the aforementioned benefits, orphan drug status qualifies a drug for the Accelerated Approval process. Under the Accelerated Approval process a drug can be trialed based on surrogate endpoints rather than the traditional clinical endpoint. A surrogate endpoint is a measured effect of a particular treatment that has a potential but not guaranteed correlation with a clinical endpoint. As an example, the reduction in size of a tumor could be a surrogate endpoint in the trial of a cancer treatment, which would normally require overall survival as a clinical endpoint. Surrogate endpoints therefore, are much quicker to meet.
ULTRA act
The Accelerated Approval process has been highly effective in its goal of increasing approval rates for rare disease treatments. In the field of HIV treatment for example, there have been 29 approved therapies since 1992. The problem with the process however, is that the FDA requires prior clinical data about an endpoint for it to be used as a surrogate. Due to the nature of ultra rare diseases-defined in the US as affecting fewer than 20 patients per million of population-this prior clinical data is practically nonexistent. This means that extremely rare diseases do not benefit from the Accelerated Approval process in its original form. The Unlocking Lifesaving Treatments for Rare diseases Act (ULTRA) is an amendment to the Accelerated Approval process that allows for greater emphasis on biology and preclinical data, and removes the preclinical data requirement. It was only passed in 2012 so it is very new to the world of drug approval.
So where does Retrophin come in?
Through its pipeline, Retrophin has positioned itself to take advantage of both the traditional Accelerated Approval process and the updated ULTRA act.
The company's lead orphan candidate is RE-021 or Sparsentan. Screening and enrollment is currently underway for a Phase II trial of Sparsentan for a kidney disease called Focal Segmental Glomerulosclerosis [FSGS]. FSGS is a disease that attacks the glomeruli, which are located at the head of each nephron in a kidney. The nephron is what filters the blood, and the glomeruli perform the first step in the filtering process. When the glomeruli are damaged, proteins leak into the urine, a process called proteinuria. Prolonged proteinuria can lead to kidney failure. There is currently no approved treatment for FSGS.
To understand Sparsentan, it is first important to understand the function of Endothelin and Endothelin receptors. Simply out, Endothelins are a type of protein that restricts blood vessels, raising blood pressure. This constriction, or hypertension in the kidneys, causes the damage in the glomeruli that leads to proteinuria. Sparsentan works as an Endothelin Receptor Antagonist [ERA], which is a type of drug that blocks endothelin receptors. Blocked endothelin receptors leads to reduced hypertension in the kidney, which leads to reduced glomeruli damage and reduced proteinuria. ERA's have been shown to reduce proteinuria in other nephropathies, and the company expects it to do so in the case of FSGS.
FSGS affects 50,000 Americans, making it eligible for orphan drug designation and the Accelerated Approval process.
Next is RE-001. RE-001 is Retrophin's investigational agent for a degenerative muscle disease called Duchenne Muscular Dystrophy [DMD], very similar to ALS, or Lou Gherig's disease in its symptoms. Dystrophin is a protein that connects the muscle filaments with the connective tissue, enabling muscles to move limbs. A dystrophin deficiency, as is the case in DMD sufferers, causes muscular weakness, and it is a degenerative disease. RE-001 acts as a substitute for dystrophin and remedies this weakness to a degree. DMD is a genetic disease with no current FDA approved cure and only a handful of steroid based treatments, which affects approximately 1 in 5,600 people aged 5-24. As with RE-021, RE-001 is also eligible for orphan drug status designation and the Accelerated Approval process.
Finally, we come to RE-024. RE-024 is designed to treat sufferers of Pantothenate kinase-associated neurodegeneration [PKAN], a neurodegenerative disease that mainly affects children below the age of ten. Sufferers of PKAN are unable to regulate the accumulation of two compounds called N-pantothenoyl-cysteine and pantetheine, due to a mutated PKAN 2 gene, which is the gene responsible for the regulation. This accumulation leads to decreased levels of Coenzyme A [CoA] and causes brain cell toxicity, which in turn causes abnormal muscle growth, swallowing and digestive difficulty, dementia and blindness. Most sufferers die within ten years of the onset of the disease. Retrophin believes that RE-024 replaces the enzyme that does not get produced as a result of the failed metabolism, and restores CoA to normal levels. Due to the rarity of PKAN, an estimated prevalence of 5,000-10,000 patients worldwide, RE-024 is eligible for the ULTRA orphan designation. In the company's latest earnings call CEO Martin Shkreli stated:
"Despite the fact that much work needs to be done, we are pursuing a Phase I study, nonetheless. Many PKAN patients are in dire straits and we believe that we have an ethical obligation to provide access to such a compelling drug to patients as soon as we can. To that end, we have designed a Phase I emergency and compassionate use trial that will begin enrolling in December 2013 or January 2014."
Strategy Justification
A number of companies have positioned themselves in the Orphan space in recent years, and have benefited from doing so. The ultra orphan space is very new, and it is hard to plot a strategy based on companies pursuing this path, but extrapolation from success in the Orphan sphere may be used as a rough guide.
One notable company that achieved major success in the Orphan sphere is Alexion Pharmaceuticals (NASDAQ:ALXN). Alexion has built its pipeline around the development and sale of orphan drugs, most notably Soliris. Soliris, the most expensive prescription drug in the world at over $400,000 per patient, is approved for the treatment of both a blood disorder and a genetic disorder, with Soliris currently in the trials for a further five indications.
Another of note is Genzyme, a fully owned subsidiary of pharma giant Sanofi (NYSE:SNY) since 2011. Genzyme was built on the development of treatments for rare diseases before the Orphan Drug Act was even created. It attracted Sanofi's attention (as well as Hollywood's) with the development of the first successful treatment of Pompe Syndrome, an ultra rare and previously fatal disease which affects no more than 10,000 people globally. The company's acquisition grew to become the third largest biotech company in the world with revenues of over $4b.
Others worth mentioning that have benefited from orphan drug focus are Amgen (NASDAQ:AMGN) and Genentech, which both initially went public based upon the prospect of orphan drugs. The latter now being part of Roche (OTCQX:RHHBY) as the result of a $47B takeover in 2009.
Pursuing orphan, and now ultra orphan drugs, is not a complete strategy by itself. At some point a biotech has to transition into mainstream medicine. But these accelerated approval pathways can and have served to catapult small companies into the large cap mainstream. This, I believe, is the Retrophin strategy in its beginning stages.
Cash Position and Risks
On January 7, Retrophin filed its intention to offer 4,705,882 shares common stock. Two days later the company priced that common stock at $8.50, meaning the issue raised approximately $40M. The company expects its current cash holding, which is negligible (around 13K), plus the funds raised from the offering, will be enough to fund operations through 2014.
This should see the company through the beginning of its Phase III studies of RE-034 and Phase II clinical studies of Syntocinon and Sparsentan. In all likelihood further funding will be required to initiate the Phase I studies of RE-024 and RE-001, as well as see any of its pipeline through to approval. This funding will cause some dilution to current stockholders, at least in the short to medium term. Though on the other hand, while the $40M IPO was technically dilutive, it sure didn't feel that way to shareholders. The same may happen again if Retrophin continues making progress. The market takes Shkreli seriously.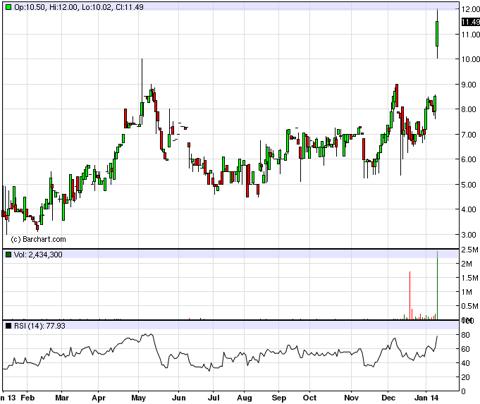 A look at 2013 price action shows the recent offering and NASDAQ listing driving a break through significant previous support between $9-10, and Friday's close above this level suggests, technically speaking at least, that the $9-10 may now act as a price floor. Having said this, RSI is overbought, suggesting there may be a short-term downside correction due, or at least few weeks of basing. This correction might offer a nice entry point at $9-10 resistance. $211M is a high market valuation for a company that has not yet generated any revenues, and investors should understand that there is a very real chance that, if no revenues are generated in the next 2-5 years, this valuation could halve.
As always, just because some companies succeeded doesn't mean they all will, not even close. There is always the risk that none of these treatments will prove to be effective. While pre-clinical studies have demonstrated promising results, in many cases these studies fail to translate to human clinical trials regardless of the endpoints being assessed. The high price Retrophin will be able to command for its treatments if approved infers large upside potential, but if approval is not achieved there could be considerable downside to its stock at current price.
There is also a market risk. By nature, rare diseases have a very low prevalence. This limits the potential size of Retrophin's markets. In order to compensate for these small markets the company will have to expand its pipeline to grow. Having said this, the small markets are potentially offset by the high cost that company's like Retrophin can command for their treatments. The strategy is to begin with treatments that have an easier regulatory pathway, the ULTRA pathway being the easiest. This is what Retrophin is doing, and this is why it is noteworthy.
Conclusion
The opportunity lies in the strategic position Retrophin has taken up in the biotech space. The ULTRA act is very new, and it is about time companies start taking advantage of it. Retrophin is doing so at full speed. The company's pipeline comprises treatments for both rare and ultra rare diseases, which affords them the aforementioned benefits of orphan and ULTRA orphan drug designation. While much work is still to be done to confirm efficacy, the potential trialing of each of these drugs based on surrogate endpoints means there could be a number of upside catalysts throughout 2014 and early 2015, with the potential for approval as soon as mid 2015.
Disclosure: I have no positions in any stocks mentioned, and no plans to initiate any positions within the next 72 hours. I wrote this article myself, and it expresses my own opinions. I am not receiving compensation for it (other than from Seeking Alpha). I have no business relationship with any company whose stock is mentioned in this article.