Philip Morris (NYSE:PM) has clearly seen better days. Over the past few months, the stock has vastly underperformed the broader market, largely thanks to weak EPS growth caused by currency headwinds alongside some country specific volume pressures. However, Philip Morris' struggles can be your gain, with the stock now priced at a discount compared to its peers and offering a relatively high 4.55% dividend yield.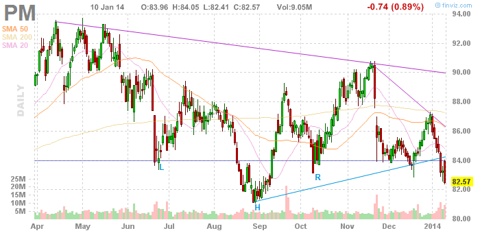 Click to enlarge
Philip Morris is now cheap when compared to peers
Philip Morris' decline has now made it attractively priced when compared to its US based peers such as Altria Group (NYSE:MO), Lorillard (NYSE:LO) and Reynolds American (NYSE:RAI). By TTM PE, Philip Morris is actually trading at a 8% discount to Reynolds American, inline with Lorillard, and at a small 7.5% premium to Altria.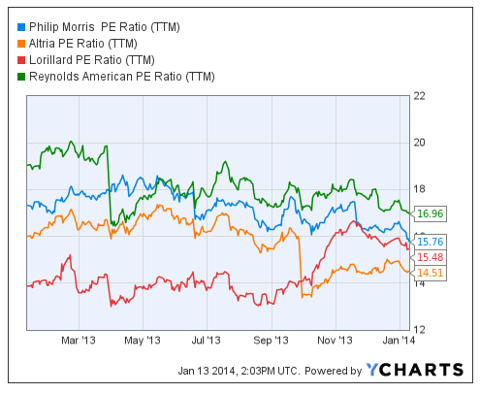 Click to enlarge
As these stocks are often valued as income plays, it is also good to look at them via their free cash flow, or FCF, potential. Below are the TTM FCF yields (FCF per share dividend by the stock price) of these stocks. Do note that Philip Morris FCF yield is inline with its peers with the only laggard being Reynolds American.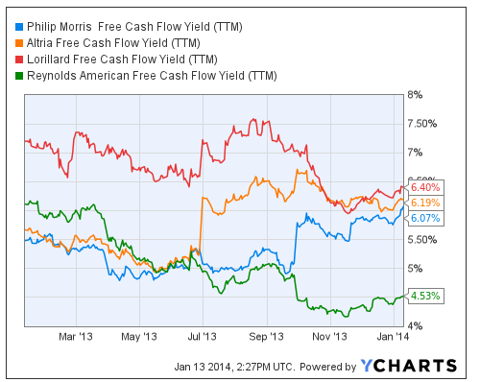 Click to enlarge
Finally, let us look at these stocks via their total TTM shareholder yields. This metric basically combines both the dividends paid and share buybacks into a simple yield form. As shown, Philip Morris' shareholder yield is roughly inline with its peers, though Lorillard is about 100 basis points higher. Do note that the mix between share buybacks and dividends is often very different between the stocks, with the split ranging from 55/45 for Philip Morris to 85/15 for Altria.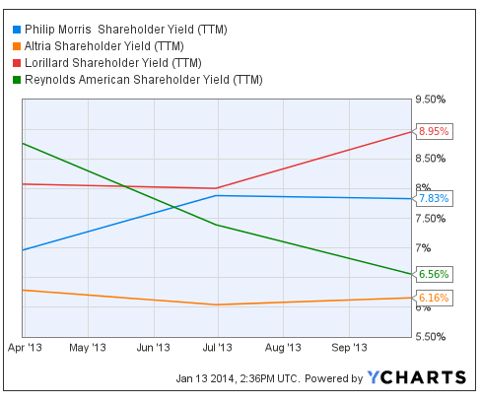 Click to enlarge
These other names have also faced various other pressures. Reynolds American actually saw negative EPS growth in 2013, with 2014 growth only expected to come in at about 7%. Lorillard has posted the best 2013 EPS growth of the group at 6%. However, that company is facing a possible FDA ban on Menthol use in cigarettes, which would hit Lorillard especially hard given that its Newport brand, a menthol cigarette, makes up the vast majority of its revenues. Altria seems to be the only one priced correctly, that is at a discount to Philip Morris. Altria has also faced volume issues. However, it is also somewhat diversified given its alcohol related equity holdings.
Basically, the market is valuing Philip Morris similarly to its US peers. This seems to be quite maddening considering Philip Morris has both greater international growth potential and a diversified revenue stream, while the others are focused on the shrinking US tobacco market. Philip Morris should clearly be trading at a premium here.
What has caused Philip Morris to struggle?
As I noted in the intro, Philip Morris has not posted the best possible EPS growth for 2013. Using the midpoint for Q4 2013 EPS guidance, the company would have posted EPS of $5.37, or about 3% growth, for the year. However, when backing currencies, the company would have actually posted a 10% growth rate.
In addition, the company has also faced volume issues in certain markets. In Europe, volumes have been hurt by consumers shifting toward cheaper and often illicit alternatives. The high tax rates on the continent makes cigarette smuggling an attractive proposition, as taxes can make upwards over 75% of the unit cost. The company has also faced major volume declines in the Philippines due to a competitor selling product at non-economical prices, mostly via dodging excise taxes.
However, Philip Morris has also declined due to its 2014 outlook. Back in November 2013, the company noted during the Morgan Stanley Global Consumer Conference that 2014 was likely to be an "investment" year. Furthermore, the company mentioned that it expects industry volumes to remain under pressure until 2015. Finally, Philip Morris noted that it expects currency neutral EPS to grow from 6% to 8% in 2014, down from its long-term target of 10% to 12%.
Simply put, the company recognizes the need to increase investments in its business in order to stabilize revenue trends. The company is greatly ramping up its capital expenditure budget it will likely have less cash left over for dividends and share buybacks in 2014 than in prior periods.
Philip Morris' has a key advantage to its peers: International growth
Philip Morris has already announced several new investments which should spark future growth.
On December 20, the company announced a strategic partnership with former parent Altria Group with regards to the key e-cigarettes market. Essentially, Altria will make available its e-cigarette products exclusively to Philip Morris for commercialization outside the United States. No financial terms were released. However, this will likely prove to be a revenue growth catalyst for both companies.
On January 10, Philip Morris announced a €500 million investment to build a manufacturing facility near Bologna, Italy. The plant is to produce a reduced-risk tobacco product (e-cigarette) which will contain tobacco heated to generate a smoking aerosol. The plant is expected to produce up to 30 billion units by 2016.
Philip Morris has also made major investments into several foreign markets, including purchasing a $750M equity stake in a Russian distribution group, a $625M investment to increase its exposure to Algeria, and a $700M investment to repurchase the 20% of its Mexican tobacco business that it already did not own.
Many of these investments are not expected to add significantly to EPS in 2014. However, they should eventually boost both Philip Morris' volume and revenue trends. The company is clearly aiming to both expand its geographical exposure and diversify into the growing e-cigarette market.
Compared to its peers, Philip Morris has an edge due to its worldwide footprint. By revenues, Philip Morris has exposure to over 50% of the global retail tobacco market. While the others are focused on getting a slice of the shrinking US market, Philip Morris has access to a much larger customer base.
Conclusion
Philip Morris clearly needs to get its house in order in 2014. The company likely needs to shift some of its cash flow away from shareholder payouts and into it business. The stock may continue to lag given the lackluster growth forecast this year.
That being said, Philip Morris is still a stock I would hold for the long-term. The potential for future growth will likely greatly increase thanks to the recently announced investments. Furthermore, the 4.55% dividend yield is nothing to sneeze at.
Disclaimer: The opinions in this article are for informational purposes only and should not be construed as a recommendation to buy or sell the stocks mentioned. Please do your own due diligence before making any investment decision.
Disclosure: I am long PM, MO, . I wrote this article myself, and it expresses my own opinions. I am not receiving compensation for it (other than from Seeking Alpha). I have no business relationship with any company whose stock is mentioned in this article.