Everyone wants a piece of flash
EMC Corporation's (EMC) newly launched all-flash array XtremIO is gaining traction with Virtual Desktop Infrastructure, or VDI, projects. VDI hosts a desktop operating system, or OS, within a virtual server, eliminating installation of traditional OS in between. Previous VDI projects often failed because they were attempting to replicate pilot test results in actual production, but this is possible using XtremIO. Around 70% of the XtremIO deals involve VDI projects, and it will open up new opportunities for XtremIO.
The demand of flash array storage is growing fast since traditional hard disk drives have failed to live up to the expectations of Big Data and Cloud storage. As a result, companies are now more inclined to use flash array in their data centers. The flash array market is expected to grow at a CAGR of 58.5% and reach $1.2 billion by 2015. Looking at this opportunity, different storage companies like NetApp (NTAP), Pure Storage, and Nimbus Data have decided to launch storage systems using flash technology. However, competition is not something new to EMC; it has competed with its peers successfully in the past. The competition is getting intense, as just a few days after EMC launched XtremIO, NetApp's also launched its new all-flash array storage system, EF550, along with its storage array E2700 and updated E5500 array. Through these launches, NetApp aims to target a wider audience with its E-series portfolio for those that want high speed from a flash solution.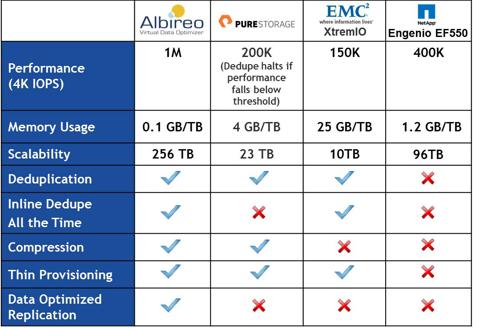 (Source: Permabit)
Although, none of these companies have achieved a supreme position in flash array and each one has a competitive edge over the other in one way or another.
XtremIO's advantage is its deduplication feature of "always on," while NetApp allows customers the option to turn off deduplication since it affects the performance. However, the XtremIO array performance isn't impacted by deduplication, and it stores all the data in the DRAM. In comparison EMC, Nimbus uses significantly less DRAM, thus making it more cost effective, while supporting deduplication. Nimbus data boasts of its lower power consumption; it is ten times more power efficient than EMC's XtremIO.
Since every storage company wants to get into all-flash arrays, investors are increasingly concerned about EMC's flash array strategy, fearing that the competitive landscape will drive revenue of these companies up or down. Despite such competition, I expect EMC's XtremIO to be successful, as it offers technical and data efficiency advantages over the competition, and the addressable market is large enough for flash vendors like NetApp and Nimbus Data to operate together. In the long run, EMC will continue to gain share from competing storage vendors due to the increasing adoption of flash storage.
New kid on the block
The emerging trend of flash has attracted not only big storage companies but also startups. Though these startups may take market share from companies like NetApp and Hewlett-Packard (HPQ), competing with EMC could be an aggressive target. One of the startups, Nimble Storage (NMBL), a provider of flash-optimized and hybrid storage solutions, came out with its IPO on December 12, 2013 at $21 per share. The stock is currently trading at $41.04, an appreciation of around 95%. Nimble focuses on providing a hybrid storage system, combining features of both flash and disk drives. It offers high-speed flash speed with an ordinary disk for storing data. This allows faster loading of applications and reduces cost of the storage system.
In contrast with Nimble Storage, its peer, Violin Memory (VMEM), didn't had a flying start. Its share price has fallen around 60% from its IPO price of $9. Violin Memory sells all-flash storage arrays with performance comparable to high-speed applications, servers, and networks. The share price reduced because of competitive pressure and over dependence on its top customers. Its top five customers accounted for 37% of the total revenue. I don't expect Nimble Storage to go down Violin memory's path since Nimble claims ten times better price/performance compared to the same list of suppliers as Violin Memory, and it holds the advantage in small and medium businesses as well as the mainstream enterprise market.
While these startups seem to be making the most news recently, I believe EMC is better equipped to become a major player in the flash array market given that it has robust storage solutions and is the industry leader. Its acquisition of companies such as XtremIO and ScaleIO should prove to be a key differentiator and provide more breadth to its offerings.
Bottom-line
Along with the information infrastructure segment, its subsidiaries VMware (VMW) and Pivotal also hold strategic importance for EMC's long-term growth. I expect EMC to remain the storage leader while expanding into new segments in the storage market. EMC delivered disappointing revenue growth in the third quarter, which was due to late orders and federal weakness. The company is successfully dealing with competitive threats and taking opportunities from emerging trends such as flash and cloud. The newly launched XtremIO, Pivotal, and VNX's refresh, presents long term upside potential for the company.
While EMC's share price underperformed in 2013, the stock can move north based on the expectation for continued market share gains from new product launches and product refresh in 2013. EMC has the most comprehensive storage portfolio in the industry, and I am optimistic about this stock over the long term.
Disclosure: I have no positions in any stocks mentioned, and no plans to initiate any positions within the next 72 hours.
Business relationship disclosure: Fusion Research is a team of equity analysts. This article was written by Rohit Gupta, one of our research analysts. We did not receive compensation for this article (other than from Seeking Alpha), and we have no business relationship with any company whose stock is mentioned in this article