Inter Pipeline (OTCPK:IPPLF) is a major energy transport, storage, and natural gas liquids ("NGLs") extraction company based in Canada. It transports ~1 million barrels per day of petroleum products and shipped 40% of oil sands volume in 2012. IPPLF recently announced a cash dividend of C$0.1075 per share for January 2014. That works out to an annual yield of 4.9% based on IPL.TO's (Toronto exchange) recent price of $23.95. The tremendous growth in oil sands production combined with recent transport contracts will drive strong dividend growth thru 2018. As a result, IPPLF should conservatively deliver a 15-20% annual total return over the next 5 years. It is an excellent long-term dividend growth opportunity.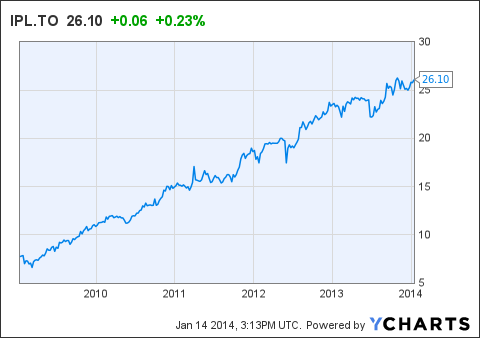 Inter Pipeline has three major business segments:
Pipeline Operations
Natural Gas Liquids ("NGLs") Extraction
Bulk Liquids Storage
Pipeline Operations
Inter Pipeline operates approximately 6,300 kilometers of petroleum pipelines and 4.8 million barrels of storage in western Canada. The company transported ~990,000 barrels per day of oil sands bitumen and conventional crude oil in 2012: ~15% of total western Canadian conventional volumes and roughly 40% of total oil sands volumes.
NGL Extraction
IPPLF operates one of North America's largest NGL extraction businesses with ownership in three major extraction facilities located in southern Alberta. These facilities have the capacity to process 6.2 bcf/d of natural gas, and capacity to produce approximately 200,000 b/d of natural gas liquids. Inter Pipeline's NGL business currently processes ~40% of the natural gas exported from the province of Alberta.
Bulk Liquid Storage
Inter Pipeline's runs the fourth largest independent tank storage business in Europe. The bulk liquid storage segment operates through two wholly owned entities:
Simon Storage Limited - holds Inter Pipeline's storage operations in the UK, Ireland and Germany.
Inter Terminals - holds Inter Pipeline's bulk liquid storage assets in Denmark.
Simon Storage handles, blends and stores over 250 different products. It owns and operates eight bulk liquid storage terminals located on the coasts of the UK, Germany and Ireland with a combined liquid storage capacity of ~8 million barrels.
Inter Terminals operates 4 large terminals that are strategically located along the Danish Straits, the third most active petroleum transit channel in the world. The 4 terminals have a combined storage capacity of ~11 million barrels in 49 tanks and hold a variety of petroleum products.
Bullish Catalysts Going Forward
#1 Dividend Growth
Over the past ten years, Inter Pipeline has generated an average annual total return of 22% to unitholders. However, the company converted to a corporate structure when it bought out the general partner in September of 2013. As shown in a recent presentation, the long-term CAGR of the dividend has been impressive and began to accelerate in 2010 as oil sands capacity increased: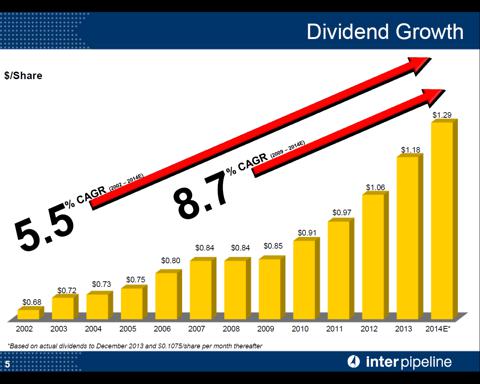 #2 Long-term Shipping Agreements
The company has executed $2.9 billion of commercially secured long-term shipping agreements for the Cold Lake (85% ownership) and Polaris pipeline systems:
Signed long-term contracts for Foster Creek, Christina Lake, Narrows Lake, and Kirby South oil sands projects.
Announced Polaris pipeline expansion for an additional 60,000 b/d of dilutent transportation services for the Kearls oil sands project.
Signed a 10-year agreement to provide 100,000 b/d of bitumen blend transportation capacity to the Canexus rail loading facility.
Announced a 25-year agreement to provide dilutent transport services for the Hangingstone oil sands project.
These projects alone virtually guarantee low-risk growth in EBITDA estimated by the company to grow by nearly $400 million by 2018.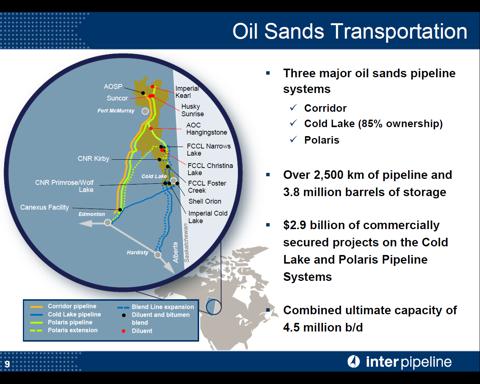 While the IPPLF's other business segments certainly have growth prospects of their own, the oil sands transportation business is expected to generate ~60% of consolidated 2015 EBITDA supported by long-term cost of service agreements. Also, note the total capacity of IPPLF's oil sands transportation infrastructure is 4.5 million b/d, so there is plenty of room for future growth.
Risks
The major risk would be that the oil sands producers simply don't produce as expected. However, considering that Inter Pipeline's customers are excellent companies like ExxonMobil (NYSE:XOM), ConocoPhillips (NYSE:COP), Suncor Energy (NYSE:SU), Canadian Natural (NYSE:CNQ) and Cenovus (NYSE:CVE), and that there is basically no exploration risks when it comes to exploiting the oil sands, I believe the risk is minimal. Projects like Kearls, Christina, and Foster Creek are strategic projects for Exxon and ConocoPhillips.
Also, note the majority of EBITA will be fee based and from cost of service contracts. There is very little commodity price exposure. By 2015, the company estimates only 10% of EBITDA will be commodity based.
Timing Is Everything
The company has provided a profile of expected EBITDA profile based on its commercially secured oil sands contracts. Note that the majority of growth will ramp up in 2014-2015. The point is this: don't dally on this investment - better to buy sooner rather than later if you want to capture the majority of gains over the next 5 years.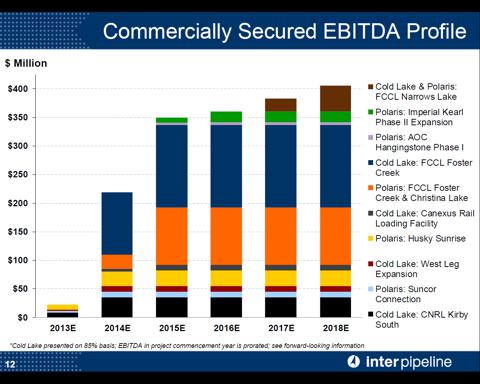 Summary & Conclusion
Inter Pipeline is a relatively little known Canadian company that has a strategic oil sands transportation business poised for significant growth going forward. It has secured long-term commercial oil sands transport contracts that virtually guarantee low-risk growth in cash flow, EBITDA, and eventually long-term dividend growth for shareholders. The company has a solid balance sheet and excellent access to capital. It is rated BBB+ by S&P. You can buy shares on the OTC or the Toronto Exchange.
As in the past 10 years, total returns for IPPLF should average 15-20% over the next 5 years. The company represents an excellent low-risk dividend growth opportunity. And those dividends will be easily covered by funds from operation (see below). And this is likely why three insiders bought stock in their company in September and October of last year. IPPLF is a STRONG BUY.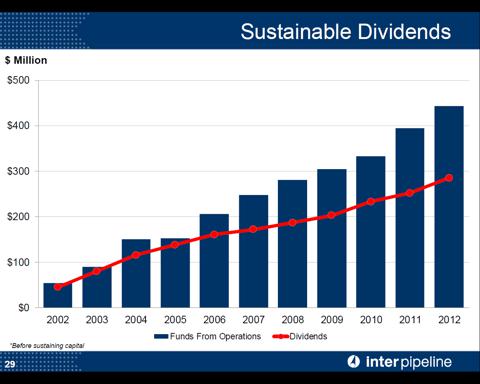 Disclosure: I am long COP, SU, XOM, IPPLF, . I wrote this article myself, and it expresses my own opinions. I am not receiving compensation for it (other than from Seeking Alpha). I have no business relationship with any company whose stock is mentioned in this article.
Additional disclosure: I am an engineer, not a CFA. The information and data presented in this article was obtained from company documents and/or sources believed to be reliable, but has not been independently verified. Therefore, the author cannot guarantee its accuracy. Please do your own research and contact a qualified investment advisor. I am not responsible for investment decisions you make. Thanks for reading and good luck!