Recently, WellPoint Inc. (WLP) provided its financial outlook for fiscal 2010. The health insurer expects operating revenue of approximately $59.0 billion in fiscal 2010 as against $60.8 billion reported in 2009, down approximately 3%. The decline is primarily attributable to lower insured membership, among other factors.
The projection assumes that economic headwinds will continue to affect the company's business throughout 2010. Specifically, the high unemployment level, which resulted in a 3.9% year-over-year decline in medical membership to 33.7 million in 2009, is expected to bring down medical membership further by 400,000 people in 2010.
The company projects operating cash flow of approximately $1.1 billion in 2010. The operating cash flow projection includes tax payments of $1.2 billion related to the sale of WellPoint's NextRx pharmacy benefit management companies and an unfavorable impact of $300 million pertaining to the run-off of certain exited business lines.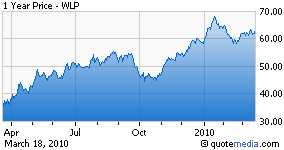 Net income in 2010 is expected to decline 11% year-over-year to $2.6 billion. WellPoint maintains that it expects to earn at least $6 a share in 2010 (excluding special items) as against $6.09 (excluding special items) reported in 2009. The Zacks Consensus Estimate for 2010 is $6.11.
The benefit expense ratio (benefit expenses as a percentage of premium revenue) is expected to come in at approximately 84.3% in 2010 as against 82.6% in 2009. The selling, general, and administrative (SG&A) expense ratio (SG&A expenses as a percentage of premiums, administrative services fees and other revenue) is projected to be about 14.4% for fiscal 2010 as opposed to 15.9% in 2009.
WellPoint believes that savings from its cost-cutting initiatives will help offset challenges in 2010. In general, health insurers are facing a drop in enrollment in their commercial segment. Insurers such as Aetna Inc. (NYSE:AET), Cigna Corp. (NYSE:CI) and Humana Inc. (NYSE:HUM) have resorted to job cuts to tide over difficult times.