By Dee Gill
When a company gets hit with a raft of problems, like Target (NYSE:TGT) is facing with a credit card security breach and weak earnings, investors must determine whether the situation represents a warning or an opportunity. Warnings involve ugly issues indicative of some ingrained problem likely to depress the share price for years. Opportunities come when temporary setbacks make the shares of a good company cheap. At Target, long-term investors should start looking for the opportunities.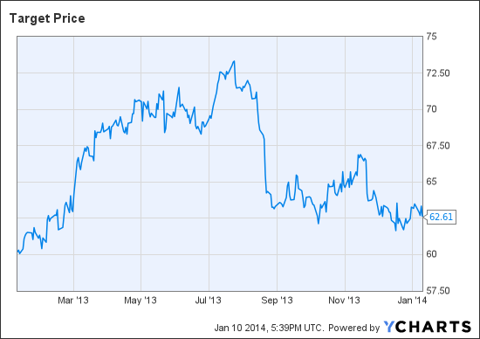 The theft of customer credit information has dominated the headlines about Target since it announced the security breech in November. A constant drumbeat of follow-up news has kept worry alive: more customers and more personal data inadvertently shared.
Target had already lost some goodwill on Wall Street by cutting its earnings forecasts a couple of times. The company's foray into Canada last spring didn't start out well. Those north-border stores, paired with weak U.S. consumer spending that affected most domestic retailers, helped cause profits to fall 46% in the last quarter.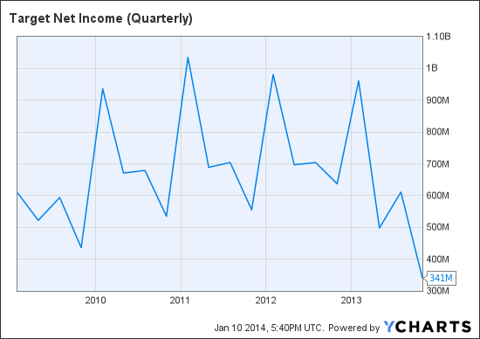 TGT Net Income (Quarterly) data by YCharts
Are these issues warnings or opportunities? Most analysts still have hold recommendations on Target, and at least two put underweight or sell recommendations on the shares. They've been warned off by the problems.
But Goldman Sachs (NYSE:GS) sees opportunities. The investment firm upgraded its Target recommendation to buy on Friday, shortly after featuring the company on a list of 40 stocks to own in 2014. Its interest is largely on valuation. Target shares now are cheaper on a forward PE ratio than TJX (NYSE:TJX), Costco (NASDAQ:COST) or Ross Stores (NASDAQ:ROST). To dig deeper, you can unleash financial advisor tools on Target stock.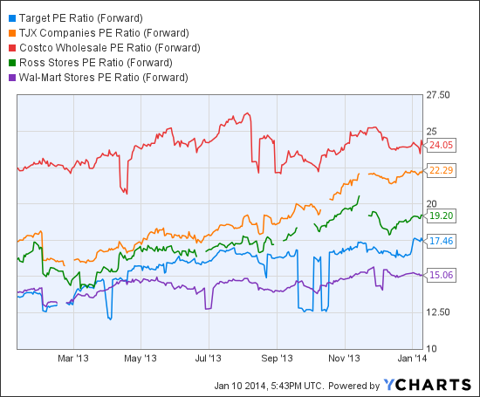 TGT PE Ratio (Forward) data by YCharts
Target shares should be particularly interesting to income investors, even though its dividend yield now is a modest 2.8%. Earlier this year, YCharts' Carla Fried explained the long-term dividend growth story at Target, which rewards investors.
As many experts have already noted, consumers are quick to forgive retailers for lapses in credit card security. Investors who bought TJX shares after its customer credit card data was stolen in 2007 - one of the biggest heists of its kind then -- are up more than 300% now. And Canada will be a fertile ground for Target profits long-term, most experts believe, despite the early stumbles. Investors who put some investment research tools to work on Target might find some pleasure in its current pain.
Dee Gill, a senior contributing editor at YCharts, is a former foreign correspondent for AP-Dow Jones News in London, where she covered the U.K. equities market and economic indicators. She has written for The New York Times, The Wall Street Journal, The Economist and Time magazine.