Hard charging Larry Ellison probably considers it faint praise that Oracle (NASDAQ:ORCL) is something of a darling among a number of the most successful value investors. Wally Weitz, lead manager of Weitz Value fund, established a fresh 3% position in the database management and enterprise software juggernaut in the fourth quarter of 2013 according to Dataroma.
As previously covered at YCharts, standout funds FPA Crescent and Yacktman Focused were big Oracle buyers in 2013, as was Oakmark Select. And we're not talking tiny toe dipping. According to their latest filings, their Oracle stakes ranged from 4% to 5%. (All three funds have yet to file their fourth quarter portfolio updates.)
That Weitz has also bought into Oracle is especially telling because Weitz is one of those rare absolute value shops that will not pay up for relative values. The fund spent most of last year lugging around 30% in cash as it trimmed positions as they appreciated closer to the firm's estimate of intrinsic value and couldn't find ample replacement investments that met their deep value bent. Despite all that cash last year, the fund gained 31.75%, less than a percentage point behind the index, a testament to some stock-picking chops. And Weitz is another rarity, a shop that delivers long-term alpha. For the unfamiliar, Weitz Value's 15-year annualized gain of nearly 7% is 2.5 percentage points better than the S&P 500.
So what do the value guys see from a stock that was clearly so out of favor in 2013, as seen in a stock chart?
Oracle's straight-up PE ratio wouldn't seem to go straight to a value guy's heart. But once you back out all the cash and short-term investments the company is sitting on, the attraction becomes more obvious: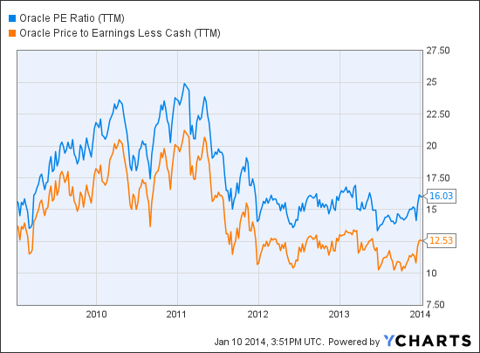 ORCL PE Ratio (TTM) data by YCharts
For all the justifiable handwringing about Oracle's ability to compete with Salesforce.com (NYSE:CRM) for the fast-growing cloud-based market, the fact is Oracle is still managing to sell plenty of its terrestrial products. As seen in this chart, free-cash flow continues to grow at a nice clip.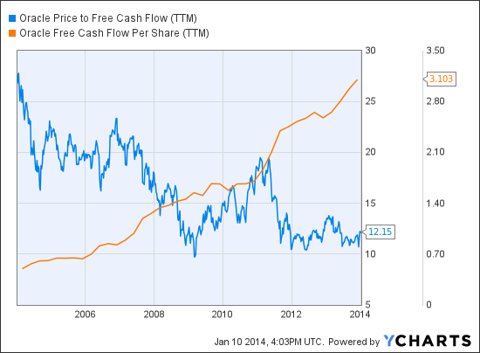 ORCL Price to Free Cash Flow (TTM) data by YCharts
And viewed through the prism of EV/EBITDA - a value metric that should be on your radar - Oracle trades at a historic low. We'd have included Salesforce.com in that chart, but with an EV/EBITDA reading above 300 it doesn't exactly fit.
Disclosure: None.