Do not short Twitter (NYSE:TWTR). I can almost guarantee that you're not going to time the tops of Twitter, and you're not going to be prepared to take a bath when sentiment rapidly changes. This is clearly not a value investment. While I respect many of the writers on Seeking Alpha, almost none of them understand momentum investing, and while they offer a valid opinion from strictly a ratio metric context, the consequence of applying value investment principles from the great Ben Graham and the like will almost always yield negative outcomes when applied to high growth names.
Shorting Twitter is like walking in front of a subway train in New York City and somehow hoping that you're the lucky individual that the train decides to stop for. Instead, you're more likely to be chopped to pieces by the sheer momentum of the train. That is why no one jumps in front of a train in New York City, unless of course they want to commit suicide.
Now if you're one of the lucky individuals that were able to time the recent pullback, I applaud you. Based on past experience, selling short a momentum name has quickly backfired time and time again, so I don't find it to be a great strategy. The sheer amount of downside if in the event a positive development were to emerge could cost a small fortune.
Communication has value - period
I think I know what you're thinking: Vine is a fad, Tweeting is useless, and social networking companies cannot retain a durable advantage. I thought that way initially, but when considering the teenage demographic genuinely enjoys the comedy section of Vine, I had to reconsider my stance. Vine's funniest videos are legitimately funny, and Vine pays no money to receive that free content. Almost any MTV producer would legitimately drool at the prospect of free content with ad revenue that goes along with the ride.
Twitter's developing an ecosystem of products that builds a consistent experience across its various media platforms. There's more synergy between Vine and Twitter than there is between Facebook and Instagram. This is because Instagram was bought out by Facebook, and Vine was built from the ground up by Twitter. Anyone registering for a Vine account is actually registering for a Twitter account in order to access Vine.
You see, Twitter is more a website for the rich and famous. We like following celebrities. Celebrities love to Tweet, because it's short and simple. Fans go crazy, and those who genuinely like the Tweet begin to Re-tweet. Hashtags are included in order to spread messages to others looking for similar topics, for example: #YOLO, #life, #retweet #xoxo. Twitter goes viral whenever there's uprising and toppling of governments in the Middle East, and further east some have completely banned access to Twitter.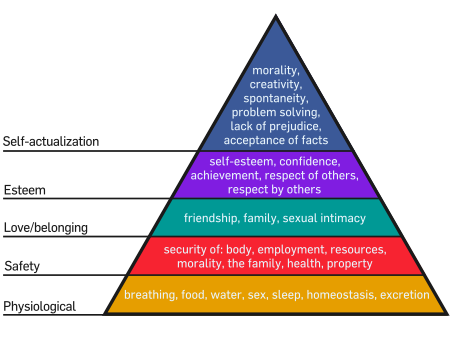 Source: Wikipedia
Granted, communication isn't given the highest priority on Maslow's hierarchy of needs. Despite that fact, it's the third most important component of Maslow's Hierarchy of needs, and if it's the third most important thing to an average human being, it's got to be worth money.
Now some of you probably have no social lives, none, zero. That's fine, but for the rest of the world that wants a sense of belonging, they hang out on Facebook, Twitter, Vine, Snapchat, Instagram, and whatnot. People look at this as if people are sheep, but I guarantee you, nothing could be further from the truth.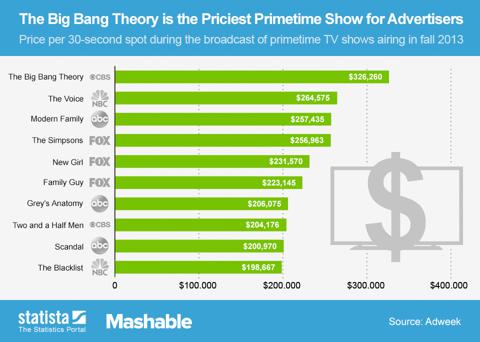 Source: Statista
When considering advertisers pay approximately $198,867 to $328,260, for a 30 second spot for prime time television, perhaps Twitter isn't too expensive after all. Twitter grew revenue by 275.66% year-over-year in 2011, and 198.11% year-over-year in 2012. This was driven by its sponsored tweets and sponsored accounts strategy. While Twitter ads are not exactly as effective as Facebook advertising, there's no denying the growing demand for Twitter ads.
Fundamental Analysis
Twitter doesn't compare too badly against peers. The way markets value a company is heavily subjective at times. Some investors feel that web properties are extremely expensive, while others are a little more open to buying on the potential of future revenue and earnings growth. Generally, the faster a company grows earnings, the higher the valuation multiple, which is why I'm comparing Twitter to its peers and industry rather than the broader market average.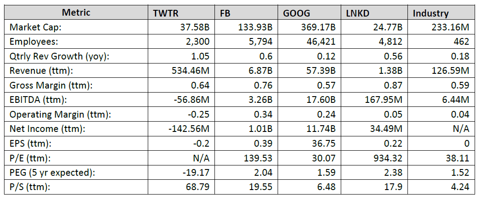 Source: Yahoo! Finance
Twitter has the third most significant market capitalization at $37 billion when compared against its peers, with an average market capitalization of $233 billion. Twitter currently has the highest quarterly year-over-year revenue growth amongst peers at 105%. The high rate of growth is substantially higher than the industry average 18% year-over-year quarterly revenue growth. This implies that Twitter's strategy seems to be scaling fairly effectively, but may slow when considering LinkedIn (NYSE:LNKD) is growing revenue at 56% year-over-year while having 2 times Twitter's revenue. Another unique aspect to Twitter is that it's been given a market valuation that's 54% greater than LinkedIn, despite LinkedIn having a fairly diversified source of income. LinkedIn seems to be valued similarly to Facebook (NASDAQ:FB) at a 17.9 P/S ratio, which is approximately a third of Twitter's P/S ratio.
Analysts generally feel uncomfortable recommending a company that trades at loftier multiples when compared to peers. Recently CRT Capital initiated a downgrade on Twitter from strong buy to neutral. Morgan Stanley also initiated a downgrade from equal weight to underweight on Twitter. The Morgan Stanley analyst felt that Twitter could become marginalized into a niche that may not have significant enough scale to generate meaningful earnings or revenue growth.
The good news is that we haven't seen maturation in any of the peer compared companies with the exception of Google (NASDAQ:GOOG), which grows revenues at below the industry average growth rate, but has grown significantly in scale at approximately $57 billion in annual revenue. This implies that the potential market for digital advertising could be much more significant than what analysts are currently estimating. The reach of Twitter, Facebook, and LinkedIn is comparable to Google Search, and while not always as effective, the aforementioned social networks could eventually scale into businesses that each exceeds $10-$20 billion in annual revenue. As these businesses scale, fixed costs will decline and marginal costs may increase at slower rates, thus generating higher margins.
What's nice is that Twitter, Facebook, and LinkedIn have developed web applications that seem to work across the various form factors. This implies that social networks are well positioned for the "internet of things," which is a term coined by Cisco (NASDAQ:CSCO), for the multitude of web capable devices that will be released over the next five to seven years.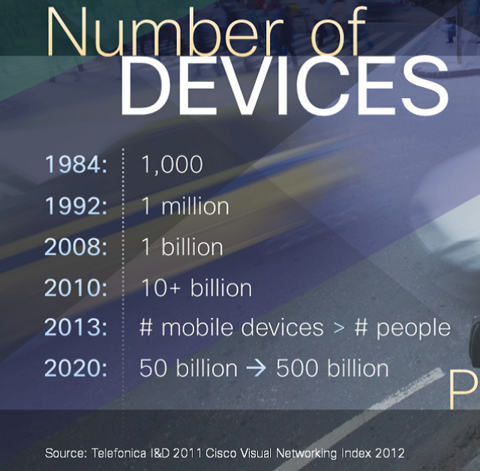 Source: Cisco
The number of web capable devices has exceeded the population of this planet, and the number of web capable devices per person is expected to be 7 to 71 devices by the year 2020. Granted, I'm going to stick with the more conservative estimate.
Digital marketing is the only form of marketing that will be able to target the vast majority of devices that will be used by the average individual by the year 2020. Other advertising mediums like print, cable, and radio will decline in relevance in future years. The vast majority of ad-market growth will be in the form of digital advertising. The amount of revenue that can be unlocked from higher pricing and better targeting has not been fully realized at the present moment. I believe that the high multiples for current social media companies can be justified based on factors like positioning, growth, and historical trends.
Technical Analysis
The vast majority of you are fundamental analysts (including myself). However, I generally like to look at sentiment indicators to get a basic idea on entries and exits.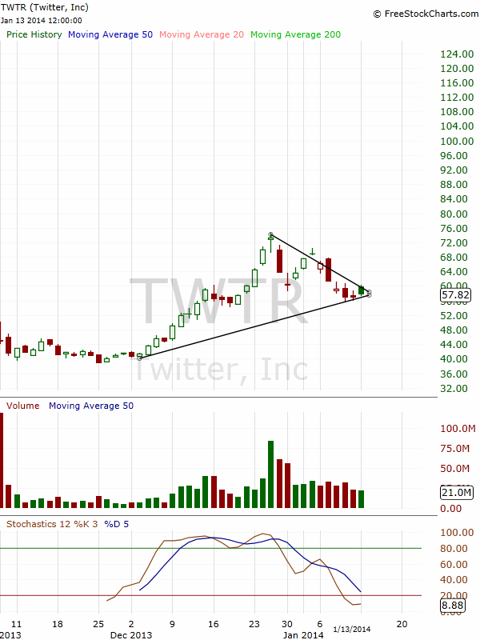 Source: FreeStockCharts
I have been able to identify a symmetrical triangle formation. The stock seems to have found support on the lower trend line and will most likely pivot. There's no knowing the exact duration of the trend, and whether or not the trend will sustain a reversal. However, the K Stochastic has reached 8.88 implying that the stock is heavily oversold. This could be a good place to accumulate a small position if you're trying to time a decent entry. Albeit, technical analysis can be a bit of a gimmick at times (historic performance is not always indicative of future trends/returns).
I couldn't use moving averages in the technical analysis, because the 50-Day Moving Average and 200-Day Moving Average do not exist. This is because the number of trading sessions since Twitter's IPO isn't sufficient for the rolling average to calculate an actual mean for the series of values at 50 or 200 days.
Conclusion
Considering how difficult it has been to evaluate the future intrinsic value of the business, I'm going to wait until I get some quarterly data and review the company's first earnings transcript to get a feel for how the business is managed. I also want to see an update to short-term guidance and hopefully long-term guidance by management at its upcoming earnings announcement before coming up with an intrinsic estimate of value.
That being the case, I think industry-specific trends are heavily favorable to social media companies currently. Twitter should be able to sustain high rates of growth, and when growth is extrapolated further into the future; Twitter should be able to grow earnings into its currently high valuation.
Granted, many of you will feel extremely uncomfortable investing on the premise of future earnings and revenue. This is precisely why value investors should never partake in a growth investment, nor should they use value investment methods to determine a short opportunity (put option, put option hedge strategy, and the like). Some will recommend you to sell Twitter because of high valuation, potential weakness in the core strategy, and rumors that have not been substantiated with anything but pure speculation. This type of advice is value driven, and while reasonable, it's not very helpful. This is primarily because investors in momentum names buy on the expectation of a future outcome that cannot be measured by the value of the assets recorded on the balance sheet.
Twitter isn't a short, but could be considered a buy opportunity for those who have the capability to withstand high amounts of volatility and prolonged periods of drawdown.
Disclosure: I have no positions in any stocks mentioned, and no plans to initiate any positions within the next 72 hours. I wrote this article myself, and it expresses my own opinions. I am not receiving compensation for it (other than from Seeking Alpha). I have no business relationship with any company whose stock is mentioned in this article.