Toy sales throughout the past decade, particularly in the U.S., have been buffeted by a variety of negative factors. One is the Kids Growing Older Younger (KGOY) syndrome, the other the decline in retail prices triggered by the migration of production to lower cost countries such as China, and the third is the advent of the use of Internet-based technology by kids.
This is how sales have developed over the past three years: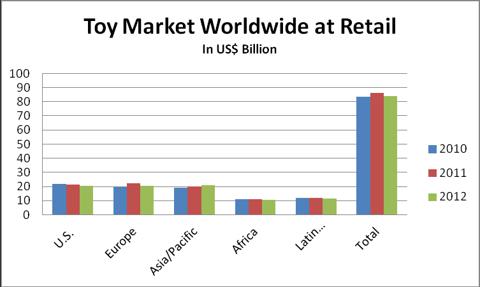 While the picture in the U.S. does not look particularly encouraging, the reality is not quite that bad. According to the national buyers at the large retailers, the KGOY syndrome has pretty much run its course and age compression has stabilized. In addition, sales in units, as opposed to dollars, in fact went up by a fraction during the three years shown above - pretty much in line with population growth of kids ages 10 and younger. Since manufacturing costs have begun to rise in China (the leading provider of toys to the U.S.), retail prices in the U.S. are likely to increase in future as a consequence, and hence. so are sales. International sales have risen even more sharply, driven by population growth and an expanding middle class.
However, even though the short term outlook worldwide is not too forbidding, major toy manufacturers are facing critical decision points. There are two major factors that are expected to drive the toy market over the next decade or so, and the manner in which the multinationals tackle these will ultimately decide whether they prosper or fail.
One major factor is technological change. Ever since the first iPhone was unveiled, marketers have asked whether and to what degree the use of this device by children will affect play in general, and toy usage in particular.
First, the good news: According to a study carried out a few months back by Ellen Wartella, a professor at Northwestern University's School of Communication, who researches the effect of media on children and teens, toys continue to trump smartphones in kids' entertainment. The study concludes that "the parents were much more likely to use books, toys or television than mobile devices to keep their kids busy. For example, while making dinner or doing chores, nearly 90 percent said they'd give their son or daughter a toy to play with, 79 percent said a book, and 78 percent said they would turn on the TV. By comparison, 37 percent said they'd give their young child a smartphone or tablet. Likewise, more parents said they were likely to give their child a toy or coloring book while out at a restaurant than a phone or tablet device."
The bad news is the 37% where smartphones are replacing toys. Another study, conducted by family advocacy organization Common Sense Media, found that 38% of children under the age of 2 have used a mobile device for playing games, watching videos or other media-related purposes - up from 10% in 2011. In addition, the amount of time spent using these devices has tripled: This year, kids ages 0 to 8 spent an average of 15 minutes a day using mobile devices - up from 5 minutes a day in 2011. By age of 8, 72 percent of kids have used a smartphone, tablet or similar device.
So far, I have not seen any evidence of a direct causal link between the use of smartphones by kids and their playtime with toys, but have no doubt that it is taking shape and that toy usage, and hence toy sales, will gradually begin to be affected as a result. Toy manufacturers are well aware of this and are making attempts to use it to their advantage. Their preferred approach is to introduce apps for wireless devices that mimic the play experience of toys. So far, only two companies have managed to successfully marry toys with internet-based technology: Activision and Disney Interactive.
By creating a link between toys and video game consoles, Activision (NASDAQ:ATVI) entered the action figure market with its Skylanders range in 2011 and created a totally new play experience. Disney Interactive (NYSE:DIS) followed with Disney Infinity middle of last year with a similar technology, but targeted at both the action figure and preschool toy categories. There is little doubt that most of the other major toy categories - dolls, vehicles, electronic learning etc - will see similar entries in the very near future. As Activision has shown, this new technology has all the muscle to totally change the traditional toy market and this is a factor which the U.S. toy manufacturers must take into account.
Another - possibly totally disruptive - new technology affecting toys is 3D printing. Quoting an article in the Robin Report written by Nick Graham, the CEO of NGO Inc., this technology is expected to enable consumers to create their own toys in their kitchen given a printer costing $1,000. According to Grahamn, "CNN (recently conducted) a study that compared buying 20 items that included orthotic insoles, an iPhone case, garlic press, safety razor, perogi mold, and spoon holder. They found that printing all 20 objects took about 25 hours and cost a grand total of $18 in plastic and electricity. The savings came out to between $294 and $1,926, depending on the quality of the comparable retail products. And that is in 2013. Imagine in 2020 when if we are to take Moore's Law into effect, it will take one hour and cost $5.
"Rather than one factory producing 10 million toys a month, there could be 10 million factories producing one toy a month, and those factories will not be overseas, but in your kitchen, your garage or wherever you feel like putting your 3D printer...... Mattel may eventually never produce toys, but simply sell the format to print Ken and Barbie. Consumers would pay a fee to download and print the renderings, much as they do with songs. Putting this in perspective, according to some estimates, 10% of all consumer products by the year 2025 will be made by the 3D process."
The implications of this are quite staggering as this new technology could fundamentally change toy manufacturing and distribution as we know it.
The second factor is geography with a demographic twist. The least developed economies have also the highest population growth rates and the lowest penetration levels by Western toy makers. For instance, Africa has about 23% of the world's b15-and-under population, represents about 3% of the world's toy sales, and about 5% of the world's per capita income. In contrast, North America has a mere 2% of the world's children population, nearly 30% of the world's toy sales, and 20% of the per capita income. This is best demonstrated by the chart below: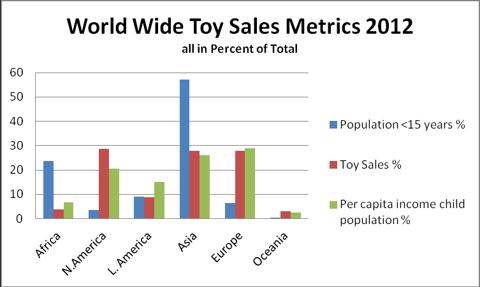 Source: Population: Population Reference Bureau [PRB] 2012 , Toy Sales: Toy Association 2010, Per Capita Income: World Bank 2010
Most of the promise for future toy sales is among the children in the third world - particularly in Asia and Africa. However, the major U.S. manufacturers have really not yet capitalized on this. The chart below demonstrates this.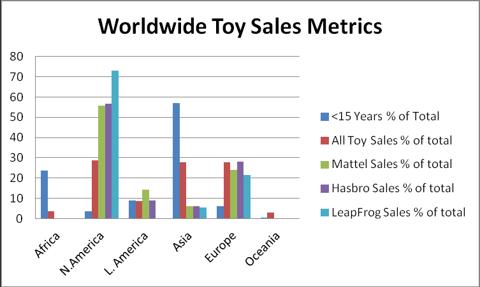 Source: Population: Population Reference Bureau (PRB) 2012, Toy Sales: TIA; Per Capita Income: World Bank 2010 Company Sales SEC filings
For example, more than 90% of Leapfrog's (NYSE:LF) sales are in North America and in Europe, even though these two locales represent between them less than 10% of the world's children population. Mattel (NASDAQ:MAT) and Hasbro (NASDAQ:HAS) are in a similar position, but they are striving to increase their sales outside Europe and North America. In this they have succeeded in Latin America but their presence in Asia and particularly in Africa is still pretty minimal.
The three main markets to be conquered are Japan, India and China. Between them, they represent nearly 40 percent of the world's population and nearly 20% of the world's toy market. They are also very difficult places in which to do business. One example of this is the fate of Mattel's Barbie palace in Shanghai which was shut down after two years and very significant investments. The other is Hasbro's joint venture with Funskool India which has been very rocky for a fairly long time, so much so that Funskool has now turned to a German competitor of Hasbro's to obtain board games. The third is Wal-Mart's (NYSE:WMT) 6-year old joint venture with the Indian Bharti Group which just fell apart. Also, both China and India have large Muslim populations, complicating between Westerners and adherents of Islam.
Hasbro is tackling this by going the joint venture route - not only with Funskool in India (the relationship issues notwithstanding), but also with Takaratomy in Japan, and lately also in China with Guangdong Alpha Animation & Culture Co. This makes a lot of sense in that Hasbro, in a true joint venture, does not have to re-invent the cultural wheel, instead relying on its partners for marketing and distribution and advice on how to design toys appropriate for the cultural setting in which they are sold.
Mattel does it differently. The company relies heavily on the local knowledge of its native executives located in these countries. The result is pricing that is more in tune with what the consumers expect, toys which take into account cultural mandates existing there and marketing and distribution practices that blend in with the norms of the country.
Entering new toy markets is a little bit like drilling for oil. All the easy places have been exhausted and the new ones are becoming increasingly more difficult to access. As the charts above demonstrate, progress is being made but there is still lots of opportunity for those that dare go where no one has gone before.
(This article was first published by the Toy Book on January 13, 2014).
Disclosure: I have no positions in any stocks mentioned, and no plans to initiate any positions within the next 72 hours. I wrote this article myself, and it expresses my own opinions. I am not receiving compensation for it. I have no business relationship with any company whose stock is mentioned in this article.