In Part 1 of this series, I introduced three general strategies for 2014 equity investments:
Understand the current phase of the business cycle and overweight stock sectors that historically outperform;
Identify and seek contrarian stock values; "the most hated names of 2013"
Maintain discipline when evaluating securities in a market that's run up 30%; don't chase hot tickets
In addition, I offered eight specific stocks that I believe fall within these strategies: Eaton Corp, PLC (NYSE:ETN), Union Pacific Corp (NYSE:UNP), International Paper (NYSE:IP), Apple Inc (NASDAQ:AAPL), Energy Transfer Equity (NYSE:ETE), Intel Corp (NASDAQ:INTC), Caterpillar (NYSE:CAT), and Annaly Capital Management (NYSE:NLY).
In Part 2, we will begin a more detailed review of the specific stocks outlined in the first article.
Industrial stock Eaton Corp, PLC is first up.
Investment Thesis
If one accepts the premise that we are in between an early-cycle and mid-cycle economic expansion, then they should consider Industrial sector stocks. Statistically, during these two phases the median Industrial stock outperforms the overall market by 3 to 4%; the average outperformance is 4 to 7%.
Eaton is an international, diversified power management company. During economic expansions, demand for power management equipment rises. Eaton is focused upon serving the electrical, aerospace, hydraulic, and vehicle equipment industries. The aerospace and vehicle industries are in the midst of an exceptionally strong multi-year secular growth story; resuming growth from a highly depressed level after the 2008-09 Great Recession.
In November 2012, Eaton augmented its business by acquiring Ireland-based Cooper Industries. The two companies compliment each other, concentrating the new Eaton in the high-margin electrical equipment business, and providing broad international exposure. Eaton revenues are now balanced 50/50 between the U.S. and internationally. Cooper is likely to become part of a long history of successful acquisitions. Between 2013 and 2016, Eaton senior leadership expects incremental pre-tax synergies and cash management benefits to reach $600 million, while acquisition integration costs roll off to zero. Here's a summary slide from the 2013 Q3 conference call presentation: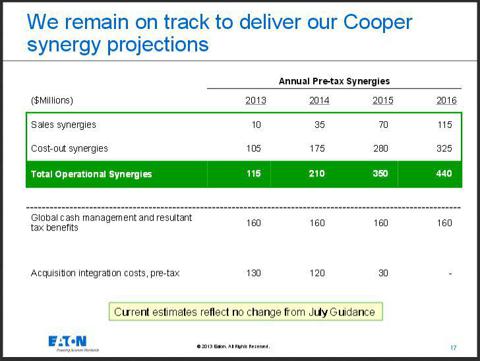 Overall, Eaton Corporation possesses a sound balance sheet, generates good cash flows, and pays a growing dividend. The business is well-managed via the leadership of bankable CEO Sandy Cutler.
Eaton By the Numbers
In Part 1 of this series, a number of financial metrics were offered to help identify whether or not a company is fairly valued. Let's rundown these measures for Eaton:
Price/Cash Flow: Estimating full-year 2013 operating cash flow per share at $4 indicates ~19x Price-to-Cash Flow ratio. This is considerably higher than my general valuation target of 10x or less. However, merger integration costs are restraining near-term cash flows. On the plus side, the first three quarters of the Eaton/Cooper Industries combo has seen an earnings-to-cash conversion rate of 96%. This means that operating earnings have been converted into operating cash at a near one-to-one basis.
2-Year PEG ratio: Consensus estimates forecast Eaton's EPS growth rate will be 18% a year in 2014 and 2015. The current operating Price/Earnings ratio is 18.5x. Therefore, the PEG2 marker is 1.0; well below the <1.5 PEG benchmark.
Return-on-Equity: Premier companies sport 15% or greater RoE. Using projected 2013 earnings, the Eaton should conclude 2013 with a figure ~12%. This isn't quite top decile performance, but it's respectable.
Revenue Growth: A 35% revenue increase will mark Eaton's first full post-Cooper acquisition year. The 3-year annualized growth rate is 17%. Corresponding EPS will grow at a 14% rate. Preferably, I would like to see revenues growing faster than earnings. However, it's understood that acquisition transition has likely dampened EPS this year.
Debt-to-Equity: Currently, Eaton PLC has a debt-to-equity ratio of 60%. The electrical industry average D2E ratio is 63%. Furthermore, Eaton management has focused heavily upon reducing debt associated with the Cooper deal. In the post-purchase quarter, the debt-to-equity ratio was 72%. The decline demonstrates strong debt management coupled with significant shareholder equity growth.
Margins: Eaton management has improved post-acquisition margins rapidly. Consolidated third-quarter 2013 operating margins were 15.6% versus 13.8% for all of 2012. The following 3Q earnings slide provides additional detail on segment margins and full-year expectations.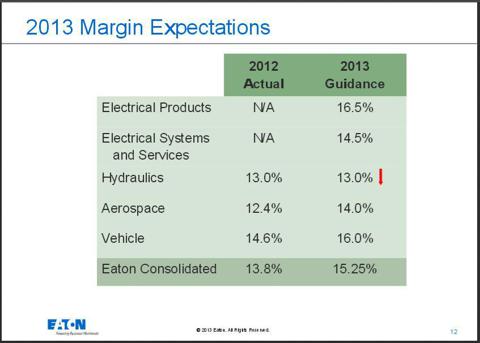 Going forward, a picture tells a thousand words.
The following Estimated Earnings F.A.S.T. Graph illustrates potential price and earnings expectations.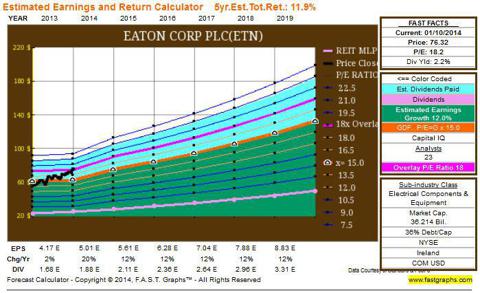 courtesy of fastgraphs.com
The black line indicates price. I've placed a purple overlay line on the 18x PE ratio curve. Multiplying estimated 2014 EPS of $5.01 by a 18x multiple suggests a fair value of $90 per share. While Eaton's historic long-term normalized Price-to-Earnings ratio has been ~15x, the 5-year average PE has risen to 16x. I premise the Cooper Industries acquisition will become a catalyst for Eaton shares to experience continued multiple expansion. This will align Eaton's P/E ratio with the long-term normalized multiples of stated peers Emerson Electric (NYSE:EMR), Dover (NYSE:DOV), 3M Company (NYSE:MMM), and Illinois Tools Works (NYSE:ITW).
Indeed, Eaton shares have seen earnings multiples in this higher range before; however, the Great Recession depressed the average the normalized P/E. Here's a F.A.S.T. Graph outlining 15 years of data. The purple line once again references an 18x multiple:

Summary
Eaton Corporation PLC should benefit from its place as an early and mid-cycle Industrial sector company. Its 2012 Cooper Industries acquisition is both a catalyst and propellant: the business now has much greater size, scope, and international span. The Aerospace and Vehicles industry segments are uniquely poised for multi-year secular growth. The Electrical equipment segment boasts the highest margins.
Margin expansion, robust revenue/earnings growth prospects, sound debt management, and strong cash generation capabilities should outweigh near-term acquisition integration drag; translating into higher earnings, multiples, and resultant share prices.
Bankable CEO, Sandy Cutler, and his management team have long demonstrated their ability to successfully create shareholder value through prior M&A activities and subsequent cost/merger synergies.
At $75, the stock price appears to be at fair value. However, the PEG ratio indicate the shares have significant future growth potential, making the stock attractive on any short-term pullback. Prospective investors may note that ETN pays a 2.2% dividend. Over the past five years, the payout has grown by 12% per annum.
Please do your own careful due diligence before making any investment. This article should be used for information purposes only. Good luck with all your 2014 investments.
Disclosure: I am long ETN, . I wrote this article myself, and it expresses my own opinions. I am not receiving compensation for it (other than from Seeking Alpha). I have no business relationship with any company whose stock is mentioned in this article.